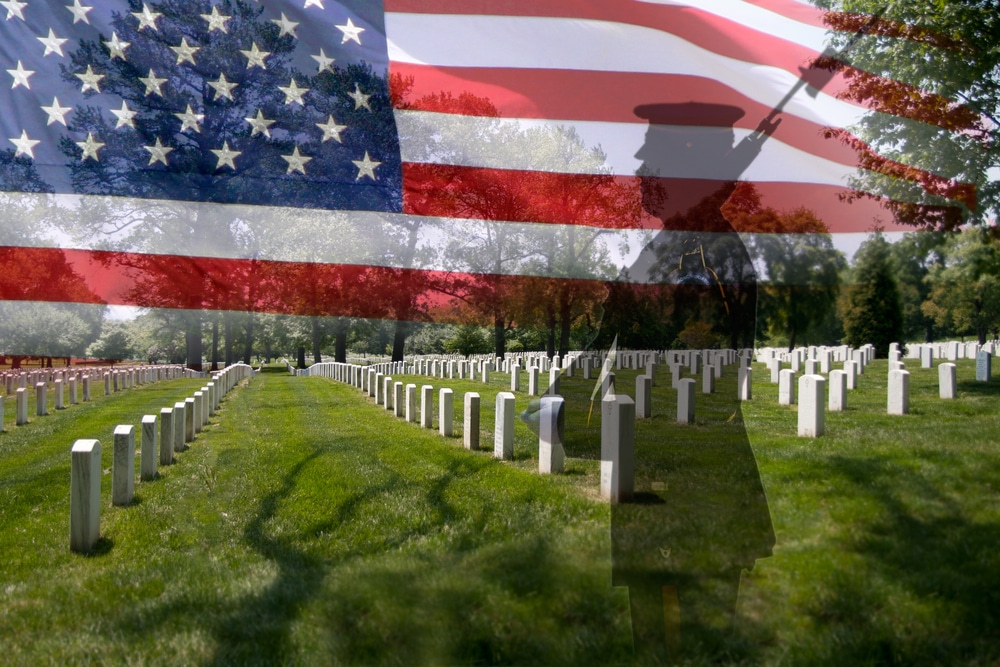 26 May, 2023

Solemnly honoring U.S. servicemen and women this Memorial Day

Posted at 5:37 pm

in

apps

,

art

,

being proactive

,

books

,

celebrities

,

college

,

education

,

faith and inspiration

,

family

,

goal setting

,

health

,

holidays

,

homeschool

,

interview

,

Kid's activities

,

LBGTQ

,

media reviews

,

mental health

,

movies

,

music

,

newsfeed

,

parenting

,

politics

,

positive entertainment

,

pro life

,

relationships

,

religion

,

reviews

,

safety measures

,

sexting

,

sexuality

,

social media

,

technology

0 Comments
Holidays/Patriotism
By Summer Lane
Photo: Deposit
Freedom is not free, and while it's tempting to kick back and relax without a second thought on a three-day weekend, honoring the sacrifice of our veterans is so important. Memorial Day was originally started in 1869, and it was initially called "Decoration Day." The holiday marked a day of honor to acknowledge soldiers who had perished during the bloody Civil War. 
From The New York Times:
The holiday grew out of the Civil War, as Americans — Northern, Southern, Black and white — struggled to honor the staggering numbers of dead soldiers, at least 2 percent of the U.S. population at the time. Several places lay claim to being the birthplace of Memorial Day. One of the earliest accounts comes from Boalsburg, Pa., where, in October 1864, three women are said to have placed flowers and wreaths on the graves of men who had died serving the Union during the Civil War.
On this Memorial Day, we honor the sacrifice of the men and women who have died in World War I, World War II, Vietnam, Korea. Desert Storm, Operation Iraqi Freedom, the war in Afghanistan, and beyond. We honor the men who give their lives every year for the cause of freedom – patriots who have kept the fires of liberty burning, and without whom we would be living under the despotic thumb of tyranny.
To pay homage to these great men and women, read this poem written by Robert Frost, entitled "Not to Keep," which tells the story of a man who returns home to his wife – living, but forever changed by the horrors of war.
They sent him back to her. The letter came
Saying… and she could have him. And before
She could be sure there was no hidden ill
Under the formal writing, he was in her sight—
Living.— They gave him back to her alive—
How else? They are not known to send the dead—
And not disfigured visibly. His face?—
His hands? She had to look—to ask,
"What was it, dear?" And she had given all
And still she had all—they had—they the lucky!
Wasn't she glad now? Everything seemed won,
And all the rest for them permissible ease.
She had to ask, "What was it, dear?"
                                                               "Enough,
Yet not enough. A bullet through and through,
High in the breast. Nothing but what good care
And medicine and rest—and you a week,
Can cure me of to go again." The same
Grim giving to do over for them both.
She dared no more than ask him with her eyes
How was it with him for a second trial.
And with his eyes he asked her not to ask.
They had given him back to her, but not to keep. 
Today, we've also included two episodes from the Counter Culture Mom show this past week that are focused on the importance of Memorial Day, the history of the holiday, and the impact that one incredible organization is having on the veteran community.
*
Truckin 4 Troops
Scott Mallary has a special mission: helping American military service members and their families however he can. He founded Truckin 4 Troops, which helps thousands of veterans and their families get the help they need after returning from their dangerous and often damaging missions. Scott explains how he kick-started his organization and why it's important to keep serving America's most selfless heroes. "They gave everything," he shares. "I felt like I had to do the same." Truckin 4 Troops helps service members deal with the difficulties of the VA, and they also aid them in adapting to their post-military lives, sometimes with difficult and life-altering injuries like limb loss. 
Deborah Tainsh
Deborah Tainsh is a military wife and mom who is passionate about sharing the stories of those who have had to grapple with the death of their loved ones on the battlefield. Deborah's son, Patrick, was killed in action in 2004 while protecting his comrades and defending the freedoms of Americans. Deborah gives the history of Memorial Day, highlighting that many Americans don't understand the sacrifice military families have had to make when their loved ones are serving our country. The younger generation doesn't grasp that our freedoms are not free, she says. The history of Memorial Day and the history of the U.S. military itself is being quietly expunged by our unappreciative government, who doesn't take care of our veterans as they should. 
Summer Lane is the #1 bestselling author of 30 books, including the hit Collapse Series and Resurrection Series. She is an experienced journalist and columnist who reports on news within the U.S. and abroad. She is the Associate Editor for Right Side Broadcasting Network. Additionally, she analyzes politics and policies on The Write Revolution.
Summer is also a mom and wife who enjoys rural country living, herding cats, and gardening. She is passionate about writing on women's issues, parenting, and politics from a theologically-grounded perspective that points readers to the good news of the gospel.
Download Our New Counter Culture Mom App to get our trending news and pop culture alert notifications. Connect with other parents in the Parent Chat section to gain helpful ideas on how to counteract the Pop Culture Cult!
Be sure to contact us if there is an issue you would like to have us write about! Our mission is to help parents deal with today's lifestyle trends and how to biblically navigate them.