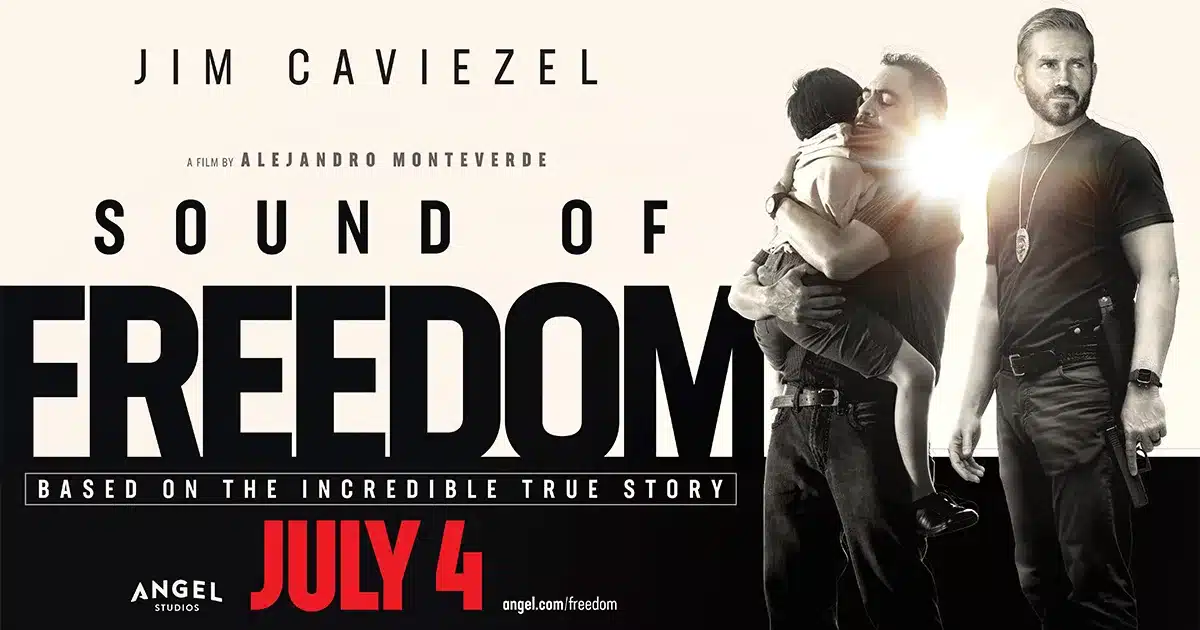 24 Jul, 2023

'Sound of Freedom' brings awareness to scourge of human trafficking

Posted at 5:30 pm

in

apps

,

art

,

being proactive

,

books

,

celebrities

,

college

,

education

,

faith and inspiration

,

family

,

goal setting

,

health

,

holidays

,

homeschool

,

Kid's activities

,

LBGTQ

,

media reviews

,

mental health

,

movies

,

music

,

newsfeed

,

parenting

,

politics

,

positive entertainment

,

pro life

,

relationships

,

religion

,

reviews

,

safety measures

,

sexting

,

sexuality

,

social media

,

technology

0 Comments
Opinion/Current Events/Entertainment
By Summer Lane
Photo: Angel Studios
Angel Studios' smash-hit film, "Sound of Freedom," has soared to victory at the U.S. box office, bringing awareness to the hefty topic of international child sex trafficking.
According to The Hill, the movie has made more than $100 million in ticket sales so far, beating out popular summer blockbusters like "Indiana Jones: Dial of Destiny" and "Mission Impossible: Dead Reckoning" upon its opening.
The film is based on the real-life story of Tim Ballard, a former DHS agent who founded Operation Underground Railroad (OUR), an organization dedicated to rescuing children from the clutches of human traffickers around the globe.
"Sound of Freedom" stars prominent actor Jim Caviezel in the main role as Tim Ballard. Caviezel is probably best well-known for his previous role as Jesus Christ in Mel Gibson's "The Passion of the Christ."
Sound of Freedom's 3rd Week was STRONGER than its 1st. The film has surged to over $125 million cume at the box office!

This is a massive indictment of Hollywood, the ruling class, and of our feckless legacy media that smeared the film as a Q-anon conspiracy.

Pour it on!

— Charlie Kirk (@charliekirk11) July 24, 2023
"Sound of Freedom's" success is significant, because it illustrates the reality that independent films can rise to unprecedented success if the subject matter is something that resonates with American audiences. It indicates that U.S. citizens are sick and tired of "woke" films and are ready, willing, and able to support movies that tell a good story and send a positive, inspiring message.
While the subject matter of "Sound of Freedom" is heavy, it is bringing much-needed awareness to the topic of human trafficking. While mainstream outlets have fallaciously claimed that the film is "right wing" or peddling "Qanon theories," the reality is this: human and child sex trafficking exists. It is horrifyingly real, and it is up to good and moral people of faith and conviction to stand against it and put an end to it!
This week, Speaker of the House Kevin McCarthy, R-Calif., will host a special, bipartisan screening of the film on Capitol Hill, where Jim Caviezel and Tim Ballard will attend the event as special guests.
Sound of Freedom is now beating The Flash, Scream VI, and Mission Impossible at the US Box Office pic.twitter.com/zQ1pF7lb0f

— Jack Poso 🇺🇸 (@JackPosobiec) July 23, 2023
This is important – because the film is NOT partisan. It is a film that should be watched by anyone who is unaware of the evils of human trafficking and how much of the trafficking economy is unwittingly fueled by the unsecured southern border here in the United States.
Anyone – regardless of politics – should be able to unite under a single banner that declares justice, protection, and healing for trafficked children.
***
You can watch "Sound of Freedom" by purchasing tickets here.
Check out the trailer for the film below:
---
The opinions in this article are specific to its author, and do not necessarily reflect the opinions of the entire Counter Culture Mom team. This specific article was written by Summer Lane, and may not be reproduced, except to quote for reviews or interviews, without the express permission of the author. 
*
Summer Lane is the #1 bestselling author of 30 books, including the hit Collapse Series and Resurrection Series. She is an experienced journalist and columnist who reports on news within the U.S. and abroad. She is the Associate Editor for Right Side Broadcasting Network. Additionally, she analyzes politics and policies on The Write Revolution.
Summer is also a mom and wife who enjoys rural country living, herding cats, and gardening. She is passionate about writing about women's issues, parenting, and politics from a theologically-grounded perspective that points readers to the good news of the gospel.
Download Our New Counter Culture Mom App to get our trending news and pop culture alert notifications. Connect with other parents in the Parent Chat section to gain helpful ideas on how to counteract the Pop Culture Cult!
Be sure to contact us if there is an issue you would like to have us write about! Our mission is to help parents deal with today's lifestyle trends and how to biblically navigate them.