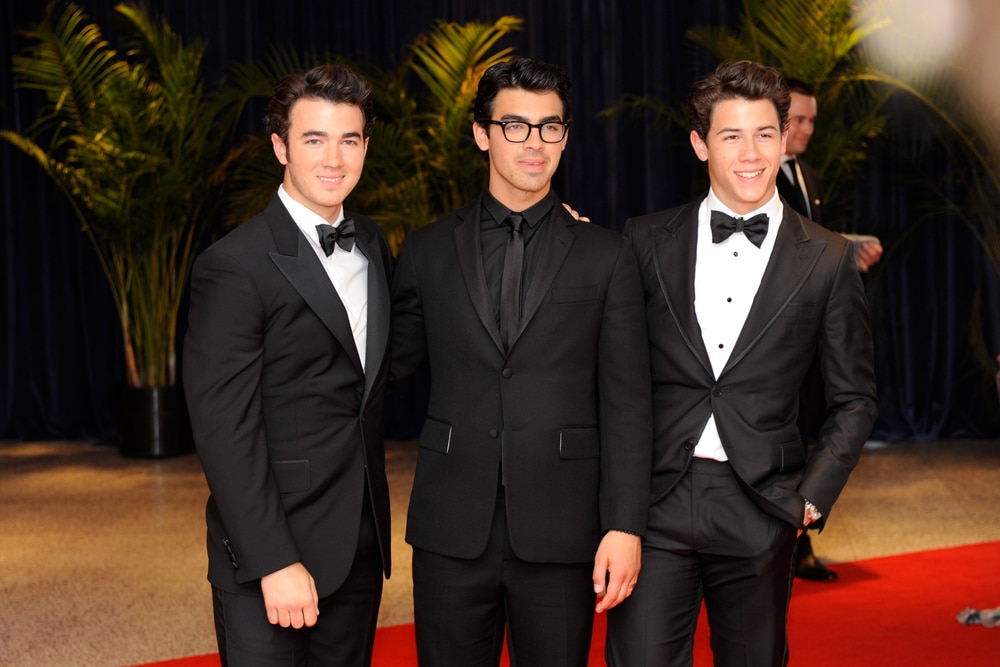 07 Aug, 2023

The Jonas Brothers are BACK on tour – are they family friendly?

Posted at 5:19 pm

in

apps

,

art

,

being proactive

,

books

,

celebrities

,

college

,

education

,

faith and inspiration

,

family

,

goal setting

,

health

,

holidays

,

homeschool

,

Kid's activities

,

media reviews

,

mental health

,

movies

,

music

,

newsfeed

,

parenting

,

politics

,

positive entertainment

,

pro life

,

relationships

,

religion

,

reviews

,

safety measures

,

social media

,

technology

0 Comments
Entertainment/Media Review/Opinion
By Summer Lane
Photo: Deposit. Editorial Use Only
I'll level with you: I've only ever seen one band in concert in my life and it was the Jonas Brothers.
Yes, when I was just 15 years-old, my mom and I saw them in Sacramento during their big world tour in 2009. It was one of the highlights of my teen life, because when it came to the Jonas Brothers, I was a pretty big fan. I knew all their soft-hearted romance pop tunes by heart, watched every music video they released, and even had an official Tiger Beat poster of the boys taped to my wall.
The Jonas Brothers were the only musical artists I ever had a "crush" on growing up as an innocent young kid, and they were just about as squeaky clean as it got. The boys, at that time, wore purity rings (which constantly got them made fun of in the press). Their dad was a former pastor, and they were staunchly Christian (or so they said). At any rate, whether they really were or weren't didn't matter too much to me – they were clean cut and kind. And hey – they were cute!
So, when the band eventually broke up very suddenly in 2013, I was disappointed. Granted, I was 19 years-old when they broke up, so I was pretty over my Jonas Brothers phase. Still, it seemed sad, because they had been a big part of the playlist of my childhood.
In 2019, when they made a triumphant return to the musical world with their smash-hit single "Sucker," I was thrilled. I had just given birth to my daughter that year and I waxed nostalgic listening to their music – but also appreciated that their new album was adult enough that I could enjoy it even in my mid-20s.
It's happening!! Tickets to THE WORLD TOUR in North America and Europe are officially on sale now! We'll see you very soon 😎 pic.twitter.com/4E9WEepmyr

— Jonas Brothers (@jonasbrothers) August 4, 2023
Now, the Jonas Brothers are going on tour again. All of them are now married with children, and they seem to have shaken off their rebellious "solo" career phases without tarnishing their good-guy band image (fans may recall that Joe Jonas kick-started D.N.C.E while flying solo, as well as Nick Jonas's short-lived solo career that offered a few hits like "Jealous").
Their comeback album of 2019 was peppered with catchy tunes like "Rollercoaster," "Sucker," and "Cool." Refreshingly, there isn't a single "explicit content" warning on any of their songs.
Since 2019, they've released a smattering of toe-tapping songs like "What a Man Gotta Do," "Remember This," and the incredibly fun and bouncy holiday hit, "Like It's Christmas" (one my absolute favorites from 2019).
Incredibly, the brothers have also maintained their silly sibling relationships, which is evident when they do interviews together or perform onstage. Their brand new album release, "The Album," features a few hits like "Waffle House," "Summer Baby," and "Wings."
While this album may not be explicitly family friendly in some of its lyrics, it's one of the cleanest things I've listened to in a long time. I mean, have you listened to Taylor Swift's newest "Midnights" album? There's a lot of unfriendly language peppered across her songs – enough to make thoughtful parents take pause before playing her beats during a long road trip.
In their songs, the boys sing about the love that they have for their wives, their children, and each other. The song, "Waffle House" talks about how they had "deep conversations at the Waffle House," and reflects on their often-contentious relationship as young bandmates and brothers when they were hot-to-trot teen idols.
While I don't agree with some of the political stances they have taken in the past (their TikTok video at the White House encouraging people to get the Covid vaccine was one of the cringiest things I have ever seen), for the most part, they tend to keep politics out of their music. I respect them for that – and they reach a much broader audience by doing so.
I also respect that amidst a Hollywood world filled with broken serial relationships, each boy (now man!) has managed to find a wife, settle down, and have a family. This decision seems to have anchored them together.
#TheTour Rehearsals. This show and this band is really special… T-minus 6 days until @yankeestadium 🔥 Let's get it!! pic.twitter.com/h8IBj47jFd

— Jonas Brothers (@jonasbrothers) August 6, 2023
So – are the JoBros a family-friendly band? I would say that overall, they are. There are a few collaborations that parents may want to keep their young children away from ("Who's in Your Head" and the Marshmallow collab "Leave Before You Love Me" both allude to sex), but Nick, Joe, and Kevin have kept a relatively safe and clean image for the band – one of very few musical groups left in America that has managed to do so.
***
---
The opinions in this article are specific to its author, and do not necessarily reflect the opinions of the entire Counter Culture Mom team. This specific article was written by Summer Lane, and may not be reproduced, except to quote for reviews or interviews, without the express permission of the author. 
*
Summer Lane is the #1 bestselling author of 30 books, including the hit Collapse Series and Resurrection Series. She is an experienced journalist and columnist who reports on news within the U.S. and abroad. She is the Associate Editor for Right Side Broadcasting Network. Additionally, she analyzes politics and policies on The Write Revolution.
Summer is also a mom and wife who enjoys rural country living, herding cats, and gardening. She is passionate about writing about women's issues, parenting, and politics from a theologically-grounded perspective that points readers to the good news of the gospel.
Download Our New Counter Culture Mom App to get our trending news and pop culture alert notifications. Connect with other parents in the Parent Chat section to gain helpful ideas on how to counteract the Pop Culture Cult!
Be sure to contact us if there is an issue you would like to have us write about! Our mission is to help parents deal with today's lifestyle trends and how to biblically navigate them.