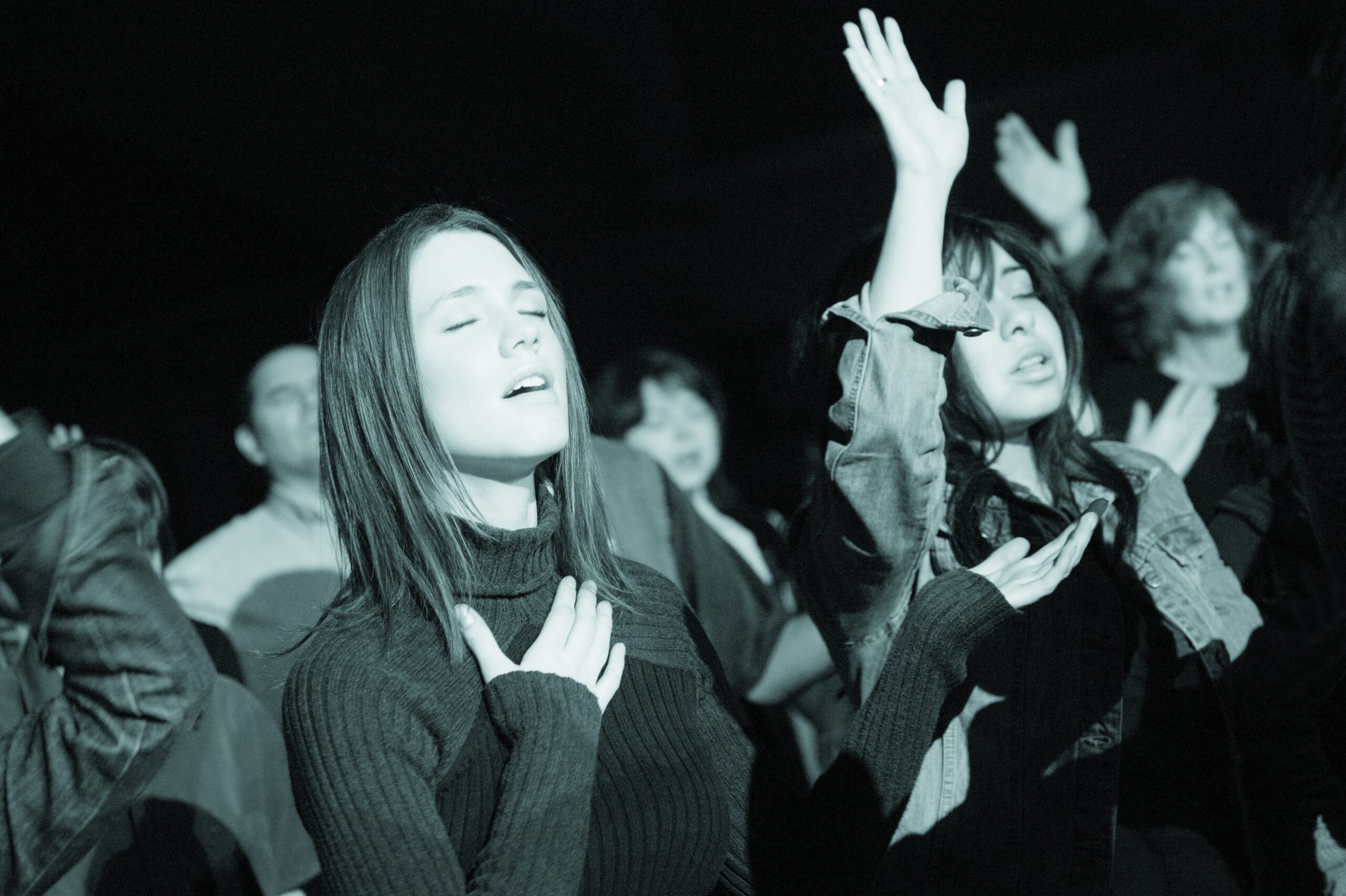 20 Mar, 2023

OPINION: God still revives in perilous times

Posted at 5:30 pm

in

art

,

being proactive

,

celebrities

,

college

,

education

,

faith and inspiration

,

family

,

media reviews

,

music

,

new age

,

newsfeed

,

parenting

,

positive entertainment

,

relationships

,

religion

,

reviews

,

self esteem

,

social media

,

suicide

,

technology

0 Comments
Biblical Topics/Current Events/Opinion
By Katie Stallings
Image: Deposit
What better time than now to stop everything for revival? Asbury University in Wilmore, Kentucky, did not quench the Spirit during its two-week-long revival that recently concluded on February 24. Many traveled to the area when a chapel service for several of Asbury's students never ceased. Thousands were drawn to the Spirit-filled event as students maxed out the capacity of campus facilities. Services relocated off campus to a central public facility to accommodate the continuous flow of people hungry to encounter God. 
Incidentally, the university has a history of lengthy meetings. In 1905, a prayer meeting broke out and spread through campus during a blizzard. A few years later, 1908 saw a two-week revival after an attendee prayed. On another occasion, according to Asbury University's site about a 1950 breakout event: "a student testimony led to confessions, victories, and more testimonies. This went on uninterrupted for 118 hours and became the second leading news story nationwide; it is estimated that 50,000 people found a new experience in Christ due to this revival and witness teams that went out from it."
If you continue down the timeline, 1958, 1970, 1992, and 2006, all produced continuous revivals, prayer meetings, and worship services. It is common for this school to experience this type of movement from the Lord. The irony of it all? All cases occurred around the same time. February and March are the prime times for these spontaneous events. Is this a coincidence, or is this just an example of how the Lord works in mysterious ways?
The Significance of the Asbury Revival 
When I first heard about the revival, I was at my friend's house having dinner with her and her husband. We both expressed how it would be amazing to visit the services, to be a part of something so powerful, and to pray and worship with fellow believers. Unfortunately, neither of us could make the trip, but I am grateful to those who have shared this with the world. There is no denying something truly radical has taken place. People from Finland and the Netherlands arrived with others from across the globe to witness this rare occurrence. 
If there is one thing that the Asbury Revival has shown us, it is that people are starving for revival. People are searching. People want to find the truth. They want to find God. When people from different nations show up, God is moving in a mighty way. We need more of this! 
One Asbury Revival attendee, Pastor Pete Greig, confirmed this as he took to Instagram to share the services through his eyes. His insight provided an image to skeptics of the revival and evidence of attendees praying on chairs and at the altar. His caption gave me chills as I read through his latter comments.
"…we need this. What's happening at Asbury is not everything but it is something and right now we need something to shock the system so that this generation can experience for themselves the life-changing power of God. We need repentance and holiness. We need the kind of outpouring of the Spirit on campuses that can incubate and detonate a new generation to preach the gospel with greater confidence, fight injustice with greater defiance, and transform society with greater intelligence. Beyond human programs, products and personalities, we need God's power, presence and perspective. In other words we need a sovereign inbreaking of the Holy Spirit."
How true is this? People are lost and searching in a dark time – especially the young generations. As he said, there is so much confusion and chaos, and we all need "repentance and holiness." Repentance leads to life and clarity, which is what God's will is for every person.
As 2 Peter 3:9 tells us, "The Lord is not slow to fulfill his promise as some count slowness, but is patient toward you, not wishing that any should perish, but that all should reach repentance." We are waiting in a broken world for the arrival of Jesus Christ. We wonder when or how the world could get worse. However, the Lord lingers for the last willing heart to accept Him. Sadly, many will not relinquish their sin and find refuge in the Lord. However, I believe thousands have not been so hardened by the world that they cannot be brought to Christ. Greig also says that an outpouring of the Spirit is needed to "detonate a new generation to preach the gospel with greater confidence, fight injustice with greater defiance, and transform society with greater intelligence."
It is time Christians stood up to the plate, recognizing that our fight is not with people. Ephesians 6:12 informs, "For we do not wrestle against flesh and blood, but against the rulers, against the authorities, against the cosmic powers over this present darkness, against the spiritual forces of evil in the heavenly places."
If it is God's will that all should be saved, we need this rekindled fire to go out and grow the Kingdom of Christ. We need confidence, fearlessness, and wisdom to battle this present darkness and spiritual forces of evil. We must pray for knowledge and strength in the Lord. The genuine outcry to God at Asbury has inspired millions and prayerfully awakened us to the dire need for this spark and movement of the Holy Spirit. Greig also mentions in his post that several other locations joined in with Asbury in worship and prayer. "I am thrilled to hear the credible reports of a significant new work of the Spirit breaking out there over these last six days and now beginning to spread to other universities," he wrote. 
The movement was so intimate that Tucker Carlson of Fox News was asked not to show up with cameras at Asbury as this was a purely spiritual event, and they did not want this to be "for show." This request was respected by Carlson, who, although he still covered the event from a different angle, honored the wishes of the students and the university. Several media outlets have covered this event, and many who attended documented their experience with their phones. It has given those who could not travel a taste of how God was moving in Kentucky. 
Final Thoughts 
Are the Asbury revivals occurring around the same time a coincidence? Well, I can't say with absolute certainty, but I have my thoughts about it. I cannot speak much about the past. However, I can draw conclusions about what I have seen in the media through personal social platforms and personal testimonies. This school seems to understand the importance of allowing the Holy Spirit to move. They recognize our desperate need to surrender to our Creator and plead for His mercy, forgiveness, and grace. I believe the timing of all these is a testament to how God does work in unique ways that we cannot always understand. Regardless, the Lord showed up at the Kentucky university. Many who traveled to participate affirmed it to those who kept tabs on the event. 
Greg Gordon, who founded Sermon Index in 2002, flooded his Twitter feed with pictures, videos, and updates on the revival. His February 15th post read, "The atmosphere thus far seems sincere with many praying outside in the chapel lawn with all sanctuaries on campus full." 
In an earlier post on February 13th, Gordon shared a video of one of the attendees preaching the crows and quoting his powerful introduction, "This is Revival; it isn't hype. It's ordinary people crying out for a move of God." 
Everything I have seen regarding this event has seem to be vulnerable, sincere, and fully focused on God. In this me-centered theology and worship age, it is refreshing and inspiring to see a younger generation allowing the Holy Spirit to lead and turn their hearts entirely to God, desiring more of Him and less of self. 
We should all take this to heart and recognize that we need revival, renewal, and a drive to live for God and do His will. We live on borrowed time, and the days between now and His return are short. Will we be found with a revived heart for God or the world?
"If my people, who are called by my name, will humble themselves and pray and seek my face and turn from their wicked ways, then I will hear from heaven, and I will forgive their sin and will heal their land." 2 Chronicles 7:14
---
The opinions in this article are specific to its author, and do not necessarily reflect the opinions of the entire Counter Culture Mom team.
*
As a proud North Carolina girl, Katie Stallings follows her love for writing at the University of North Carolina Wilmington. Her other passions include Jesus, Bible Theology and Eschatology, singing, acting, and uncovering the truth about secret societies, the elite, and things hidden in plain sight. Katie discovered the deceit of the entertainment industry in her early 20s, which led her down a path of exposing the darkness that Hollywood promotes and the evil in the political world.
When she is not working, doing school work, or trying to pack her mind full of information, you will find her with her family or friends, spending time with her nephew, and working in her home church, all with a coffee in her hand.
Download Our New Counter Culture Mom App to get our trending news and pop culture alert notifications. Connect with other parents in the Parent Chat section to gain helpful ideas on how to counteract the Pop Culture Cult!
Be sure to contact us if there is an issue you would like to have us write about! Our mission is to help parents deal with today's lifestyle trends and how to biblically navigate them.