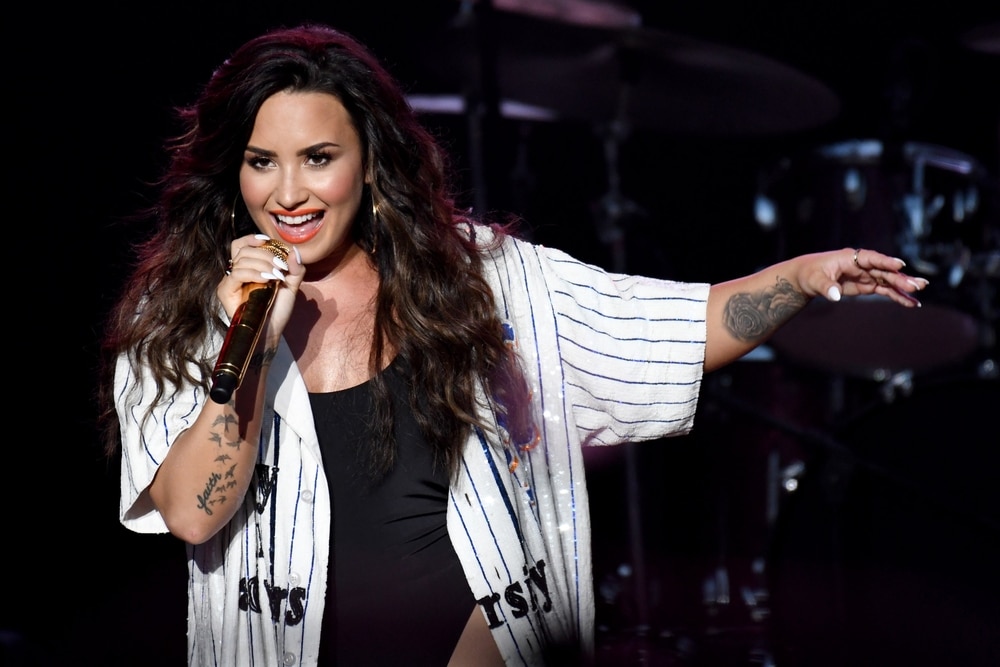 13 Mar, 2023

What in the WORLD happened to ex-Disney star Demi Lovato?

Posted at 5:30 pm

in

art

,

being proactive

,

celebrities

,

faith and inspiration

,

family

,

LBGTQ

,

media reviews

,

mental health

,

movies

,

music

,

new age

,

newsfeed

,

parenting

,

relationships

,

religion

,

reviews

,

satanism

,

self esteem

,

social media

,

suicide

,

technology

0 Comments
Entertainment/Media Review/Opinion
By Katie Stallings
Image: Deposit, Editorial Use Only
In the early and mid-2000s, Disney Channel was in its prime.
The shows, the movies, and the music the company produced were loved by millions of kids and tweens worldwide, myself included. Many of my afternoons after school were spent watching episodes of Even Stevens or Hannah Montana. One of the most notable shows on Disney came to the screen in 2007 through a short show, As the Bell Rings. Not long after, the star of this mini-series, Demi Lovato, was recognized for her powerful voice. She landed the lead role in Disney's feature film Camp Rock, and her career skyrocketed. 
Lovato is undoubtedly one of the most talented singers in the industry. Her vocal capabilities surpass many as she effortlessly belts out some of the most challenging notes. Well-loved, Lovato is adored by millions. However, it is no secret that she has had a hard road to tread.
Lovato has an open history of mental illness and drug addiction. She almost lost her life to a drug overdose in 2018, which caused other health complications at the hospital. Following this incident, she was in rehab but made a quick turnaround. The following year she traveled to the Holy Land, where she says she was renewed. "This trip has been so important for my well-being, heart, and soul…I'm grateful for the memories made and the opportunity to fill the God-sized hole in my heart," she explained to Billboard.
Lovato seemed to have found some kind of peace. It was only a short time after her return to the States, however, when the enemy began its attack. Many called out Lovato for going to Israel as taking a political side in the conflict between the Holy Land and Palestine. Denying the allegations, Lovato quickly apologized for offending anyone by her trip, assuring everyone that it was not intended as a political statement. Sadly, the beautiful pictures that revealed a joyful and free Demi in Israel being lifted from the Jordan River in baptism were removed from her Instagram account. 
A Change in Direction 
If you were to see Lovato's current social media accounts, you would not recognize her when compared against the young girl who kick-started her career on the Disney Channel. There has been a massive shift in her behavior, and it has been for the worst. Satanic imagery and darkness has filled her Instagram posts. It only takes a single glance to see that something dark has taken hold over her life. Her recent album is full of blasphemy and rebellion. It is heartbreaking to see Lovato seem to regain a normal life, only to fall off the wagon and choose such darkness. But why this drastic change? 
Lovato produced a series, Unidentified, with the streaming company Peacock that aired in September of 2021. One episode followed her and two other friends encountering a paranormal entity posing as a little girl to whom Lovato sings. Lovato later claimed to identify as non-binary after that strange event. Her pronouns had previously been changed to they/them before the filming. We can guess that this paranormal incident possibly influenced this change in her sexuality.
Things grew a shade darker as 2022 saw the release of her latest album. The record, "Holy F***", is nothing short of blasphemous. It plays on Christian terms, practices, beliefs, and revered images. The lyrics are laced with demonic influences. 
For example:
Like a serpent in the garden
I am truth and I am darkness
I'm an angel, I'm a demon
Just depends on what you're feeling
I'm the fruit that was forbidden
But don't keep my evil hidden
I'm the one she was afraid of
Now I'm what your dreams are made of
One of the tracks, "Heaven," openly confesses her acknowledgment of a future in torment, but she seems to believe that it feels too good not to keep living a wretched lifestyle. "Going to hell 'cause it feels like heaven," she sings. She openly embraces pure sexuality and willingly embraces her lustful impulses: "If pleasure's wrong, cast me out like a sinner. I found myself with my two little fingers. My right hand's got me singing my praises, Holy water, and my spirit awakens."
She is taking the Christian rite of baptism and the third member of the triune God, the Holy Spirit, and making a mockery of both. It is important to note that Lovato was supposedly baptized in the Jordan River – but baptized into what? 
 But wait: her rebellion against God gets worse.
The album titled song opens with Lovato comparing herself to a serpent in the garden (as shared above). It does not take a scholar to figure out the message being relayed here. She continues to call herself the forbidden fruit and sings, "but don't keep my evil hidden." This, regretfully, is not the worst part; in verse two, she calls her body "a communion." Lovato's cover, banned in the UK, reveals her in bondage as she lays on a cross-shaped mattress. The red and black use embellishes the dark demonic vibe throughout the album. 
When asked by Vouge what inspired the "religious" aspect of her work, Lovato replied, "There wasn't a specific approach that I had in mind when it came to the album, where I was like, 'Oh, I want this to have religious undertones.' It just came out in the writing process. I wanted to take my power back. I grew up in the church as a Christian and was angry towards it. Being queer, I felt like I was misunderstood. There was also a kind of sexual oppression that I felt came from the church. There's a song called 'Heaven' that I wrote, and it's based on a Bible verse about masturbation. It's Matthew 5:30: 'If your right hand causes you to sin, cut it off—it's better to lose one part of your body than your entire body to hell.' I have my sex toy, so it's no secret that I am sexually empowered. I also write, 'I met God just for a minute, sat in his house, looked around, and saw I didn't fit in.' That song kicked off the album, and from there, I ended up writing 'Holy (expletive).'" 
There is no doubt that Lovato has been through ample amounts of struggles and battles, and she has had to face all of them publicly. Some of the songs on her newest project are heartbreaking, deep, and vulnerable, and the emotion is felt in each line. This makes it all the more grievous that she has chosen to live in open rebellion against God, the one that can bring her ultimate healing and fulfillment. 
Unquestionably, Demi Lovato is a very talented individual. She is strong and beautiful, and her voice is powerful. It makes me grieve for what could have been if she had managed to truly convert to Christianity. Sadly, her own body of work tells the story of her hatred toward God. Somewhere, Satan intercepted in her life and took hold of the reins and led Lovato down this path of darkness. Her latest single, Still Alive, from the horror film Scream VI, explicitly confirms her downward trajectory.
Because Demi is close in age to me, it is easy for my generation to feel like we have grown up with her and the other child stars. 
As followers of Christ, we should avoid the content released by Lovato and pray fervently that she will find salvation in Christ Jesus!
**
Editor's Note: It is important to note that Matthew 5:30 is not addressing masturbation – but rather, it is addressing sin in general. Jesus was illustrating the importance of a Christian rooting out sin in their life and addressing the problem rather than risking condemnation and finding themselves cast into Hell for all eternity. It is a call for self-denial in a believer's journey of constant sanctification. 
Additionally, for more information on Hell, check out the astonishing theological work of Joshua Ryan Butler. His book, The Skeletons in God's Closet, examines the mercy of Hell and the justness of God's judgement. 
Biblically, it is important to understand that Hell is a place where those who wish to live in rebellion against God do exactly that. Butler digs into this extensively and explains, from a Scriptural standpoint, WHY Hell is God's ultimate justice, and why some people will, sadly, choose Hell over Heaven with their eyes wide open. 
---
The opinions in this article are specific to its author, and do not necessarily reflect the opinions of the entire Counter Culture Mom team.
*
As a proud North Carolina girl, Katie Stallings follows her love for writing at the University of North Carolina Wilmington. Her other passions include Jesus, Bible Theology and Eschatology, singing, acting, and uncovering the truth about secret societies, the elite, and things hidden in plain sight. Katie discovered the deceit of the entertainment industry in her early 20s, which led her down a path of exposing the darkness that Hollywood promotes and the evil in the political world.
When she is not working, doing school work, or trying to pack her mind full of information, you will find her with her family or friends, spending time with her nephew, and working in her home church, all with a coffee in her hand.
Download Our New Counter Culture Mom App to get our trending news and pop culture alert notifications. Connect with other parents in the Parent Chat section to gain helpful ideas on how to counteract the Pop Culture Cult!
Be sure to contact us if there is an issue you would like to have us write about! Our mission is to help parents deal with today's lifestyle trends and how to biblically navigate them.