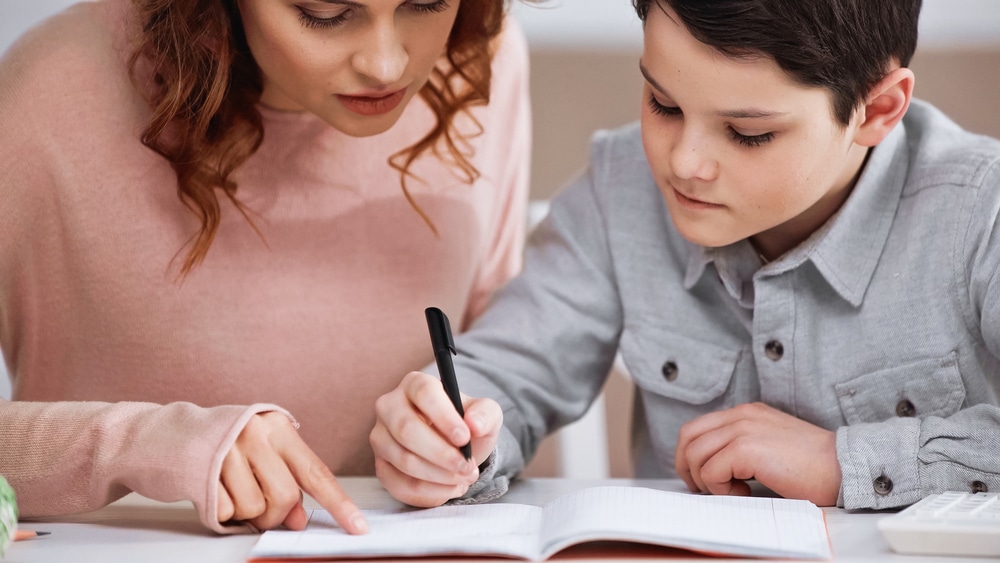 28 Sep, 2023

Five pointers for transitioning kids from public school to homeschool

Posted at 3:24 pm

in

apps

,

art

,

being proactive

,

books

,

college

,

education

,

faith and inspiration

,

family

,

goal setting

,

health

,

holidays

,

homeschool

,

Kid's activities

,

movies

,

music

,

new age

,

newsfeed

,

parenting

,

politics

,

positive entertainment

,

religion

,

reviews

,

safety measures

,

social media

0 Comments
Opinion/Parenting/Advice
By Summer Lane
Photo: Deposit
If you've finally had it with the failure of the public school system, you're not alone.
Homeschooling has increased by 45 percent between 2022-2023, according to data pulled from the U.S. Census Bureau's Household Pulse Survey. That's a LOT of new homeschooling students in the United States, so if you're new to bringing the classroom to the kitchen table, you can rest easy. You're NOT the only one!
When pulling your kids out of school, it can be a little scary and even daunting. Lean into your natural instincts as a parent and have confidence that with prayer and help from friends and family, you can do exactly what's right for your child!
There are TONS of resources online
I was homeschooled through high school. Back in the 90s, as many homeschooling moms remember, the wonderful internet had not yet exploded. A lot of homeschooling curricula (okay, all of it!) was purchased through catalogs or at homeschooling conventions. I remember the day when, in high school, I was enamored with the fact that my Bible class was supplemented with REAL DVDs. It felt so modern.
Today, homeschooling parents can access a treasure trove of incredible resources online with the click of a button, the wave of a mouse, or the tap of a screen (bear with me here). There are so many great homeschooling resources, like "My Father's World," "Abeka," and "Foundation Worldview."
You can also access lots of amazing videos online, like Wallbuilders schoolroom chats. And, ahem: YouTube exists (I would have used that all the time in high school for science videos if I could!). Rumble exists. Most homeschool curriculum courses today offer digital courses and hands-on tutoring. The sky is the limit. You can find the perfect resources that suit your family's needs!
You can go a charter route
When you homeschool, you can get involved with a local charter program/co-op to give your kids a taste of traditional schooling along with homeschooling. Being a part of a charter school will allow you to take a sum of money (think $2,000 per child, roughly, depending on the state) and put that into your kids' supplies for the school year. A charter program will allow you to have access to credible teachers and extracurricular tutors, as well. I taught writing and grammar for nine years, and about 50 percent of those years I spent contracting with a charter school. I exclusively taught homeschool families. They were very happy with being in a charter program. Most of the parents used their charter vouchers for things like horse-riding lessons, writing tutoring, or art class!
You file a private affidavit
Every state is different, so make sure you do your OWN research here. In California, at least, you can choose to ditch the charter option, which means you won't be getting a check for school supplies. You'll file a private affidavit that basically registers your homeschool as a small "private school."
However, I caution parents to be extra careful in checking their state's laws and rules on this one. Homeschoolers can be left high and dry after high school if the paperwork wasn't filed correctly. In this situation, the high school diploma might not be accepted as an accredited certificate of completion upon applying for college or trying to enter the military. I speak from personal experience on this one – don't ask!
This is not a fun problem to deal with, so if you choose to file privately, that's awesome! Just make sure you know the laws and standards in your specific state – because they're all different!
Find a homeschooling group
It is so important to find a strong group of homeschooling peers when you're educating your kids at home! While homeschooling is a wonderful option for so many people, it can be easy to retreat into the comfort of home and forget to socialize as much as kids need to! While public or private schools provide ample opportunities for socialization and sports, homeschoolers have to work a lot harder to find a community and to set up that kind of social structure.
Thankfully, most churches have a solid homeschooling group. I always recommend looking at local churches first when trying to find homeschooling communities to plug into. You can also join local "Classical Conversations" groups, for example, if you're using a program like that.
Honestly assess your kids' needs
The best homeschooling parents I know are the ones that honestly and openly assess the needs of their children. Are they thriving at home? Are they happy? Are they academically up to par with what's expected today? Is there something they need that you can't provide at home? Seeking help outside of the home does NOT mean you're failing as a homeschooling parent! It means you're a great parent who recognizes exactly what your kiddo needs. That's a sign of love and compassion – dig into that!
Failure in homeschooling only lay in refusing to assess your child's progress because you're afraid they might not be doing as well as you'd hoped. Don't go down that road! Some kids simply are not suited for homeschool, and that's okay. Some kids MUST stay home because public school is not an option and private school is too expensive.
Whatever the needs of your kids are, take a good, hard look at them and do your best to meet those needs so that you can cultivate a wonderful and thriving environment at home.
'My Father's World' is a sponsor of the Counter Culture Mom Show! If you use code TINA at checkout, you'll get a discount on your purchase! 
***
---
The opinions in this article are specific to its author, and do not necessarily reflect the opinions of the entire Counter Culture Mom team. This specific article was written by Summer Lane, and may not be reproduced, except to quote for reviews or interviews, without the express permission of the author. 
*
Summer Lane is the #1 bestselling author of 30 books, including the hit Collapse Series and Resurrection Series. She is an experienced journalist and columnist who reports on news within the U.S. and abroad. She is the Associate Editor for Right Side Broadcasting Network. Additionally, she analyzes politics and policies on The Write Revolution.
Summer is also a mom and wife who enjoys rural country living, herding cats, and gardening. She is passionate about writing about women's issues, parenting, and politics from a theologically-grounded perspective that points readers to the good news of the gospel.
Download Our New Counter Culture Mom App to get our trending news and pop culture alert notifications. Connect with other parents in the Parent Chat section to gain helpful ideas on how to counteract the Pop Culture Cult!
Be sure to contact us if there is an issue you would like to have us write about! Our mission is to help parents deal with today's lifestyle trends and how to biblically navigate them.