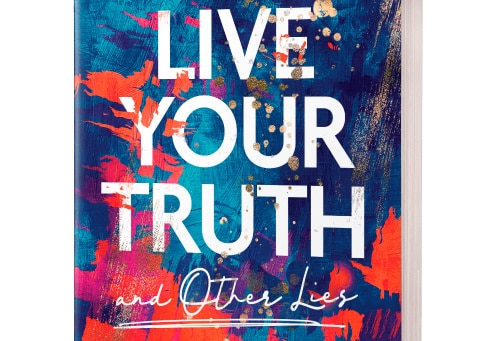 10 Mar, 2023

Live Your Truth (And Other Lies): Book Review

Posted at 5:30 pm

in

being proactive

,

books

,

education

,

faith and inspiration

,

family

,

goal setting

,

health

,

homeschool

,

Kid's activities

,

LBGTQ

,

media reviews

,

new age

,

newsfeed

,

parenting

,

politics

,

positive entertainment

,

pro life

,

relationships

,

religion

,

reviews

,

sexting

,

sexuality

,

social media

,

technology

0 Comments
Book Review/Biblical Advice
By Summer Lane
Photo: Contributed
There has been no modern apologist or author who has influenced me quite as much as Alisa Childers. When I was going through my own "deconstruction" process a few years ago, I came across her first book, Another Gospel? and found myself identifying with the moral questions and truth claims that she had been wrestling through.
Her step-by-step process of deconstructing and coming out of a New Age church struck a chord with me. Although I wasn't part of a New Age church, I was, like many people, an unwitting New Age Christian. I was raised on a steady diet of "Name it and claim it" sermons from preachers like Joel Osteen and Joyce Meyer.
By the age of 19, I sensed that something was intrinsically wrong with the prosperity gospel, but I did not have the knowledge or the church support system to help me figure out what it was. I stumbled and bumbled along until my daughter was born. At the age of 25-26, I began to search. I read the Bible for myself, line by line, chapter by chapter. I dug into the Gospel, repeatedly. I threw out my feminist manifestos and embraced a quest for objective truth.
As a fairly analytical person, I decided that I needed to face the scarier questions of theology head-on by diving deep into reading theology and apologetics. I wondered, why does God allow bad things to happen to good people? Why would a good God send people hell? Does God really say that it's a sin to act on same-sex attraction? Is Christianity oppressive toward women? Does it promote abusive patriarchal behavior? I had so many questions, and there wasn't a single Sunday School or women's Bible study at my church that could answer any of them.
Another Gospel? was one of the books that I read during the tail-end of my "Gospel rebirth," as I like to call it. I was reborn into truth – God's truth. Alisa's book was both comforting and inspiring. I am an ardent listener of her podcast, and it is because of her work that I have discovered many wonderful theologians and apologists like Paul Copan, J. Warner Wallace, and Dr. Scott Stripling – among so many others! Her work helps feed the hunger in me to equip myself with knowledge and wisdom so that I can not only defend the Gospel and the Scriptures better, but so that I can continue to immerse myself in the truth of God's Word. She is exceptionally gifted at presenting apologetics to an audience and making it simple enough to follow along with.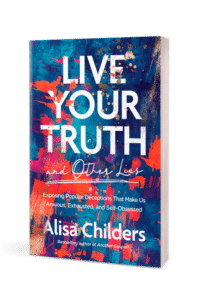 Her second book, Live Your Truth (And Other Lies), released in October 2022. I read it as quickly as I could and I can honestly say that it is the perfect companion to her first publication. In her book, she takes a look at culture's most popular slogans and feel-good messages and unpacks their real meanings – and offers Scripture as the antidote to many of the confusing messages being promulgated in society today. One of the biggest myths she pushes back on is the same myth I have spent a fair amount of time writing about myself: the idolization of "authenticity" through the tributaries of social media.
"I'm here to tell you," she writes. "You've been sold a barrel of baloney. Authenticity is not everything."
She also masterfully hits back at culture's worship of "identity," which is often rooted in subjective fleeting emotions or sexual desires. "My identity is not what I do, what I feel, who I love, who I'm attracted to, or what I think will satisfy me," she states in the book. "My identity is who the Bible tells me I am…it's who I am in Christ."
Childers is an expert at gracefully taking society's hyped-up propaganda slogans and breaking them down (and grinding them into dust). She uses Scripture to back up her arguments and she does so without putting anyone down. She simply presents the truth of Scripture, and there is power in that.
I highly recommend checking out Alisa's newest book (as well as her first book), if you're looking for an easy and exciting Segway into learning more about how to interact with cultural ideas both Biblically and intellectually.
I also highly recommend Alisa's podcast, as well as her joint and newly-launched podcast with Natasha Crain, "The Unshaken Faith Podcast."
Get Alisa's books HERE.
Book photo provided by the Alisa Childers Launch Team. 
---
The opinions in this article are specific to its author, and do not necessarily reflect the opinions of the entire Counter Culture Mom team. This specific article was written by Summer Lane, and may not be reproduced, except to quote for reviews or interviews, without the express permission of the author. 
*
Summer Lane is the #1 bestselling author of 30 books, including the hit Collapse Series and Resurrection Series. She is an experienced journalist and columnist who reports on news within the U.S. and abroad. Additionally, she analyzes politics and policies in weekly op/Eds on The Write Revolution.
Summer is also a mom and wife who enjoys rural country living, herding cats, and gardening. She is passionate about writing about women's issues, parenting, and politics from a theologically-grounded perspective that points readers to the good news of the gospel.
Download Our New Counter Culture Mom App to get our trending news and pop culture alert notifications. Connect with other parents in the Parent Chat section to gain helpful ideas on how to counteract the Pop Culture Cult!
Be sure to contact us if there is an issue you would like to have us write about! Our mission is to help parents deal with today's lifestyle trends and how to biblically navigate them.