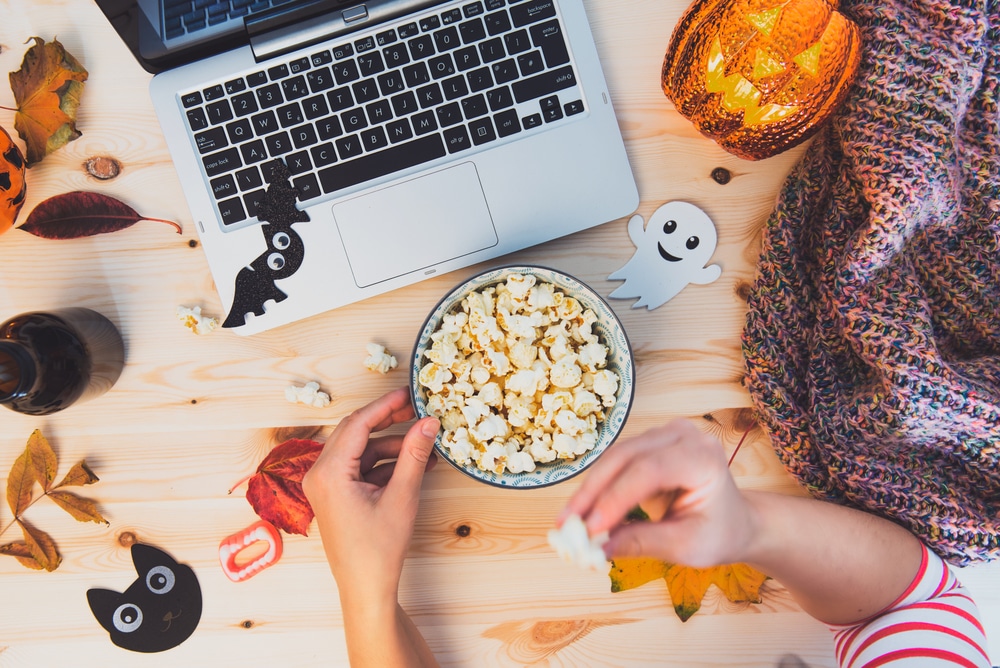 24 Oct, 2022

Five Family-Friendly Fall Films for Movie Night

Posted at 5:30 pm

in

art

,

celebrities

,

family

,

holidays

,

homeschool

,

Kid's activities

,

media reviews

,

movies

,

parenting

,

positive entertainment

,

religion

,

reviews

,

satanism

0 Comments
Media & Entertainment Review
By Katie Stallings
Image: Deposit Photo
Get excited, because it's the best time of year!
Cool fall days and nights, apple cider, beautiful colors, and weekend bonfires! Okay so maybe it is not the best time of year for everyone – but come on! How can you resist the crispness of Fall? The festivities, events, and the atmosphere all seem to shift once September rolls around. Schedules increase in demand as if to cram everything in before the year comes to a close.
Other than the justification to drink as much coffee as possible, it is the crisp air, cozy sweaters, and Autumn specials that run on television that comprise my biggest joys. However, many of the shows and movies that stream or run on TV are Halloween-based. Each year it seems to get worse with the ample amount of dark occult Satanic content and witchcraft that is marketed toward consumers.
Disclaimer: these shows may affect you and your kids negatively or spark your child's interest in pagan practices! So, if this is the case, then what good is a Fall family movie night in the month of October? Well, this is where my love for movies and all things Fall-themed come into play!
This week, I will be providing a rundown of five great family movie night picks for the Autumn season!
The Ghost and Mr. Chicken
You might be thinking, "Okay, you just said that you were going to steer clear of Halloween movies." Just trust me – this is a must see! If you grew up loving the Andy Griffith Show and Barney Fife, this one's for you. Don Knotts takes on a persona similar to that of Bernard P. Fife. 
My first encounter with this movie was in the early 2000s when my parents would treat my sister and I to a pizza and Blockbuster movie night.
The Ghost and Mr Chicken (1966) pic.twitter.com/geEkDWGLwh

— Hammer Horror Films (@HorrorHammer1) October 16, 2022
 Yes, kids, once upon a time we had to go out and rent movies from a store, since we did not have the luxury of streaming films. Our family hugely admires Andy Griffith, so when we saw a Don Knotts movie, it was an instant must see!
From that night on, it has been a classic in our family. We still can quote most of the movie by heart!
The "ghost" plot of the film follows the story of Luther Heggs (played by Don Knotts), who is a typesetter for the Rachel Courier Express in a small town called Rachel in Kansas.
When the anniversary of a local murder-suicide comes around, the editor, George Beckett, proposes a member of the press spend a night at the town's "haunted" mansion and follow with a featured article in the paper. His spunk, quirky personality and apprehensive spirit make Luther the perfect candidate. Unfortunately, Luther's night in the house is anything but restful. From hearing strange noises in the home, to witnessing walls that open and reveal secret passages, to the infamous organ loft that old Mr. Simmons spent most of his time in, Luther experiences a night that eventually makes him the town's hero. New evidence is revealed as the town comes to learn what truly happened so many years ago in this mysterious, abandoned house. 
Prepare for a night loaded with mystery and laughter!
As this was made in 1966 and is more of a comedy, no violence or language is in this film. Although it is about a murder-suicide scandal, it is not presented in a way that could potentially scare or bother anyone. I grew up in a Christian home and watched this as a child and loved it! 
Remember the Titans
This film is such a classic! My brother-in-law reminded me of the movie that stole the hearts of millions of football fans at the turn of the century!  The movie follows the fallout surrounding the integration and the replacement of head football coach, Bill Yoast, with a black coach, Herman Boone, at T. C. Williams High School. Set in 1971, the struggles of racial tensions hit hard in this story.
"We will be PERFECT! In every aspect of the game."

Remember The Titans (2000) pic.twitter.com/5mIbW2cA0f

— Silence The Critics Sports 🤫 (@STCSports_) October 19, 2022
Released in 2000, this film portrays the true tale of a high school football team in Alexandria, Virginia overcoming racial obstacles to become a team that loves and respects each other. 
I have not seen this one in a while, so this will be on my watchlist this Fall as well! 
Content Advisory: This movie does portray racism, mild violence, and minor language, so this may be one you would want to watch with your teens. You can also use Vid Angel to block out any swearing and violence!
A Little Princess
A bittersweet beginning turns into a sweet story. I did not get to see it often as a child, but I remember being drawn to this film as a little girl. Based in 1914, aristocrat Captain Richard Crewe leaves for the field of battle in World War II. After he is assumed to have been killed in combat, Sara, his beloved daughter, is placed in Miss Minchin's London Boarding School into the care of Miss Minchin, a bitter school director who creates a miserable atmosphere for all in attendance. Sara is not equipped to deal with her difficult circumstances. However, her attitude and heart remain intact, and she soon becomes loved for her stories and encouragement to the other girls in the boarding school. 
This tale is one that will take you back in time and open your children's eyes to the reality of the world's history in a style that is entertaining and understandable. This is one that the family will enjoy. Sara may steal your heart just as she did with her peers in the boarding school. 
Dreamer
For all of my fellow horse lovers, if you you have not seen Dreamer, plan a movie night! I watched the Dakota Fanning film for the first time this week and it did not disappoint! Dreamer is based on the story of, Mariah's Storm, who won the 1995 Turfway Breeders' Cup. 
The story of Soñador (Spanish for Dreamer) will take you on a journey with a father, Ben Crane, played by Kurt  Russell, who focuses more on his career as racehorse trainer than he does his  daughter. During a race, Soñador breaks her leg and Palmer, Ben's boss, demands his horse be put down. Knowing his daughter, Cale, is witnessing the chaos, Ben acts on impulse and takes Palmer's horse, Soñador, and $6,000 in cash. 
Gradually, the family begins to mend and connect as the horse is nursed back to health and is trained for one of the leading horse races in the world. 
This film only has a few colored words towards the end. This can be modified by using Vid Angel! 
Facing the Giants 
Wrapping up this list is yet another football favorite, especially in the Christian film world. When you see the name Kendrick associated with a title, it is an assurance that a project is not only going to be good, but it is going to be theologically sound and God will be glorified. This is truly an ultimate family movie night film as it embodies humor, authentic issues, and it is centered on Christ!
As the audience looks into the life of football coach Grant Taylor, he is struggling with the pressures of life. The coach has had no success in his last six football seasons and he is faced with the possibility of losing his job. Between the stress of work and financial hardship, Coach Taylor learns to lean on God. His spark of faith and reliance on the Lord blossoms through his coaching skills as he leads the team to a massive victory and teaches them God's love and faithfulness.
If you haven't seen this movie, place it at the top of your movie night list! It is not just a good entertaining story, but it is inspiring and will strengthen your walk with the Lord if you let it! 
---
The opinions in this article are specific to its author, and do not necessarily reflect the opinions of the entire Counter Culture Mom team.
*
As a proud North Carolina girl, Katie Stallings follows her love for writing at the University of North Carolina Wilmington. Her other passions include Jesus, Bible Theology and Eschatology, singing, acting, and uncovering the truth about secret societies, the elite, and things hidden in plain sight. Katie discovered the deceit of the entertainment industry in her early 20s, which led her down a path of exposing the darkness that Hollywood promotes and the evil in the political world.
When she is not working, doing school work, or trying to pack her mind full of information, you will find her with her family or friends, spending time with her nephew, and working in her home church, all with a coffee in her hand.
Download Our New Counter Culture Mom App to get our trending news and pop culture alert notifications. Connect with other parents in the Parent Chat section to gain helpful ideas on how to counteract the Pop Culture Cult!
Be sure to contact us if there is an issue you would like to have us write about! Our mission is to help parents deal with today's lifestyle trends and how to biblically navigate them.