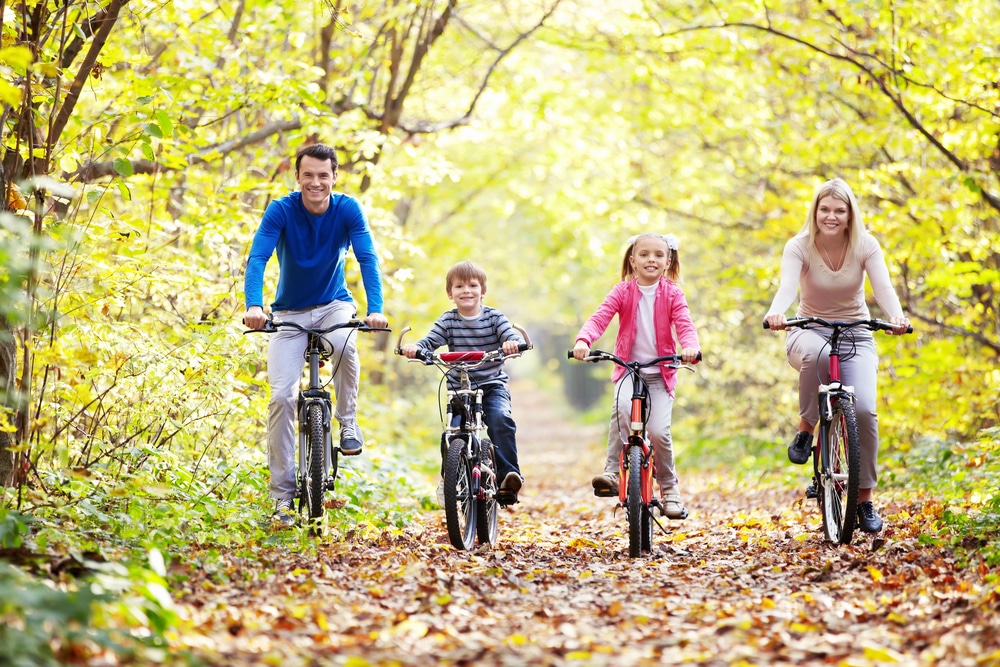 16 Sep, 2022

Wholesome Autumn Activities for the Entire Family

Posted at 5:30 pm

in

art

,

books

,

faith and inspiration

,

family

,

gaming

,

health

,

homeschool

,

Kid's activities

,

media reviews

,

mental health

,

movies

,

music

,

parenting

,

positive entertainment

0 Comments
Family Fun and Activities
By Summer Lane
The end of hot summer months and the beginning of cooler Fall weather calls for hot kettles of tea, burnt orange leaves, and evening strolls in the sunset.
There is something blissfully endearing about the onset of Autumn as it gently ushers in a season of Winter, providing a stepping stone from the warmth of Thanksgiving to the chilly and magical days leading up to Christmas. Just because the warmer weather is over, and school is back in session, doesn't mean that you can't find time to savor these golden days with your family! Here are a few family-friendly activities ideas to test out this year.
Bike Riding
Riding a bike is such a wonderful way to peruse your local area and enjoy the cooler Fall temperatures. There are bicycles for kids of all ages – and even babies can ride along behind you! In California, for example, the moderate temperatures of Autumn provide the perfect environment for travelers to rent bicycles while visiting the Central Coast. Bicycle rentals are very popular in California, and they're a great, low-cost way to explore new sights and sounds!
Make a Fun Craft
Personally, I had a tremendous amount of fun last year engaging my daughter and our friends with a pumpkin-themed craft day. I asked parents and kids to bring pumpkins to my house and I provided fake fern, moss, flowers, hot glue guns (adult supervision only!), and a variety of paint. I baked warm pumpkin bread, fired up the coffee maker, and cut up some fresh fruit. I also set up a table outside – one for the adults and one of the kids. The little ones painted their pumpkins, while us moms had fun creating pumpkin arrangements worthy of gracing our dining room table. It was so much fun – and so simple! It was a wonderful way to ring in Autumn's charms. I strongly encourage you to set aside one or two craft days with your kids – and your friends – this Autumn. It's a simple but wonderful joy!
Plant a Fall Garden
When you think of gardening, spring and summer comes to mind. Often, we forget about the abundance of Fall crops that can bring delicious, fresh produce to our kitchens in the cooler months! Your garden can be as simple as one or two small raised beds, and you can savor the joys of watching new life emerge from the soil without dealing with sweltering, triple-digit temperatures. Here are some crops that you can plant for a cool-weather garden smorgasbord:
Arugula,
Winter radishes,
Peas,
Carrots,
Beets,
Broccoli,
Red onions (you'll need to plant these before it gets too cold),
Lettuce (it doesn't burn as easily in the cooler weather),
Cilantro
You can check out some cool ideas for gardening at The Outdoor Apothecary, too.
Schedule Cozy Teatime
There is nothing quite like taking a step back from the hustle and bustle of life and settling it at home with a good book. Make time to crawl under a blanket with a warm cup of tea and thumb through a thrilling novel or a whimsical magazine. You can interchange reading time with an activity of your choice. Whether it's working on crocheting a blanket or painting a picture, take a moment to bask in the quiet, gentle stillness of a slowly-approaching winter.
Board Games Rule
Now, technological gaming options abound – but nothing is quite as fun as playing a physical board game! Game time is a wonderful way to engage children of multiple ages at the same table and subsequently facilitate quality time spent with the entire family. Games like Sorry!, Monopoly, or Settlers of Catan are sure to entertain. Not sure how to get started with board games? Luckily, tabletop gaming is very popular again, and you can find an immense collection of games online, or even in stores like Barnes & Noble!
Movie Night Fun
If I'm being completely honest, the box office options at the theater have taken a nosedive since 2020. My daughter has never been to the theater, because there's nothing worth seeing (I miss the days of Finding Nemo and Up)! In my house, I try to have a weekly "movie night" with my daughter. We pop popcorn and open a bag of M&Ms, close the curtains, and turn on the surround sound system. It's so much fun! Sometimes, we don't even watch a movie – instead, we might choose to marathon a few episode of the Great British Baking Show or old reruns of Food Network Challenge. Movie night at home can be just as entertaining as visiting a theater – and what's even better is that you have so much more control over the content you're viewing when you're in the comfort of your own house.
Get Creative
Exploring Autumn with your family is all about stopping and taking time to enjoy the changing of the seasons – the jump from lazy, hot, and slow, to cool, crisp, and chilly. Something beautiful happens when the seasons change, reminding us of God's abundant faithfulness in His perfect protection of our world and the gifts that He allows us to enjoy while we are here on Earth.
"As long as the earth endures,
seedtime and harvest,
cold and heat,
summer and winter,
day and night
will never cease."
Genesis 8:22
---
The opinions in this article are specific to its author, and do not necessarily reflect the opinions of the entire Counter Culture Mom team.
*
Summer Lane is the #1 bestselling author of 30 books, including the hit Collapse Series and Resurrection Series. She is an experienced journalist and columnist who reports on news within the U.S. and abroad. Additionally, she analyzes politics and policies in weekly op/Eds on The Write Revolution.
Summer is also a mom and wife who enjoys rural country living, herding cats, and gardening. She is passionate about writing about women's issues, parenting, and politics from a theologically-grounded perspective that points readers to the good news of the gospel.
Download Our New Counter Culture Mom App to get our trending news and pop culture alert notifications. Connect with other parents in the Parent Chat section to gain helpful ideas on how to counteract the Pop Culture Cult!
Be sure to contact us if there is an issue you would like to have us write about! Our mission is to help parents deal with today's lifestyle trends and how to biblically navigate them.