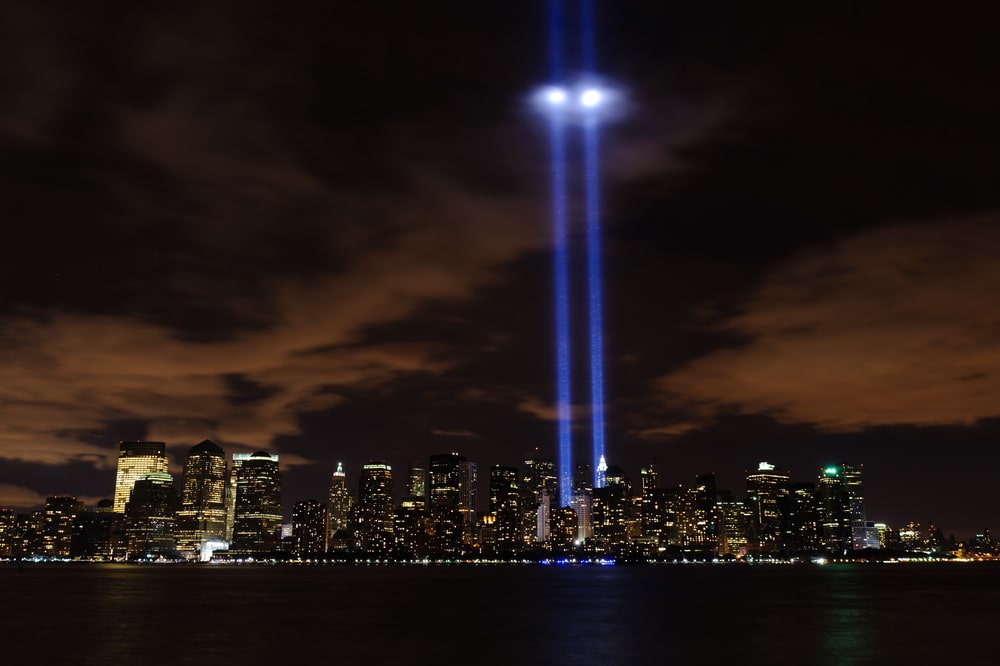 11 Sep, 2023

Seeking the comfort of Christ as we reflect on 9/11

Posted at 5:30 pm

in

apps

,

art

,

being proactive

,

books

,

college

,

education

,

faith and inspiration

,

family

,

goal setting

,

health

,

holidays

,

homeschool

,

Kid's activities

,

marriage

,

media reviews

,

movies

,

newsfeed

,

parenting

,

politics

,

positive entertainment

,

reviews

0 Comments
Reflection/Opinion/Encouragement
By Summer Lane
Photo: Deposit
22 years ago, I sat cross-legged on the floor of my living room, eyes glued to the television screen.
I'll never forget the gaping hole that opened in the pit of my stomach as I watched, bleary-eyed on a Tuesday morning, as the World Trade Center's twin towers went up in smoke. Before the towers fell, when people began jumping to their deaths to avoid burning alive, something changed in me – and I think something changed in many Americans who lived through that day.
While I was not in New York on Sept. 11, 2001, my heart was there in the wreckage of Ground Zero, and deep inside me, I felt a seed of anger and resentment take root. When I thought about the people who had done this horrific thing to my country – to my people – I was overcome with a desire for justice. I was not just upset. I was furious. I could not believe that such a thing could happen on American soil. It seemed unfathomable and, frankly, impossible.
Coming from a family of military veterans and law enforcement, I was already a patriotically inclined kid, but Sept. 11 solidified, in my mind, a territorial feeling that is perhaps best summed up in the colonial-era Gadsden flag: "Don't Tread on Me."
Indeed, so many Americans came together in the wake of 9/11, presenting a unified front as we mourned the loss of the 2,977 innocent people who horrifically lost their lives in evil, senseless violence.
While the events that led up to Sept. 11 are still shrouded with unanswered questions, the aftermath of the attacks nevertheless spurred the U.S. to launch a grueling war in the Middle East that claimed the lives of many of our young, brave men and women in uniform.
9/11 shaped my understanding of culture. "The War on Terror," was the common phrase of the era, and as I grew up, I remember being afraid that more terrorist attacks would occur. I was afraid to board an airplane. I was afraid of traveling abroad. I had a lot of fear that came after that day, and the plethora of media narratives and Hollywood films didn't do much to assuage those anxieties.
🇺🇸#Flashback: On this day, nearly 22 years after the 9/11 terror attacks occurred on our American soil, our beloved country was under attack. The World Trade Center Twin Towers in New York City collapsed after two jets struck the buildings. A third jet crashed into the Pentagon… pic.twitter.com/Fr0A3sZsQ4

— R A W S A L E R T S (@rawsalerts) September 11, 2023
My political opinions on the motivations and subsequent narrative following Sept. 11 aside, the fact remains: innocent Americans died that day, and that infamous event has cast a dark shadow across our country for decades.
Leaving Sept. 11 in the past is not easy. We should never forget the memory of the fallen, and we should always honor the service and sacrifices of the first responders who rushed into the carnage and chaos on that fateful day in New York, at the Pentagon, and in Pennsylvania.
And yet, we cannot live in fear. 2 Timothy 1:7 reminds us, "For God gave us not a spirit of fear but of power and love and self-control."
While it is perfectly acceptable to long for righteous justice (Proverbs 21:15), we must be careful, as Christians, to temper our call for justice with a heart to bring the lost to Christ. My heart still breaks when I think about what the family members of 9/11 victims have gone through over the past 22 years. Those kinds of wounds never truly heal while we are on Earth.
On This 22nd anniversary of the Sept. 11 terror attacks, I encourage you to say a prayer for the families who have suffered for the past two decades and to also pray for God's protection and blessing over America.
We are a lost nation, indeed. We have forgotten who created us and we have turned our eyes away from the objective truth. Pray for America to not just to pivot back to truth, but to seek out the God of the Bible – a God of justice, healing, and protection.
The truth, after all, will set us free (John 8:31-32).
Take comfort in knowing that despite wars and rumors of wars, despite governmental problems or threats from abroad, God is our protector, and we can trust Him to be near to the brokenhearted when we stop and remember unthinkable evils like 9/11.
"The LORD is near to the brokenhearted and saves the crushed in spirit."
Proverbs 34:18
***
---
The opinions in this article are specific to its author, and do not necessarily reflect the opinions of the entire Counter Culture Mom team. This specific article was written by Summer Lane, and may not be reproduced, except to quote for reviews or interviews, without the express permission of the author. 
*
Summer Lane is the #1 bestselling author of 30 books, including the hit Collapse Series and Resurrection Series. She is an experienced journalist and columnist who reports on news within the U.S. and abroad. She is the Associate Editor for Right Side Broadcasting Network. Additionally, she analyzes politics and policies on The Write Revolution.
Summer is also a mom and wife who enjoys rural country living, herding cats, and gardening. She is passionate about writing about women's issues, parenting, and politics from a theologically-grounded perspective that points readers to the good news of the gospel.
Download Our New Counter Culture Mom App to get our trending news and pop culture alert notifications. Connect with other parents in the Parent Chat section to gain helpful ideas on how to counteract the Pop Culture Cult!
Be sure to contact us if there is an issue you would like to have us write about! Our mission is to help parents deal with today's lifestyle trends and how to biblically navigate them.