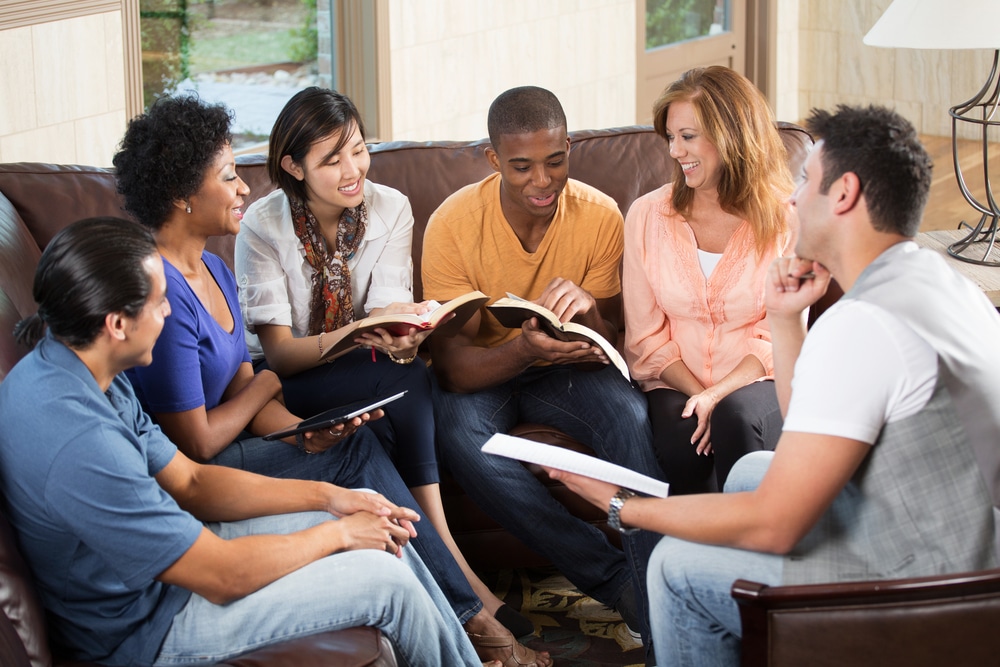 05 Sep, 2023

How to choose the RIGHT Bible study for your group

Posted at 5:30 pm

in

apps

,

art

,

being proactive

,

books

,

celebrities

,

college

,

education

,

faith and inspiration

,

family

,

goal setting

,

health

,

holidays

,

homeschool

,

Kid's activities

,

marriage

,

media reviews

,

movies

,

newsfeed

,

parenting

,

politics

,

positive entertainment

,

reviews

0 Comments
Theology/Advice/Opinion
By Summer Lane
Photo: Deposit
It's that time of the year again when fall ministries are starting back up.
The kids are back in school and you're ready to dive into the Word of God with your feet first and your heart wide open. But how do you go about choosing a Bible study that's reputable, solid, and theologically-sound? With all the publications available on the market today, it's hard to know what voices of wisdom can be trusted!
While there is no perfect preacher or theologian, it behooves us as Christians to flex our discernment muscles just a little when it comes to choosing appropriate studies to invest in with our friends or family.
Here are some surefire pointers to get you started in choosing a trustworthy Bible study this fall.
First, research the author
This seems like a no-brainer, but if you've never chosen a Bible study before, it may be a good idea to start out with a solid and well-known voice of Biblical wisdom like John MacArther and stretch your theological skills of discernment from there. According to Ligonier, "Discernment is learning to think God's thoughts after Him, practically and spiritually; it means having a sense of how things look in God's eyes and seeing them in some measure 'uncovered and laid bare.'"
Do some digging on the writer who put together your proposed study. What do they believe? Are they preaching the Gospel – or are they preaching something else? Are they aligned with the core tenants of Christianity or are they using sketchy practices like the Enneagram? This is where your own capacity for investigation and judgement comes into play. When at an impasse, always compare what you're reading against Scripture itself. It will never lead you astray.
Follow the money (or the connections)
There are a lot of Bible studies that are written by authors who have roots in the NAR (New Apostolic Reformation) movement. If you're not familiar with that, I highly recommend a wonderful book on the subject called "Counterfeit Kingdom," by Holly Pivec and R. Douglas Geivett.
NAR is a modern movement that essentially (to make an extremely brief summary) believes that to usher in Christ's return, there must be a massive uptick in modern-day prophets and spiritual signs and wonders. They are known for odd practices such as "grave soaking" and promoting speaking in tongues (which is a very rare gift; read 1 Cor. 14:23 for a bit of reference on why an entire church shouldn't be doing this, anyway!).
Churches like Bethel Church in Redding, California or the International House of Prayer in Missouri are extremely problematic, due to their extra-Biblical beliefs and obsession with turning everyone into a mini-prophet (spoiler alert: the gift of prophecy is extremely rare!). Read this article for more information on how to identify churches or speakers associated with these types of organizations.
If your study is funded by or written by a member of a NAR church, for example, WATCH OUT. There may be some really bad information found within. Always, always compare what a Bible study says against the hardline truths of Scripture. Steer clear of sensationalistic mega-churches like Bethel or Hillsong and stay focused on the foundational truths of solid theology.
Assess your needs as a group
Does your family or do your friends need to study the basic foundational concepts of Christianity? Do you have new believers? Old believers? Mature or immature? A 60-year Christian will have different Bible study needs than a 21-year-old new mother, for example. Make sure your people are being fed with spiritual food that will nourish their souls and pour wisdom into their hearts. Appoint a Bible study facilitator who can keep the discussions directed, focused, and fruitful. If there is disagreement, reflect on it and remember: always go back to Scripture to settle questions.
"The gospel is not about me. The gospel is about Jesus." —@RCSproul

Learn more: https://t.co/1rIchK3pGa pic.twitter.com/ZBY1ENXvaJ

— Ligonier Ministries (@Ligonier) March 31, 2023
***
---
The opinions in this article are specific to its author, and do not necessarily reflect the opinions of the entire Counter Culture Mom team. This specific article was written by Summer Lane, and may not be reproduced, except to quote for reviews or interviews, without the express permission of the author. 
*
Summer Lane is the #1 bestselling author of 30 books, including the hit Collapse Series and Resurrection Series. She is an experienced journalist and columnist who reports on news within the U.S. and abroad. She is the Associate Editor for Right Side Broadcasting Network. Additionally, she analyzes politics and policies on The Write Revolution.
Summer is also a mom and wife who enjoys rural country living, herding cats, and gardening. She is passionate about writing about women's issues, parenting, and politics from a theologically-grounded perspective that points readers to the good news of the gospel.
Download Our New Counter Culture Mom App to get our trending news and pop culture alert notifications. Connect with other parents in the Parent Chat section to gain helpful ideas on how to counteract the Pop Culture Cult!
Be sure to contact us if there is an issue you would like to have us write about! Our mission is to help parents deal with today's lifestyle trends and how to biblically navigate them.