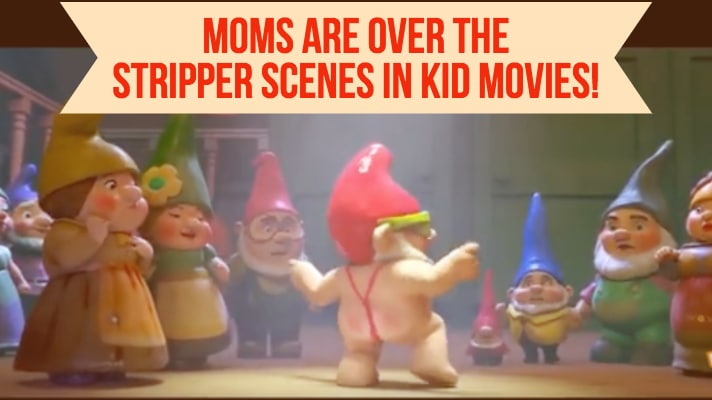 21 May, 2018

This is Absolutely Enraging – My Kids Screamed Ew!

Kids movies, like Sherlock Gnomes, should NOT include stripper scenes and naked bodies, but sadly many do. What is this behavior teaching our kids? What consequences will our children face if they start to mimic what they see or if someone asks them to strip?

"Mommy, I saw a preview for a movie today. It was well… gross." My oldest daughter chose her words carefully that evening. My husband, their father, took her and her sister to see the kids' movie Ferdinand while I was at work. I stood there listening as I scrubbed the dinner dishes at the kitchen sink wondering what could be so disgusting that she wanted to tell me. Blood? Snot?

"Why was it so gross?" I put a plate in the dishwasher as I glanced at her.

She shrugged. Her face gave away a look of embarrassment.

"Well…." I paused completely from the dishes and turned to looked at her. What kind of movie preview did they show before this kids' movie I wondered?

"Uh… well…" My seven year old's nose scrunched up and her lips curled downward. "The guy in the preview lost his pants."

Oh, seriously? Are you kidding me? Another movie! Why does this keep happening!

An overwhelming tightness grabbed my chest. Anger, rage, and fury consumed me as I thought about producers, directors and illustrators who had once again stuck this sick act in a children's movie.

"Honey, I'm so sorry. That is very inappropriate. It is not funny. Even if they try to make it seem like that on the movies. Even if everyone around you laughs. It is not funny. People need to keep their pants on. Thank you for telling me." I gave her a quick hug and a pat on the back and turned back to the dishes. Later, I watched the preview for Sherlock Gnomes (the movie my daughter mentioned to me) and discovered to my horror, the gnome she was talking about actually did not have any pants on…. He was dressed in what I assume to be stripper attire (while dancing). It was worse than I thought.

A few months earlier, my girls screamed out from the couch in the living room, "Ewwww…." as I stood there horrified watching Oaken (the guy who runs the Trading Post) in our beloved Frozen movie, throw his short towel off his waist and onto Olaf's head in this Christmas TV special, Olaf's Frozen Adventure. I should have known he was going to lose his towel. It seemed like this was a new normal and expected occurrence in kids' movies.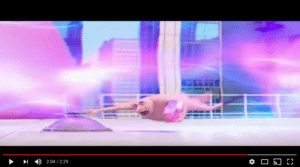 Seven months prior, I watched Gru lose all of his clothes in a preview of Despicable Me 3. They were blown off. I put the preview in slow motion on my computer screen. He was left completely naked. Yes, it was only a split second. But it was still there. I didn't understand. He could have had his hat or jacket blown off. Kids would have realized that the air was strong. There was no reason for illustrators to make ALL of his clothes blow off. To promote indecent exposure to kids. In case you didn't see what I saw, here's the preview I was talking about. Watch at the 2:00 minute mark.
[youtube id="6DBi41reeF0″]
The list goes on and on….. Trolls – King Peppy (the father) loses his pants. In Peter Rabbit… Mr. McGregor's nephew loses his pants…. What about Goofy? He loses his pants more times than I can count….that is when I first started noticing this trend when my girls now six and seven were just toddlers.
Why do movie producers, story writers, illustrators think it is so hilarious and necessary to have a male character's pants fall off in our children's movies???? Is it to be hip and cool? Is it to be perverted and to get little boys and girls to think this is normal? Is it because they think movie goers will not go or watch unless it's in there?
Some of you reading this will say, I'm crazy. This is a cartoon or a character in a kids' movie. Not an actual human. My children will not learn from this. Yet, why do we allow our kids to watch Daniel Tiger to learn behavior and societal lessons from him. Why do we let Sesame Street teach our kids the alphabet or have Curious George teach our kids that is okay to explore and try new things? If Daniel Tiger started cussing — Or said, "Stomp your feet three times" and then continued with, "Heck, no!" many of you would turn off the TV and write the producers the moment your little two or three year old twins started running around the house saying "Heck no, Mommy!"
I know. That might seem a little extreme. But maybe it isn't. Angry tears are coming to my eyes right now as I type this.
In America, we are really trying hard to fight and put an end to childhood pornography, sex-trafficking, and disgusting apps that lure our young kids out the door and into the night. Which I'm thankful for. But why is it okay to show something in animated form that could be considered an offense otherwise? If we allow ourselves and our children to be desensitized when characters lose their clothes in a child's movie, why are we surprised when children are victimized or don't feel comfortable speaking up when they are molested or worse.
They are conditioned to say – that is okay. And yet it is not. Are my husband and I the only ones who believe characters losing their clothes is just a "gateway" leading to molestation or worse? Have the mores changed? I sure hope not! Maybe we could start with teaching our toddlers, preschoolers, and grade school children right from wrong. If we don't, our kids are growing up to believe that it's perfectly normal to expose themselves or be asked to expose themselves with no consequences attached. Let's write to the producers, directors and actors who are promoting this awful message to our kids. Let's not support by watching or buying any media which goes against what we believe. Let's cling only to entertainment that teaches morals and values we actually want our kids to learn and apply.
Who is ready to fight this battle with me? It is uphill. It is long and hard. Let's empower our children today. They deserve to know now the difference between what is right and wrong.
Just to confirm that you shouldn't spend your time or money supporting the movie Sherlock Gnomes, here's the trailer proving my point. Pay close attention at the 2:00 minute mark.
[youtube id="UtbiOl506ms"]
SHARE THIS POST by hitting the share button above this article so more parents are aware of this horrible trend in kids' movies today.
Carrie Burrows is the contributing writer for this article. She is a freelance writer in Texas and loves spending time outside exploring this great state with her husband and two daughters. She has been involved in church ministry (on staff and volunteer) for fourteen years. Connect with her on Instagram @carrieburrowsbooks.