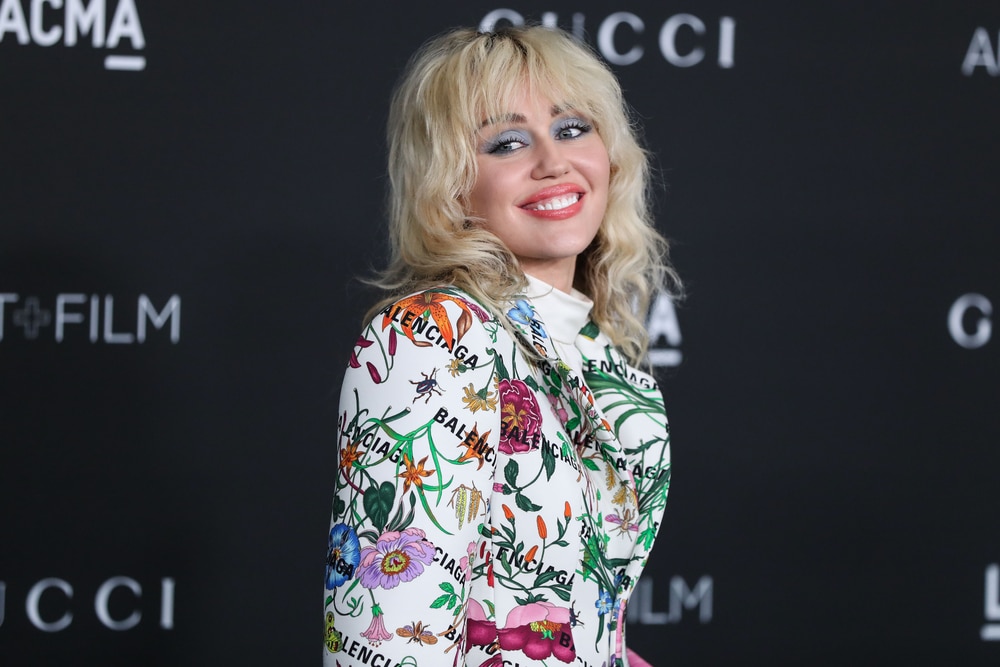 16 Jan, 2023

Parent Review: Miley Cyrus's new single, 'Flowers'

Posted at 5:30 pm

in

art

,

being proactive

,

celebrities

,

drugs and alcohol

,

faith and inspiration

,

family

,

LBGTQ

,

media reviews

,

mental health

,

music

,

parenting

,

politics

,

positive entertainment

,

relationships

,

self esteem

,

sexuality

,

social media

0 Comments
Media Review/Entertainment
By Summer Lane
Photo: Deposit, Editorial Use Only
If you lived through the 2000s, you likely remember the hit Disney show Hannah Montana. The show starred young teen queen Miley Cyrus alongside her one-hit-wonder country singer dad, Billy Ray Cyrus, and launched the young Miley into superstardom.
Hannah Montana was perhaps the last wholesome Disney Channel series that had the capacity to entertain both parents and children together. Cyrus's gift for comedic timing shone strongly on the sitcom, and when the time came for her to leave the show behind and step into the big, wide world of adult acting and singing, she dove in unapologetically.
12 years ago on January 16, 2011, the Hannah Montana series finale aired on Disney Channel pic.twitter.com/jxs9GN2FWa

— out of context hannah montana (@OCHannahMontana) January 16, 2023
And then came the scandalous behavior:
Dancing onstage with a stripper pole at the Teen Choice Awards in 2009. Swinging naked on a wrecking ball in 2013. Telling the world that she believed she was pansexual when she was 22. Her on-again, off-again relationship with the Australian actor Liam Hemsworth. Their marriage. Their divorce. Her romantic liaisons with both men and women.
In an article from Billboard, Cyrus recounts telling her mother when she was just 14-years-old that she was attracted to women.
"I remember telling her [my mom] I admire women in a different way," Cyrus told Paper Mag. "And she asked me what that meant. And I said, I love them. I love them like I love boys. And it was so hard for her to understand. She didn't want me to be judged and she didn't want me to go to hell. But she believes in me more than she believes in any god. I just asked for her to accept me. And she has."
But she believes in me more than she believes in any god. 
Great parenting skills, right? *eye roll*
Miley Cyrus has sadly followed the pattern of many Disney Channel alums and chosen a wild, wild highway after leaving the bubblegum, pixie-dust encrusted set of Hannah Montana, unashamed of dressing nude, dropping f-bombs, and unabashedly putting her explicit sexuality on display on social media.
Miley is a whole new level of shock factor – aiming to horrify and mesmerize with her edgy, wildly erotic fashion choices and outlandish statements over the years, she long ago lost her status of being any kind of role model to young girls.
That being said, Cyrus is a talented singer, songwriter, and performer. Her newest single, "Flowers," is popping up everywhere on social media this week, and because the single may inevitably draw your youngest children's attention, it's not a bad idea to be familiar with Cyrus and the message that she is attempting to impress upon girls.
The single
"Flowers" pays lyrical homage to Bruno Mars' hit "When I Was Your Man." It paraphrases several lyrics from that song. For example:
 I should've brought you flowers
And held your hand
Should have gave you all my hours
When I had the chance
Take you to every party
Cuz' all you wanted to do was dance.
Cyrus's lyrics play off these lyrics with the opposite intentions:
I can buy myself flowers
Write my name in the sand
Talk to myself for hours
Say things you don't understand
I can take myself dancing
And I can hold my own hand
Yeah, I can love me better than you can.
Cyrus is lambasting her former lover in this song, who is likely her ex-husband, Liam Hemsworth. According to an article from Newsweek, Cyrus dropped the newest single on her ex's birthday, and there are theories that Hemsworth even dedicated the original Bruno Mars song to Miley when they got engaged. If true, "Flowers" would double as a bit of a revenge song.
As always, Miley goes straight for throat when it comes to making statements. The song itself is clean enough, which is saying something for Cyrus. Rather than provocatively writhing naked on a wrecking ball or licking a sledgehammer, Cyrus's accompanying music video for the song features a more subdued version of the songstress, dressed in a vintage Yves Saint Laurent gown from 1991, traipsing through the streets of Los Angeles, and dancing wildly alone in her home.
FLOWERS OUT NOW. pic.twitter.com/kKrEnd11Em

— Miley Cyrus (@MileyCyrus) January 13, 2023
There are some scenes in the music video of Cyrus wearing lingerie and seductively "working out," which are definitely not appropriate for children to watch.
"Flowers," however, is perhaps the single tamest thing I've seen Cyrus put out in a while. It's catchy, it's poppy, and it doesn't drop any expletives. If you hear it on the radio, don't panic. Still, be aware that Cyrus is a wild child through and through – she is not an appropriate role model for anyone. She is constantly and relentlessly pushing hypersexuality on her young audience.
I personally enjoy listening to a lot of Cyrus's songs – they're well-written and her deep, gravelly voice is one of a kind. It's just a shame that she, like so many other celebrities, are intent on publicly exploring their sexuality to such a shocking extent. That doesn't teach our children anything that is worth emulating.
The verdict? "Flowers" is a catchy little tune, but the artist behind it should be avoided to protect the minds and hearts of your sweet kiddos.
Finally, brothers, whatever is true, whatever is honorable, whatever is just, whatever is pure, whatever is lovely, whatever is commendable, if there is any excellence, if there is anything worthy of praise, think about these things.

Philippians 4:8
---
The opinions in this article are specific to its author, and do not necessarily reflect the opinions of the entire Counter Culture Mom team. This specific article was written by Summer Lane, and may not be reproduced, except to quote for reviews or interviews, without the express permission of the author. 
*
Summer Lane is the #1 bestselling author of 30 books, including the hit Collapse Series and Resurrection Series. She is an experienced journalist and columnist who reports on news within the U.S. and abroad. Additionally, she analyzes politics and policies in weekly op/Eds on The Write Revolution.
Summer is also a mom and wife who enjoys rural country living, herding cats, and gardening. She is passionate about writing about women's issues, parenting, and politics from a theologically-grounded perspective that points readers to the good news of the gospel.
Download Our New Counter Culture Mom App to get our trending news and pop culture alert notifications. Connect with other parents in the Parent Chat section to gain helpful ideas on how to counteract the Pop Culture Cult!
Be sure to contact us if there is an issue you would like to have us write about! Our mission is to help parents deal with today's lifestyle trends and how to biblically navigate them.