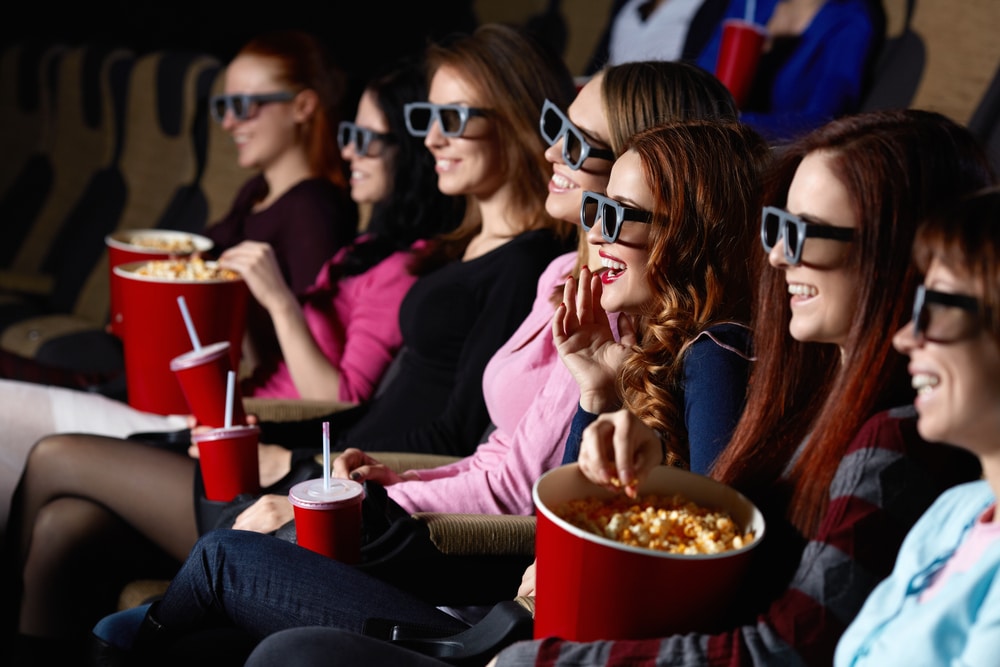 20 Jan, 2023

Nine solid films to get you back to the theater this year

Posted at 5:30 pm

in

being proactive

,

celebrities

,

faith and inspiration

,

family

,

holidays

,

Kid's activities

,

media reviews

,

movies

,

parenting

,

positive entertainment

,

religion

,

reviews

,

sexuality

0 Comments
Media Review & Entertainment
By Kyra Thompson
Image: Deposit Photo
I know that in the last few years, it has been a challenge to find a film worth going to the theaters for, let alone one that portrays the shared Christian or American values of so many families. If it's not a reboot then it's a progressive propaganda piece or, worst case scenario, it's both. But before you give up on the movie theater experience altogether, I want to let you know that hope is on the horizon.
With the obvious outcry against many of these progressive films (as has been shown by the plummeting box office numbers), hopefully companies will begin to transition back to good old-fashioned neutral entertainment (and maybe a few original story ideas instead of reboots). So, while we await that transition, that doesn't mean we have to forgo a trip to the big screen entirely. There are several promising opportunities coming this year (and beyond) to make your way to the theater and kick back with a delicious tub of greasy popcorn. 
Green Light Films (safe for all)
---
This film is set in the 1970s at the dawn of what was known as "The Jesus Movement," a revival that sparked national interest from both believers and non-believers alike. It was written and produced by the Erwin brothers, who are known for films like Woodlawn, October Baby, I Can Only Imagine, and many more quality production Christian films. With their track record, I can pretty much guarantee this film is going to be a memorable one. It's going to be well-written, it's going to be well-acted, but most importantly, it's going to have a story that will melt your heart. I would not miss this if I were you. 
The Chosen: Season 3, Ep.7 and 8 (February)
While this next theater experience is not actually a movie, it is still worth getting yourself out of your house and down to the theater. For those who don't know, it's a show about the life of Jesus, but more specifically, focusing on the stories of his disciples. 
This February they are putting the last two episodes of season three on the big screen. Now, if you haven't seen the rest of the show, you may want to take the time to catch up before hitting the theater. Thankfully, all of seasons one, two, and the beginning of three are free on the app (or seasons one and two are on YouTube).
One very important detail to make note of: it is out as a Fathom event for two days only, February 2 and 3. So, get your tickets before they sell out. 
God's Not Dead: Rise Up (Unannounced)
If you have been a fan of the God's Not Dead series of films, you'll be excited to know they announced a fifth film that is slated to come out this year if everything goes according to plan. It will once again take place against a political backdrop and will feature many of the beloved characters that have been in the films before. 
Another exciting film that is on the horizon is coming from the pop music duo For King & Country. This will be the Australians' second feature film that they have released after their first film Priceless was received well by the Christian community. Always focusing on a touching and impactful story, this film will have a very personal touch as it focuses on their own family's story of coming to America.
WE MADE A MOVIE! 🎬🚨

We're *finally* able to pull back the curtain🤫 on what we've been up to the last few months..

'UNSUNG HERO', our second feature-length film🎞, is COMING SOON.. and my my, we can't wait to share it with you. 🙏🏽 @unsungheromovie pic.twitter.com/5Ll4udx1yA

— FOR KING + COUNTRY (@4kingandcountry) November 30, 2022
This is a romantic faith-based film based on the real-life conversion story of Carolyn Weber as she came to know the Lord during her time at Oxford. The film follows her autobiographical novel of the same title and is slated to be released sometime this year as well. While there is still some uncertainty if it will reach theaters everywhere, I would highly recommend you be on the lookout for if it reaches your theater as it looks to be a treat you won't want to miss out on. 
Yellow Light Films (discretion advised)
---
Left Behind: Rise of the AntiChrist (January)
This film is a new installment in the highly popular book series that was turned into movies back in the early 2000s. The movies imagine what it would be like if the Lord raptured away all the true believers leaving behind the lost to figure out what is going on. The story largely follows the events described in Revelation with creative liberty but does a great job of reminding us, that time is short and we need to make the most of our time before the Lord returns. Discretion is advised as some of the themes in a film of this nature could be intense for younger children. 
Left Behind: Rise of the Antichrist. The sequel takes place 6 months after the Rapture and sets the stage for the coming 7 year Tribulation, Apocalypse and the ultimate return of Christ. Get tickets now

Check out the official trailer!
Purchase tickets at https://t.co/ywgmpqy0fv

— Kevin Sorbo (@ksorbs) January 11, 2023
The Super Mario Bros. Movie (April)
There is not much to say by way of praise for this film, but it does seem to be untouched by the progressive ideology so far. My hopes are that it will be a fun entertainment experience without any agenda to push. But as it is not yet released, it is hard to know if it will be infected with the same plague too many of our other children's animated films have infused with recently. But considering it is from the same animation studio that released the Despicable Me franchise, Sing, and Secret Life of Pets, (all of which were clean fun entertainment) I have high hopes. 
Spider-Man: Across the Spider-Verse (June)
This film holds promise if it follows in the footsteps of the first movie. Its predecessor, Spider-Man: Into the Spider-Verse was a fun lighthearted superhero movie with classic values (like they used to be) and a modern artistic animation style that pulled parents in just as much as kids. The only problem is, Marvel's reputation right now is down the drain when it comes to family values. So, here's to caution and hoping that this sequel will deliver the same enjoyable, family-friendly action ride without all the social justice preaching that other Marvel movies have been saturated with recently.
Migration (December)
There is still so little on this project about a family of ducks that go on the vacation of a lifetime, but it is slated to release in December of this year. And since it is also from Illumination (the studio that is animating The Super Mario Bros. Movie), it is hopeful that it will also be an innocent animated film that is fun for the whole family and something worth looking into when more information is released. 
---
The opinions in this article are specific to its author, and do not necessarily reflect the opinions of the entire Counter Culture Mom team.
*
Kyra Thompson is a freelance writer and editor with a passion for storytelling as a way of connecting people with truth and the bigger picture of this thing we call the human experience. She earned her degree in journalism from Liberty University and has been published in USA Glass Magazine and as a ghostwriter for several pastors with ministries all over the country.
Download Our New Counter Culture Mom App to get our trending news and pop culture alert notifications. Connect with other parents in the Parent Chat section to gain helpful ideas on how to counteract the Pop Culture Cult!
Be sure to contact us if there is an issue you would like to have us write about! Our mission is to help parents deal with today's lifestyle trends and how to biblically navigate them.