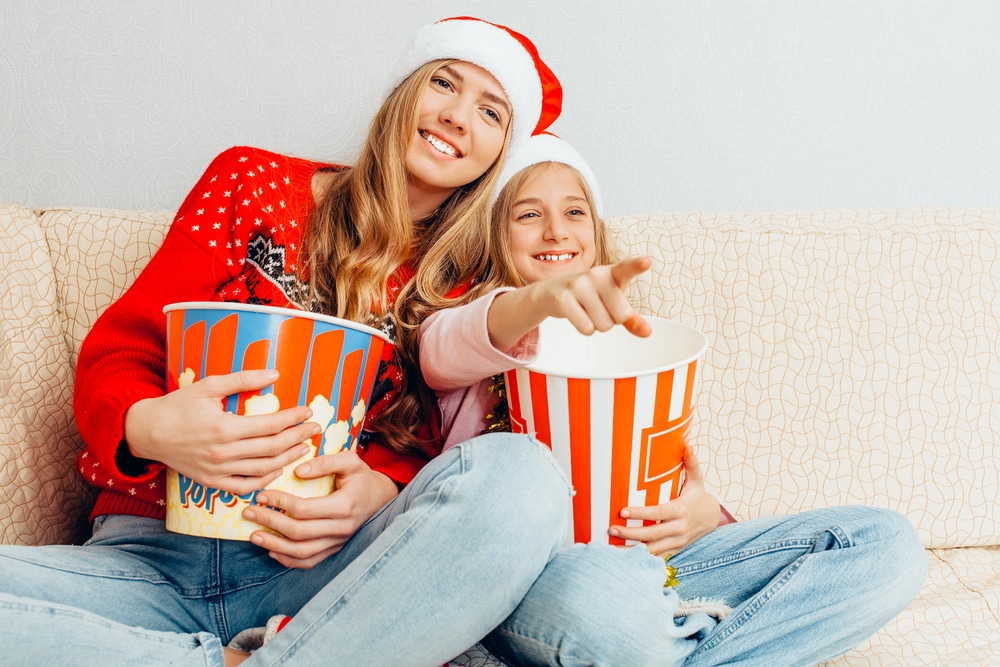 28 Nov, 2022

Questioning the Agenda of Hallmark Christmas Movies

Posted at 5:30 pm

in

being proactive

,

celebrities

,

faith and inspiration

,

family

,

holidays

,

homeschool

,

Kid's activities

,

LBGTQ

,

media reviews

,

movies

,

parenting

,

positive entertainment

0 Comments
Parenting & Holidays
By Katie Stallings
Image: Deposit Photo
Hallmark Christmas movies have been a staple in the lives of many for years.
My mom and I share a guilty pleasure in watching them throughout the holiday season. There is something about taking a journey with the main characters and dreaming about towns having Christmas tree lightings or gingerbread house contests. However, not all Hallmark lovers will watch the channel this year. With their recent push for "inclusiveness," it is becoming tougher to watch the station.
Hallmark has submitted to the nudge of culture and is veering in a direction that strays from its original values. Many are ecstatic about the company complying with society. It is disheartening for those of us who respectfully disagree with this direction. It leaves us wondering if they should continue to watch Hallmark. Do lovers of the channel give up entertainment that has blessed them with many joyful moments, laughs, and tears? It is crucial to know details and facts before a conclusion is drawn.
Hallmark Goes Woke?
Crown Media has had a thriving industry in entertainment, particularly with the romance genre. It is a specialty of Hallmark's to feature the main character and find a way for them to fall in love with another lead. Typically these leads are male and female. However, Crown Media is making Hallmark history this year by featuring its first gay couple in the lead roles. Hallmark has gradually added same-sex couples into their programming to be "inclusive" to the LGBTQ community since 2020. 
In 2019, Zola ran an ad on the network showing a lesbian couple kissing at their wedding. Viewers voiced their disapproval, claiming that this is not family-friendly content. It did seem like Hallmark to feature a same-sex couple on their channel, even on a commercial. Hallmark heard the cry of the fans and withdrew the Zola ad. However, the opposing side had louder voices. Hallmark CEO Mike Perry later apologized, stating, "Our mission is rooted in helping all people connect, celebrate traditions, and be inspired to capture meaningful moments in their lives." Perry also lamented that cutting the commercial had hurt them because it upset many viewers. Hallmark also partnered with GLAAD, a platform that promotes the acceptance of LGBTQ in media.
After the reinstatement of the Zola ad, the network featured its first same-sex couple on the program "Wedding Every Weekend" in 2020. The company continued to implement same-sex couples in their Christmas movies. A few festive films portrayed gay relationships or love interests in supporting roles. Since Hallmark is known for its Christian roots, many are dismayed with the new direction.
This change is not ideal for Christians or conservatives who disagree with tenants of the LGBTQ movement. However, not much can be done to change their minds if this is the route they are choosing. I cannot speak for the future of Hallmark and say that they will not eventually open their doors to more woke ideas. Time will only tell how this network folds under the pressure of the liberal agenda rapidly spreading in our society. For now, they are merely placing their toes in the water and gradually incorporating same-sex couples in their movies.
Network Stays Conservative
Hallmark may be choosing a road that does not align with Biblical teachings, but there is one company that is staying true to the Word of God.
Great American Country (GAC) Family has blossomed over the past year as a Hallmark competitor. Introduced in 1995, Great American Country brought great music and entertainment to the nation for many years. Over time, it has seen many transitions and the year 2021 expanded this platform.
William (Bill) Abbott entered the GAC family publicly in June of 2021, becoming CEO of GAC Media. In September of 2021, Great American Country's network rebranded as GAC Family. The new network has been nothing short of successful. Hallmark viewers who are displeased with the changes have given GAC their attention.
The network has created warm, welcoming, and festive content similar to what Abbott built at Crown Media from 2009 to 2020.
In June 2009, Abbott landed the title of CEO for Hallmark's parent company, Crown Media Family Networks. He contributed much to the channel's growth, co-founding two Hallmark staples, Cedar Cove and When Calls the Heart. Hallmark Movies & Mysteries was also founded under Abbott's leadership. His time, however, ended after 20 years when Hallmark publicly apologized for revoking the Zola commercial and pledged to be more inclusive in future projects.
As it would seem, God blessed Abbott's stand, as he found success in a partnership with Hicks Equity Partners. This made GAC Media, which rebranded as GAC Family in Sept. 2021, possible. Since the collaboration between Abbott and Hicks, GAC has been laboring to create family-friendly movies similar to the Hallmark movies that were once made under Abbott's leadership. 
So, other than the obvious, what is the difference? They are bringing back Christian Faith in their content. Candace Cameron Bure, who joined GAC in April, says that GAC is bringing faith into their movies. Christian morals and ideas will not simply be brushed over, but they will be prominent in the content.
The Verdict
Many are probably still questioning if Hallmark is okay to watch with their families. My personal verdict is that it is okay to flip the channel to the well-loved network. Hallmark has years' worth of good movies with good values from when Abbott was CEO and even after he left. There are still great movies on the Crown Media list. It is okay to watch your favorites! My suggestion for future films is to research the newer ones coming out if you still want to keep up with Hallmark. We are called to identify sins and not partake in them. Before watching any new Hallmark Christmas movies, read the summary or description to gauge if it will be a good fit for you and your family.
As for GAC, it is a new network that is working on expanding. Even though it does not have the filmography of its competitor and has yet to mature, it is off to a good start. I have enjoyed several of the network's films so far, and I look forward to seeing new releases each weekend.
In conclusion, I do recommend GAC over Hallmark. As Christians, we need to focus on content that does not glorify and accept sin. We should invite movies with Christ-like values into our homes with our families. GAC will definitely be my leading cheesy, guilty pleasure network for Christmas this year.
---
The opinions in this article are specific to its author, and do not necessarily reflect the opinions of the entire Counter Culture Mom team.
*
As a proud North Carolina girl, Katie Stallings follows her love for writing at the University of North Carolina Wilmington. Her other passions include Jesus, Bible Theology and Eschatology, singing, acting, and uncovering the truth about secret societies, the elite, and things hidden in plain sight. Katie discovered the deceit of the entertainment industry in her early 20s, which led her down a path of exposing the darkness that Hollywood promotes and the evil in the political world.
When she is not working, doing school work, or trying to pack her mind full of information, you will find her with her family or friends, spending time with her nephew, and working in her home church, all with a coffee in her hand.
Download Our New Counter Culture Mom App to get our trending news and pop culture alert notifications. Connect with other parents in the Parent Chat section to gain helpful ideas on how to counteract the Pop Culture Cult!
Be sure to contact us if there is an issue you would like to have us write about! Our mission is to help parents deal with today's lifestyle trends and how to biblically navigate them.