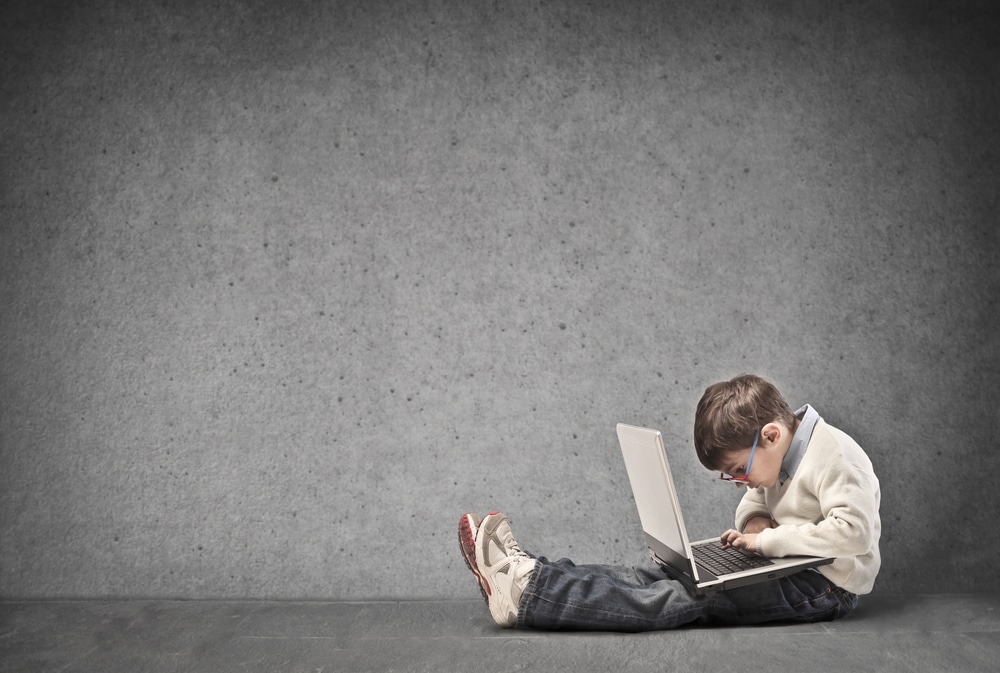 21 Feb, 2023

Parenting: Drawing boundaries with digital devices in the home

Posted at 5:30 pm

in

art

,

being proactive

,

books

,

education

,

faith and inspiration

,

family

,

goal setting

,

health

,

homeschool

,

Kid's activities

,

mental health

,

movies

,

newsfeed

,

parenting

,

positive entertainment

,

relationships

,

religion

,

safety measures

,

social media

,

technology

0 Comments
Parenting/Biblical Advice
By Summer Lane
Photo: Deposit
In a world rife with streaming options, iPad games, and cellphone apps, it can be so easy to reach for a digital device to entertain our children. And hey – truth be told, I'd be lying if I said I don't occasionally tap into the convenience of a screen when it comes to entertaining my kiddo. Sometimes, you must do what you must do. Nobody can achieve the organic, earthy aesthetic of an Instagram mom in the real world. "My kids have ZERO screen time," they might brag.
Well, that's great. But if a mother has achieved that, then it is likely that there are other factors in the background (rare ones) that have allowed her to facilitate a totally device-free lifestyle.
Today, I'd like to find a middle road between total device elimination and haphazard device overload. I'm going to share some alternative forms of entertainment to using a tablet or television both at home and in public.
Ultimately, my approach is centered on this verse:
Ephesians 6:1: "Children, obey your parents in the Lord, for this is right."
Discipline, don't dote
The verse above is simply a reiteration of the original commandment in Exodus 20:12. The command to obey and honor our parents is one of the original Ten Commandments – and it is a serious one. I think about it often as a parent, and I have been convinced for quite a long time that if I am unable to control my child without setting them down in front of a device to make them be quiet, then my child does not respect me.
Granted, there have been a few occasions where I have had a sick, exhausted child with me in a restaurant and I desperately pulled up an episode of Shaun the Sheep on my cellphone to keep her occupied so I could eat. However, the point here is that the device is always, always the last resort – never the primary option.
Really, overusing a device is an indication of lazy parenting. I don't know how else to say it. I can speak from experience, because if I am not feeling like the weight of parenting is something I can face in a difficult moment, sometimes it's tempting to just hand my child a tablet or turn on the television.
This is a shortcut, sure. You'll get the peace and quiet you need. Sometimes, I have no choice but to do this. But often, I try to find another way.
And I think that's the key – moderation. Using devices sparingly and making them a privilege for a child, not a right, has a big impact.
A child needs to learn to obey and respect their parents. Too often, we try to short-circuit this God-ordained relationship by placating our screaming children with a distraction, but that is not the answer. The child does not learn to respect their parents when we do this.
As a mom of a high-activity, high-performance child (in both mental and physical acuity), my daughter has presented a challenge for us as parents, because she has been unashamedly rebellious since the moment she was born (or at least, it feels like it!).
My daughter is absolutely brilliant, and while this makes me proud, it can be very hard. She knows that she does not have to obey us – so the key here is to impress upon her that her obedience is not only a command from the Lord, but an indication of the proper order of a healthy household.
Children should not run the show – ever.
Because of my daughter's personality, I have made it my personal mission to make sure that devices and television are firmly controlled and metered in our household. Too much screen time produces a bad attitude, and it kills creativity. My daughter performs at a much higher level, for example, on a day when we spend our time working in the garden than if she has sat in front of the TV watching cartoons. It's kind of a no-brainer.
Ephesians 6:4 warns fathers not to provoke their children to anger, but to bring them up in the discipline and instruction of the Lord. Gentle but firm instruction is a profound and effective way of showing your love for your child. Allowing our children to rule over us, by contrast, is not loving at all. It sets them up for failure later in life – and if our children don't even respect us as parents, how can we expect them to respect anyone?
Here are some easy alternatives to screen time that have worked great for my daughter. Even if your child has a more "mellow" personality than mine, these tips and tricks will still work just fine!
Respect in restaurants/churches
One of the biggest struggles with parenting small children is their insistence on throwing an absolute fit in the middle of a restaurant (or church). My husband and I decided when our daughter was born that we would 1) not subject other people to our child's noisiness, and therefore we would 2) have to be willing to leave the restaurant if necessary.
Once you accept the fact that you are willing to vacate the premises in the event of a nuclear toddler meltdown (although my daughter is not a toddler anymore, we still have serious power struggles!), there are some simple things I like to do to make eating out a pleasant experience.
I bring a backpack stocked full of activities for my kiddo. I bring crayons and an activity book. I bring magnet blocks. I bring a couple of books. I bring a table-top game (nothing obnoxious, maybe just 'Go Fish,' etc). I sometimes will bring a magazine for her to flip through. All of this is designed to keep her mind and her hands busy – without the assistance of a smartphone or a tablet.
I'm not saying that I have never used a device to entertain my kid. I'm saying, I do everything I can to avoid doing so. Like I said, I like to make a device a last resort, not my first option.
In church, I have a no-device policy. Absolutely under no circumstances will I allow my child to piddle around on a video game during a Sunday church service. Why? I want her to understand that we need to respect our time worshiping the Lord and learning about Him.
Notice the common theme! I am placing parameters around my child's behavior because I want to teach her to respect not only me, but more importantly, the Lord.
For Sundays, I bring her Bible coloring book and crayons. I also bring a small container of playdough. That's it! It's enough to entertain her for the 40 minutes before she is dismissed to Sunday School.
Home rules for devices
At home, I like to stick with a routine when it comes to devices. My child has an Amazon Fire Tablet, but it rarely gets used. I dislike the effect of video games on my kid's attitude, so the device is reserved only for very long car trips (she can use the tablet to read books or play age-appropriate games) or when I use it as a reward for her good behavior. She really loves to play a cooking game on her tablet, but I allow her to access it only sparingly. I want to reiterate the fact to her that devices are a privilege, not an automatic right.
She also (usually) watches one movie on an average, typically after dinner. I have a list of approved shows or movies that she can watch. Anything outside of that, I have to watch with her (or before her) to approve it for my list.
I highly recommend getting Minno or any other Christian streaming service for little kids. It's a great way to access Veggie Tales and other beloved children's Bible cartoons.
Sticking to an expected routine is great for children. However, there are a few nights a week where I make it my goal to sit and read to her on the couch instead of letting her watch a movie – and she loves it!
Family night
We also have a single "Family Night" on Friday every week where we spend time together as a family. We have a fun dinner (maybe pizza), play a board game (my daughter's choice), and then watch a movie together as a family unit. I pop some popcorn and we settle in. It's a great way to spend time together – and my daughter looks forward to it every week.
When the television is used sparingly, it becomes a positive facet of entertainment, not a negative one.
Emphasize books, crafts
My daughter and I have read the abridged, age-appropriate chapter-book versions of Black Beauty, White Fang, Tom Sawyer, and The Wizard of Oz so far this year. I cannot emphasize how wonderful it is to sit and read a book with your child. When you remove the temptation of video games or TV from your child's life, reading a book suddenly becomes a great option for entertainment.
I also keep lots of paper and crayons on hand for drawing and art. I have lots of playdough, too. And if I need to cook or bake something in the kitchen, I always invite my child to join me. If I need to spend time working on the yard, I have her join me. If I need to do chicken chores or collect eggs, I recruit her assistance.
There are so many ways to involve your children in activities around the house before resorting to TV or tablets.
Like I said, you don't have to eliminate the presence of devices. Just use them sparingly and efficiently. Be the parent, set down the boundaries, and stick to them firmly. Control the content that your kids are consuming – there's a LOT of malicious stuff out there, and you totally have the authority and capability to shield your sweet little ones from being impacted by the garbage online and on television today.
No discipline seems pleasant at the time, but painful. Later on, however, it produces a harvest of righteousness and peace for those who have been trained by it.
Hebrews 12:11
---
The opinions in this article are specific to its author, and do not necessarily reflect the opinions of the entire Counter Culture Mom team. This specific article was written by Summer Lane, and may not be reproduced, except to quote for reviews or interviews, without the express permission of the author. 
*
Summer Lane is the #1 bestselling author of 30 books, including the hit Collapse Series and Resurrection Series. She is an experienced journalist and columnist who reports on news within the U.S. and abroad. Additionally, she analyzes politics and policies in weekly op/Eds on The Write Revolution.
Summer is also a mom and wife who enjoys rural country living, herding cats, and gardening. She is passionate about writing about women's issues, parenting, and politics from a theologically-grounded perspective that points readers to the good news of the gospel.
Download Our New Counter Culture Mom App to get our trending news and pop culture alert notifications. Connect with other parents in the Parent Chat section to gain helpful ideas on how to counteract the Pop Culture Cult!
Be sure to contact us if there is an issue you would like to have us write about! Our mission is to help parents deal with today's lifestyle trends and how to biblically navigate them.