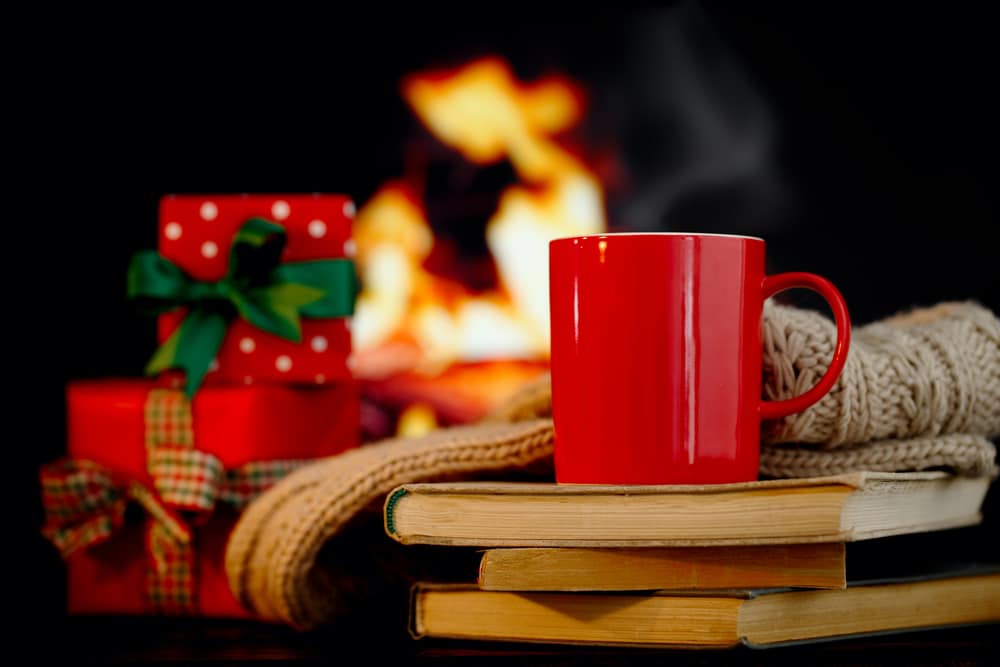 05 Dec, 2022

Enduring Christmas stories that impart wisdom, values
Parenting & Holidays
By Katie Stallings
Image: Deposit Photo
Stories have a magic to them.
Tales of events from the past or fictional fables that let you escape the world for a while have a unique charm. Although they are a fantastic pastime, stories have much more depth than simple entertainment. Morals are laced in words; lessons are woven into each spoken or written paragraph. We may not notice, but our inner child reemerges when we hear or read narratives. Legends entice us with their folklore, mystery, and ability to make the audience feel something. 
Fill your favorite Christmas mug with coffee or cocoa and grab a blanket and sit by the tree. Today, we're highlighting five stories to enjoy this holiday season.
A Christmas Gift for Esther
Okay, so this one might be a little special to me since I know the author pretty well. My dad wrote his first book a few years ago. A Christmas Gift for Esther is based on a fictional character in the fictional town of Pinetown, Indiana. Over the years, Esther has allowed life to callous her heart until she receives unexpected company on Christmas Eve night. Esther wakes Christmas morning and encounters a gift she never knew she needed. 
The latest release in the trilogy, Esther's Christmas Wish, finds Esther the following year. Her recently widowed brother, Jacob, arrives to spend Christmas with his sister, her daughter, son-in-law, and grandson, but Esther learns unsettling news. Jacob, who was serving as a pastor for years, has turned his back on Christ. Esther searches for ways to bring her brother back to the Lord. Hopeless, Jacob refuses to adhere to the pleas and encouragement from his sister and niece. His stubborn nature takes him on quite a journey. This is a story of second chances, family, and repentance. The tale of Esther's Christmas Wish is sure to fill your home with a few laughs, reflection, and maybe a few sweet tears.   
The Crippled Lamb
Max Lucado is one of the most well-loved authors in the Christian genre. Lucado has written many adult devotionals and chapter books. However, he has a gift for imprinting on the lives of the youth through his Children's books. A winner of the Golden Medallion Book Award, The Crippled Lamb, is a sweet story that reminds us that when we feel alone or frivolous, God sees us and has a particular purpose. 
Little Joshua, with brown spots and an immobile leg, is a pariah among the sheep in his flock. The others in the flock all endlessly run and play in the pasture while he watches from afar. He dreams of being like them, and when Joshua becomes disheartened about his disability, his friend Abigail the cow reminds him that "God has a special place for those who feel left out" (Lucado 1994). The little lamb hears her but does not feel confident in her words. The other sheep badger Joshua when they moved pastures because the quick journey would have been unfeasible for him to make. However, the little lamb is met with a remarkable task that the other sheep cannot do that Christmas night. Joshua learns he has a significant purpose, even with a disabled leg. God listens to little Joshua's heart, just as he listens to ours. 
Many children, teens, and adults might feel slighted and insignificant. This book is a sweet reminder of God's love and how He can use anyone to do great things, even with an impairment. 
 The story of The Crippled Lamb is real and relatable. After reading this story, take time with your children to talk about times they have felt like Joshua and point out how God has used them. 
The most important story that can be linked with little Joshua is the One who was seen as the biggest outlaw of His time. Jesus never "fit in" with the majority. We cannot imagine how lonely He may have felt at times, especially on the cross. Remind your children that Jesus, the perfect child that we celebrate this season for, knows how that feels and loves them. Just as He had a plan for Joshua, He has a plan for them too!
Legend of the Candy Cane
What is white, red, and sticky all over? You guessed it- a candy cane! This beloved holiday treat can be an object of sharing the Gospel of Jesus Christ. You might have known that, but did you know that was the original intention of the Candy cane's creator? 
The origins of this minty fresh treat stem back to 17th century Germany. The initial legend tells that a choirmaster requested sugar sticks to serve the children singers. In an attempt to keep the children occupied during the Living Creche ceremony, they could eat these instead of talking. The choirmaster bent a crook to mimic a shepherding staff at the end in recognition of the Christmas celebration. 
The early 19th century saw the candy cane come to its full beauty with the addition of the red stripes. It could have been around this time that the story about an Indiana candy maker came to be. Wishing to have a reminder of Jesus through candy, the candy maker invited each element of the candy cane to reflect the story of Jesus. 
It is inevitable; folklore rolls down through the ages, and origins can be lost in translation. However, surely, in this modern era, the red-striped cane can be used for the glory of God.
The Legend of the Candy Cane captivates the readers as a young girl, Lucy, assists the new town resident. Lucy learns that sugar is not the sweetest part of the classic Christmas candy. 
If you wish to dive into the history of this candy, your family will receive education on how the candy cane began. The Legend of the Candy Cane is also a lesson that tells of our sweet Savior's love. Go ahead and brew that cup of hot cocoa and gather your family to relate the candy cane's beautiful meaning. Oh, and don't forget your peppermint stick with that cocoa!
A Christmas Carol
 A Christmas Carol will never go out of style. We have seen the numerous variations television has provided for consumers. Each year we may grow weary of the remakes and tales that resemble a Scrooge character who transforms into a new being from a phantom's visit. Yet, these adaptations and remakes find continued success. Why? I believe it to be the simple idea that it brings us a sense of security and comfort during Christmas. It is classic; many likely watch it as an annual Christmas tradition. I love to read it annually and the more I read this classic, the more I comprehend its meaning and the words on the page show me the depths of Dickens's heart and purpose for this story.
As he grew up in poverty, his life was not the simplest that could be lived. At 12, Dickens was revoked from school and placed to work after his father was put in Debtor's prison. The Dickens family later found themselves homeless and overtaken by the plague of poverty. 
Dickens was a victor of his circumstances in many ways, primarily through his works. After a visit to one of the lowest educational facilities and making a speech on education, his work began on the famous Christmas tale. Within six weeks, Dickens released a story of a negligent, greedy old, broken man. He must journey to his past, present, and future to ease his icy, bitter heart. As he watches the events play out, little by little, his soul is chiseled down to reach a vulnerable place that melts his hardness and changes his life. 
Why go into the history of Dickens to tell a story that everyone knows and loves? Showing the author's backstory and hardship brings more depth to the book. It is apparent that shadows of Dickens's past are merged in the pages of A Christmas Carol. His writings were rooted in the societal issues of the 1800s, and this same message still rings true today. 
The Lord gave us a charge to be serious about our Father's business, and Jacob Marley hints at these words during his visit with Scrooge: "Mankind was my business. The common welfare was my business" (Dickens 1843). The world beats us down, and maybe we feel a piece of what Scrooge did, or perhaps we become so wrapped up in ourselves that we forget there is work for the Lord that needs to be done. This message of A Christmas Carol is universal and relevant to each age which is why it will never cease to die in popularity. This book is a wonderful read for the family this Christmas as we can remind our loved ones to care for those in need and not neglect the love God has commanded us to give.
---
The opinions in this article are specific to its author, and do not necessarily reflect the opinions of the entire Counter Culture Mom team.
*
As a proud North Carolina girl, Katie Stallings follows her love for writing at the University of North Carolina Wilmington. Her other passions include Jesus, Bible Theology and Eschatology, singing, acting, and uncovering the truth about secret societies, the elite, and things hidden in plain sight. Katie discovered the deceit of the entertainment industry in her early 20s, which led her down a path of exposing the darkness that Hollywood promotes and the evil in the political world.
When she is not working, doing school work, or trying to pack her mind full of information, you will find her with her family or friends, spending time with her nephew, and working in her home church, all with a coffee in her hand.
Download Our New Counter Culture Mom App to get our trending news and pop culture alert notifications. Connect with other parents in the Parent Chat section to gain helpful ideas on how to counteract the Pop Culture Cult!
Be sure to contact us if there is an issue you would like to have us write about! Our mission is to help parents deal with today's lifestyle trends and how to biblically navigate them.