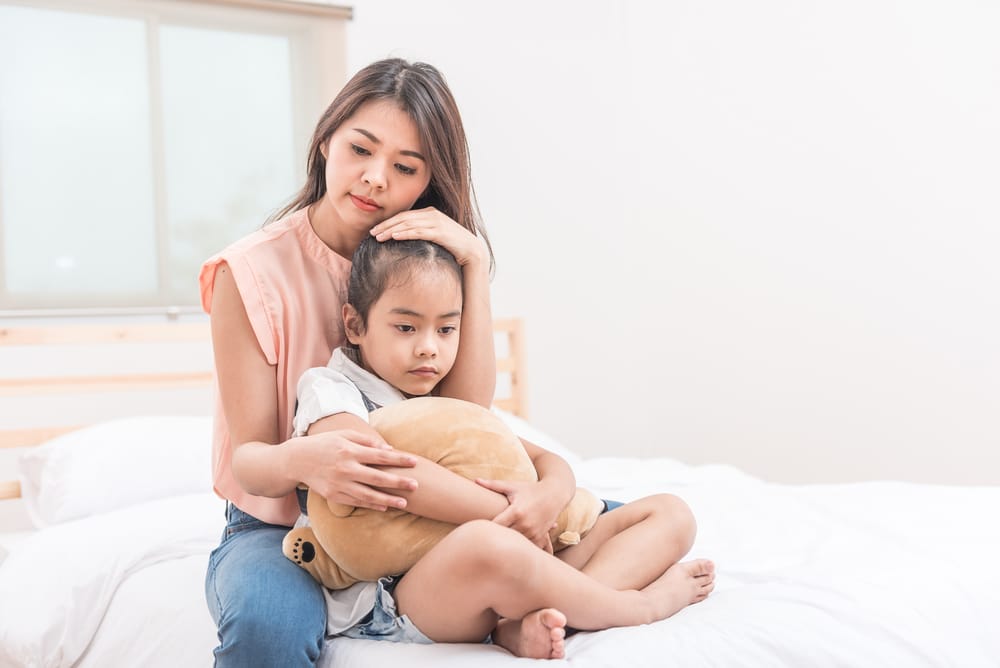 06 Jun, 2022

Using Scripture to Guide Children through Grief

Posted at 5:30 pm

in

being proactive

,

books

,

college

,

education

,

faith and inspiration

,

family

,

homeschool

,

parenting

,

politics

,

pro life

,

relationships

,

religion

,

social media

0 Comments
There are many places in

Scripture

that talk about rejoicing. Philippians 4:4 says, "Rejoice in the Lord always; again I will say, rejoice!"
Another beautiful verse, Psalm 5:11 says,
"But let all who take refuge in You be glad,
Let them ever sing for joy;
And may You shelter them,
That those who love Your name may exult in You."
Joy and happiness and delight are found in the Lord, but many parents are often faced with a difficult question when tragedy befalls someone close to them: How can they guide their children through valleys of grief? Grief is an altogether different emotion than joy, and walking with kids through the low points of life, like losing someone close to them, can be a tricky situation.
Thankfully, Scripture has plenty to say on the subject, and there is no better guidebook for navigating the murky waters of despair than the Bible.
Emotions are God-given
God gave humans feelings and emotions. Grief and sadness are just as real and valid as joy and excitement. The Bible addresses the reality that grief is a part of the human experience. For one, humans are all mortal beings and therefore, everyone will, at some point, die. John 16:22 says, "So with you: Now is your time of grief, but I will see you again and you will rejoice, and no one will take away your joy."
Grief is not an unhealthy thing. It is a natural thing, a normal thing. Jesus Himself felt grief and sadness acutely during His time on Earth. When Jesus' friend Lazarus died, he was "deeply moved in spirit and troubled" (John 11:33). Two verses later, when Jesus saw the place where Lazarus was laid to rest, He wept (John 11:35).
Jesus also experienced deep pain and anguish preceding his crucifixion, when He was in the Garden of Gethsemane. "Then he said to them, 'My anguish is so great that I feel as if I'm dying.'" (Matt. 26:38a)
Even Jesus felt great grief and pain and loss when He lived on Earth. Children need to understand that it is okay to be sad – it is okay to grieve when someone they love dies, and it is okay to mourn. Emotions, when directed in a godly way, are healthy, not hurtful.
Casting Cares
In Matthew 11:28-30, Jesus says, "Come to me, all you who are weary and burdened, and I will give you rest. Take my yoke upon you and learn from me, for I am gentle and humble in heart, and you will find rest for your souls. For my yoke is easy and my burden is light."
Another step in helping a young child navigate through grief is by directing them to the truth of the Bible. Jesus promises to be there for them when they are "weary and burdened" and that He "will give you rest." Psalm 147: 3 says that God "heals the brokenhearted and binds up their wounds."
Jesus also encouraged his followers in John 14:1 to not let their hearts be troubled. "You believe in God; believe also in me," He said.
Just as sadness is a real and valid emotion, Jesus' protection and love is a comforting reality that children can embrace. Point them back to the Bible and share the comfort and love of Christ with them. Speak it over their lives and pray the words over them every evening before bed. Let them know that the God of the universe is watching over them, loves them, and understands their pain. "Blessed are those who mourn," Jesus promised, "for they will be comforted." (Matt. 5:4)
Remembering God's Promises
There is a time for everything, and a season for every activity under the sun (Ecc. 3:1). There is a time to be born and a time to die, a time to plant and a time to uproot; a time to kill and a time to heal, a time to tear down and a time to build; a time to weep and a time to laugh, a time to mourn and a time to dance (Ecc. 3:2-4).
One of the most valuable things to teach children when they are walking through grief is to reiterate the fact that the lowest of the low moments won't last forever. There is a time for everything, and even the worst moment of someone's life is temporary. The writer of Ecclesiastes puts it perfectly: "He has made everything beautiful in its time. He has also set eternity in the human heart; yet no one can fathom what God has done from beginning to end." (Ecc. 3:11)
For children, even short periods of time can seem like an eternity, but reassure them that true eternity in heaven is waiting just beyond the temporary and often-fluctuating conditions of life on Earth.
The opinions in this article are specific to its author, and do not necessarily reflect the opinions of the entire Counter Culture Mom team.
**
---
Check out the Counter Culture Mom Show with Tina Griffin and listen to the incredible testimony of Sarah Schieber, who lost her husband suddenly after he collapsed during the Chicago marathon in 2007. She talks about guiding her children through the grief of losing their father, and how she dealt with losing the love of her life.
Summer Lane is the #1 bestselling author of 30 books, including the hit Collapse Series and Resurrection Series. She is an experienced journalist and columnist who reports on news within the U.S. and abroad. Additionally, she analyzes politics and policies in weekly op/Eds on The Write Revolution.
Summer is also a mom and wife who enjoys rural country living, herding cats, and gardening. She is passionate about writing about women's issues, parenting, and politics from a theologically-grounded perspective that points readers to the good news of the gospel.
Download Our New Counter Culture Mom App to get our trending news and pop culture alert notifications. Connect with other parents in the Parent Chat section to gain helpful ideas on how to counteract the Pop Culture Cult!
Be sure to contact us if there is an issue you would like to have us write about! Our mission is to help parents deal with today's lifestyle trends and how to biblically navigate them.