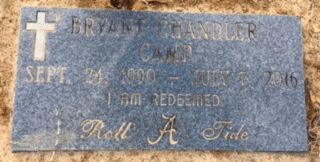 25 Dec, 2020

The Pain of Addiction and Death on Christmas
by Angie Camp
---
Facing my first Christmas without Bryant
     Christmas is my favorite time of year. This particular Christmas, I didn't know what to expect. It was our first Christmas without Bryant… Only six months had passed since his death. I expected it to be painful, but still wanted to make it special for the rest of my kids. 
The day seemed random and chaotic.
      A couple of days before Christmas, our schedule of family gatherings drastically changed. First, our Christmas day lunch plans got canceled due to my grandmother who fell and broke her arm in two places. Secondly, my son Zeke had a girlfriend who tragically lost her father early Christmas Eve morning and lastly, my daughter-in-law was not feeling well, due to pregnancy. Christmas was also on a Sunday that year. Going to church was the only thing we were sure of. One major dilemma was where to eat lunch. Our only option was Waffle House. 
     After lunch, I took my daughter to her dad's house to visit. The cemetery where Bryant is buried was nearby. I needed to see my Bryant. My son, Landon, was with me. I asked him about going, but he wasn't up to it. He had really struggled with losing Bryant. Not wanting to pressure him, I relented and decided to take him home, then go back alone. At the last second, Landon changed his mind.  As I drove toward the cemetery, Isaiah 9:6 began to wash over my mind. "And He shall be called Wonderful, Counselor, The Mighty God, The Everlasting Father, The Prince of Peace." That verse had never been more real to me than in that moment. "Oh, God, You truly are all those things," I thought.
I was about to learn just how well-orchestrated that day was.
      I  parked in the circle parking area nearest Bryant's. After just a few minutes, Landon returned to the car. I stood investigating the dirt work at the foot of his grave. There had been some "sinking" spots and Bryant's grave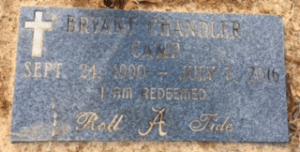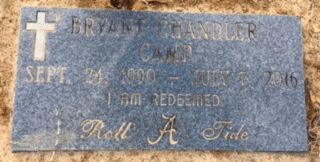 marker, bearing his initials, had begun to shift. I could tell they had been out there and repaired it. It was comforting to know they were taking care of him. As I gazed at his headstone, I began to sing to him my favorite Christmas song, O Holy Night. As I got to the end of the song, I realized the ending was going to be really high. For a long time I debated whether or not to go "up" at the end, concerned someone might hear. Bryant deserved for me to do my best so I decided to "go for it" and belted it out.
      Tears began to flow down my face. It was still so surreal. The sting of reality shot through my bones. I told him how much I loved him and missed him. Still weeping, I heard footsteps. Assuming Landon had returned, I didn't bother to turn around. Suddenly, I realized there were two sets of footsteps. Now, I was a little scared. Each approached me from a different side. They, too, were weeping. 
I was stunned and confused.
      Finally, I caught a glimpse of the person on my left. It was my friend, Jeff. His wife (and my sweet friend), Anne, was on my right. We embraced one another and wept. After several minutes, I asked them why in the world they were there. Jeff tried to speak. Through tears, he explained while driving home from work two nights earlier,  the Lord told him He wanted them to go to the cemetery on Christmas Day because He had someone He wanted them to grieve with. My mind was blown! 
Of all the cemeteries in our city, they chose the right one.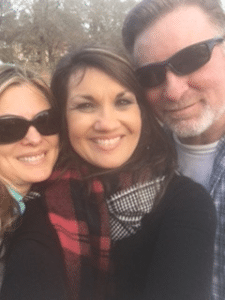 For half an hour, they waited for their divine appointment. Finally, Anne saw someone standing in the distance. They decided to investigate. As they walked toward the grave, Anne recognized my car. As they got closer, she saw Landon sitting in it. The realization that I was one they were there for overwhelmed them. They made a mad dash toward me, as they openly wept. I was the one! God had me on His mind! Of the 100+cemeteries, they chose the right one. Of all the hours in a day, we arrived within half an hour of each other. Only God could orchestrate such an incredible event! After we composed ourselves, we took a selfie to commemorate that precious moment. 
I've never gotten over that moment.
      Sharing my Christmas Day story never gets old. In fact, it wrecks me every time I tell it. Oh, how God lavishes His love on His children! Oftentimes, God's plan requires pain, but there is nothing He won't do to make His presence known to His children. He truly is a good, good Father.   
---
Angie Camp is an author, speaker, and Christian Counselor. Aside from being a Mother and Grandmother "Peaches," her primary focus is walking with women and girls along their journey from brokenness to healing, reminding them that the goal is not merely to survive, but to soar.
You can hear her personal story here.
---
Download Our New Counter Culture Mom App to get our trending news and pop culture alert notifications. You can connect with other parents in the Parent Chat section to gain helpful ideas on how to counteract the Pop Culture Cult!
Be sure to contact us if there is an issue you would like to have us write about! Our mission is to help parents deal with today's lifestyle trends and how to biblically navigate them.