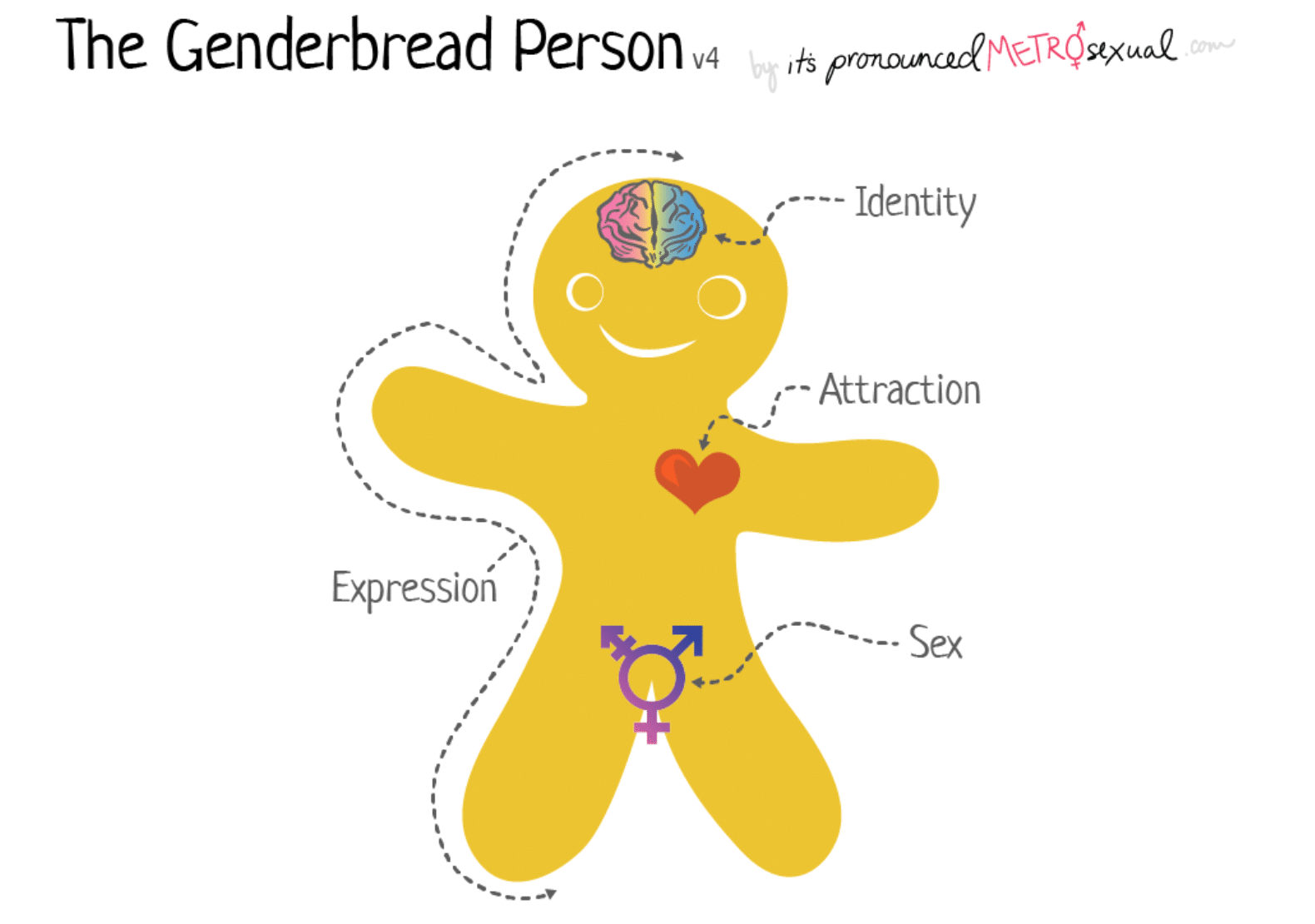 09 Aug, 2021

The Genderbread Man, Are You Prepared For Him?
Run, run, run, as fast as you can!
The "genderbread" man is coming for you!
I can almost bet the first words your child ever spoke were either "mommy" or "daddy".  Hearing those words come out of your baby's mouth was probably one of the best moments of your life.  But what if the first word you heard was "fam-fam" or "folky".  Sounds crazy, right?  Not in New York.  In New York, you need to beware of the Genderbread Man!
When in doubt, speak inclusively.
Grace Church School, a private K-12 Manhattan institution, recently issued an inclusive language guide.  It recommends the school use terms like "grown-ups, "folks" and "family" instead of "mom" and "dad".  Why?  Apparently, using words like "mom" and "dad" or even "parents" makes assumptions.  What kind of assumptions? 
From their website;
"families are formed and structured in many ways. At Grace Church School, we use inclusive language that reflects this diversity. It's important to refrain from making assumptions about who kids live with, who cares for them, whether they sleep in the same place every night, whether they see their parents…"
The school states their Inclusive Language Guide is a way to help the community find words to "affirm and unite".
Head of School, George Davison said:
"… our Inclusive Language Guide does not ban any words. At Grace we understand the power of language both to include and to cause alienation. We also know that it is our job to give community members resources to allow them to make informed and generous choices."
Informed and generous choices? 
About what?  God was generous in giving us life and an informed decision on our sex.  We are beautifully and wonderfully made in HIS image. "God created man in his own image. . . . male and female he created them. And God blessed them, saying: "Be fruitful and multiply; fill the earth and subdue it." (Genesis 1:27 & 28)
What I find most frightening about this school is its name; Grace CHURCH School.  The word "church" is used yet there is not one reference to religion or God.  What kind of "church" school is this?  They promote inclusivity, antiracism, equity, and belonging. They state a commitment to academic excellence, diversity, and inclusivity.  It all sounds wonderful until you see the Genderbread Man!
What in the world is the genderbread man?
A "Genderbread person" is referenced in their guide, so I had to check it out.  When I clicked the link, it took me to a drawing of a "gingerbread" figure.  This version of a "gingerbread" man has ambiguous sexual orientation and characteristics.  Equations illustrate sexual orientation and identity. One equation indicates gender is not equal to sexual orientation.  It promotes ambiguity.  I was shocked to see a check box for readers to choose what sex they were "assigned" at birth. Beware of the Genderbread Man!  We need to pray for the 700 children in this school.  We also need to pray that the ideologies of this institution do not spread and continue. 
Psalm 7:14 "Whoever is pregnant with evil conceives trouble and gives birth to disillusionment."

Isaiah: 5:20  "Woe to those who call evil good and good evil, who put darkness for light and light for darkness, who put bitter for sweet and sweet for bitter."
The "nuclear" family has been redefined over the years. 
There is no denying it.  Blended, biracial, and transgender families do exist.  But, one thing is certain.  We ALL had a mother AND a father.  To remove reference to either is not only disrespectful but wrong in the eyes of God.
"Honour your father and your mother so that you may live long in the land that Yahweh your God is giving you."
Exodus 20:12
Lisa is a wife and dog mom.  Her past career in marketing allows her to work as a volunteer helping charities with fundraising and promotional needs. She is the head of Evangelization at her parish and serves in a variety of ministries to spread the good news of Jesus Christ.
Download Our New Counter Culture Mom App to become part of the Counter Culture Crusade and find our PREMIUM content to get the most urgent trending news and pop culture alerts!
Be sure to tip us off to any alarming issues or something you would like to have us write about! Our mission is to help parents deal with today's lifestyle trends and how to biblically navigate them, and we appreciate your input!