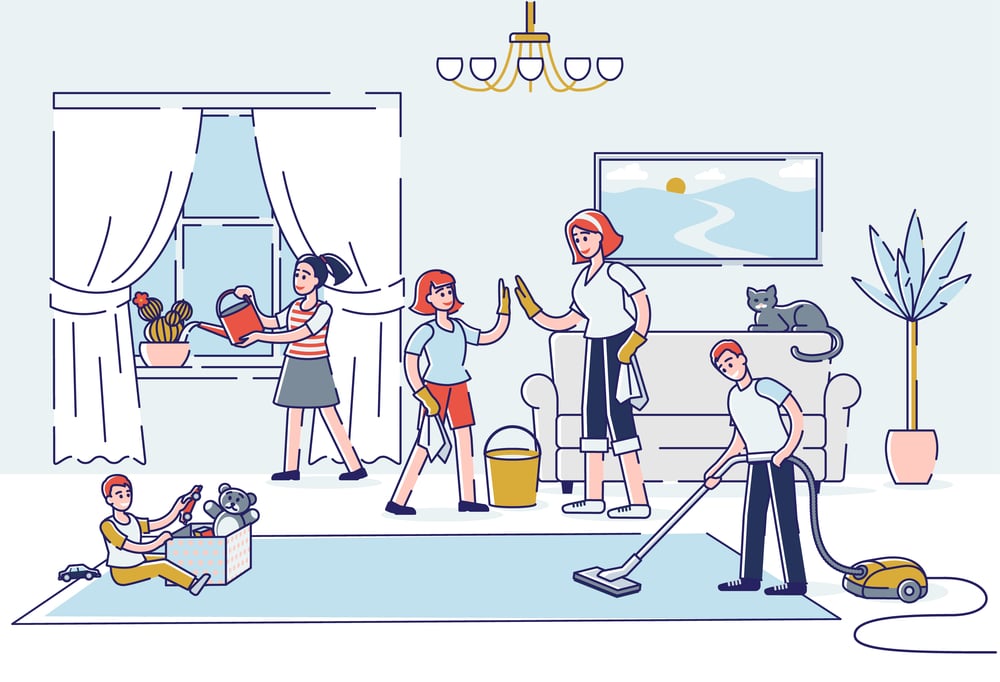 27 May, 2022

Cleanliness is next to godliness

Posted at 5:30 pm

in

being proactive

,

books

,

faith and inspiration

,

family

,

goal setting

,

health

,

homeschool

,

Kid's activities

,

marriage

,

parenting

,

positive entertainment

,

relationships

,

religion

,

technology

,

time saver

0 Comments
An op/Ed on how organization and cleanliness can expedite efficiency and grow relationships
By Summer Lane
This week at the Counter Culture Mom Show, host Tina Griffin is exploring the concept of freeing ourselves from stuff and clutter and finding ways to focus on what's really important: our relationship with God and our family!
The phrase, "Cleanliness is next to godliness" is said to have been coined by John Wesley in the 1700s. Although the term itself does not come from the Bible, it certainly is an applicable principle for us to cling to.
American society today is saturated in materialism, and the latest trends and digital toys have moms, dads, and kids bouncing from one thing to the next, often leaving a trail of messiness in their wake. Today, let's explore a few easy methods for keeping your living or work spaces cleaner, and how we can turn to the Bible for encouragement in this area of our lives!
Less stuff means easier cleanup
Ever since I was in high school, I resolved to have a house someday where cleanup was easy! I'll be the first to say that as a mom of a toddler who leaves a trail of destruction everywhere she goes, bringing that reality to fruition is not always easy. However, I've learned that there are a few things I can do to make cleaning the house doable – especially at the last minute.
One of the methods I apply to combat clutter in areas of my house where I would be entertaining people (the living room and kitchen, primarily) is to make sure I'm routinely going through my daughter's belongings and removing toys from our home that are broken, non-operational, or simply unneeded because she has outgrown them. I comb through her things every six months and do a "purge" of broken toys. Additionally, I try to keep most of her belongings in a closet where she can ask me to access them. I can then dispense them to her one at a time, and we can trade toys back and forth without getting them all out at once. I've found that limiting my child's immediate access to everything she owns keeps the clutter from getting out of control – and it keeps me sane! Plus, it's just easier to clean up quickly when there are less belongings strewn around the house.
Clean counters and freshly vacuumed floors
I have found that there are two things that really make people feel welcome when they step into my house: clean, open counters and open, vacuumed floors or carpets. For this reason, I encourage my friends and family to eliminate unneeded boxes or baskets from the living room area and kitchen counters. When I have guests over, for example, I spend about an hour cleaning the kitchen and picking up my daughter's toys from the couch and coffee table. I follow that up with a quick vacuum job. It doesn't take long, and because my daughter's belongings are more limited than the average child (trust me, she still has plenty of stuff!), it makes it less stressful for me – and it takes way less time.
A place to focus and work
I have always worked in an office. I started working really young, and my very first desk when I was a new, aspiring professional writer and burgeoning journalist was a pink, retro desk that I used from Kindergarten to age 21. If you are a student or own a home business, having a space in your home where you can work in a clean environment will do wonders for your productivity level! I struggle with keeping my office clean at times, but I have realized that when I make an effort to keep clutter at bay, I work faster and the quality of my work is better. Even something as simple as having shelves with bins for paperwork can get the clutter off your work surface and into a contained space.
When I was in my early twenties, I worked feverishly for roughly 4-5 years on a series of books that were so popular, I was releasing an installment every six months. The pace was insane as a writer, but one of the key elements that got me through that craziness was keeping my workspace clean, open, and inspirational.
Purge
Purge is such a scary word! It doesn't have to be scary, though. I go through most of the belongings in my closet every 4-6 months and root out items that I haven't worn in months or even years. I throw away old shoes that hurt my feet. I sell or donate furniture in my house that is either collecting clutter or collecting dust. I try really hard not to hang on to unneeded décor for my home – there is no point in keeping it if it hasn't gone on the wall in the past 6 months or year. The key to letting go of items, for me, has been to realize that things are exactly that: things. Not everything is worthy of being special or being saved, and at the end of the day, it's the people in my home that matter – not the stuff.
A Biblical conclusion
Whenever I am tempted to hold on to material possessions that are cluttering up my home and dragging my family down, I am reminded of Jesus' words in Matthew 6:19-21: "Do not store up for yourselves treasures on earth, where moths and vermin destroy, and where thieves break in and steal. But store up for yourselves treasures in heaven, where moths and vermin do not destroy, and where thieves do not break in and steal. For where your treasure is, there your heart will be also."
God knows that we need shelter and food and clothes to live our lives here on Earth. He will provide those things for us (Luke 12:22-31). Everything else is just a cursory addition to our lives here as we are passing through. It's important to cling to what is most important in life: our relationship with Jesus, our love and care for our families, and the experiences that grow us into stronger servants for Him until He returns.
The opinions in this article are specific to its author, and do not necessarily reflect the opinions of the entire Counter Culture Mom team.
**
---
Summer Lane is the #1 bestselling author of 30 books, including the hit Collapse Series and Resurrection Series. She is an experienced journalist and columnist who reports on news within the U.S. and abroad. Additionally, she analyzes politics and policies in weekly op/Eds on The Write Revolution.
Summer is also a mom and wife who enjoys rural country living, herding cats, and gardening. She is passionate about writing about women's issues, parenting, and politics from a theologically-grounded perspective that points readers to the good news of the gospel.
Download Our New Counter Culture Mom App to get our trending news and pop culture alert notifications. Connect with other parents in the Parent Chat section to gain helpful ideas on how to counteract the Pop Culture Cult!
Be sure to contact us if there is an issue you would like to have us write about! Our mission is to help parents deal with today's lifestyle trends and how to biblically navigate them.