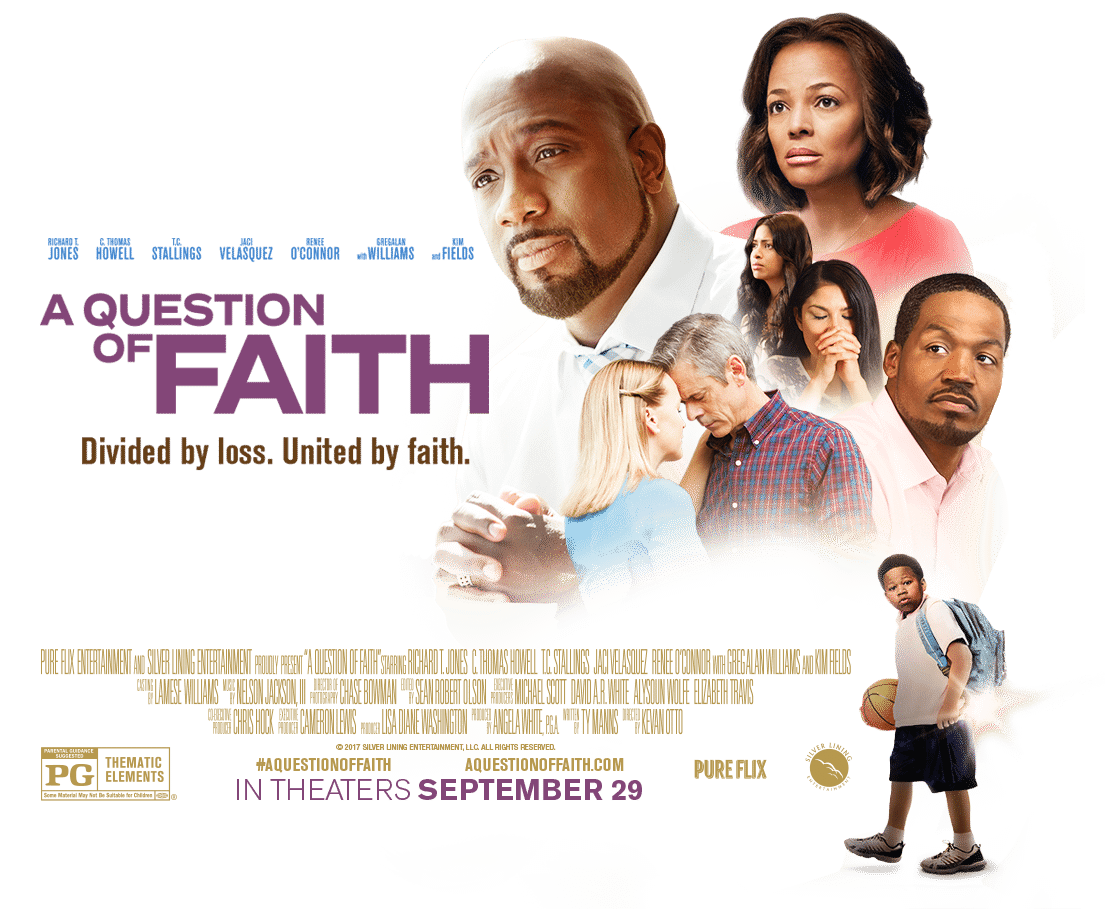 14 Sep, 2017

Why "A Question of Faith" Film is the Next "War Room!"

Positive faith-based films are on the rise. People want to see a movie that brings hope and healing. "A Question of Faith" will exceed your expectations!

Are you searching for a fun family-friendly movie to watch with your kids? One that will draw them closer to the Lord and teach them about life-saving topics such as organ donation and the dangers of texting and driving? This film covers these crucial topics in a God-honoring way. On September 29th, you will want to jump in your van with your munchkins and head to the theater to watch Pure Flix's new hit "A Question of Faith" starring Richard T. Jones, Kim Fields, C. Thomas Howell, Greg Alan Williams, along with T.C. Stallings, Jaci Velasquez and many others. This movie also addresses racial reconciliation, forgiveness, faith and brotherhood – all of which the world needs now more than ever.

Film producer, Angela White, founder of A Silver Lining Entertainment, takes us behind-the-scenes on one of the most powerful life-changing films of 2017. She shares the top bonding moments that transpired on set including a man who came to the knowledge of Christ and how her opinion changed regarding organ donation. I previewed this movie last weekend with my husband and we burned up at least half of the kleenex box. I love movies that challenge me as a person and cause me to get active in helping others around me.

The first day of shooting was on September 11, 2016, exactly a year to the date of recording this episode. God's timing is perfect. May Angela's words bring excitement, healing and encouragement to your family today.

Episode 22: Learn why "A Question of Faith" film is the next "War Room" from producer Angela White.

(watch video here)

[youtube id="Zefzbwy9O64″]

SHOW TIME LINE
Introduction
:049 Angela is in a Virginia hotel room and is getting ready for a movie screening for the members of congress @ the Capitol building.
2:03 Angela's background and experience and how she started Silver Lining Entertainment production company.
3:40 Angela's websites.
3:59 What is was like for Angela to work on this movie "A Question of Faith."
5:59 This movie is called the next War Room. Angela dissects what this movie covers.
8:34 The other TV show hits Angela has worked on and the cast for this movie.
10:10 Angela describes the process of making this film.
12:15 Angela describes how a crew member placed his faith in Christ while shooting the movie.
12:52 The struggle of forgiveness when a pastor's son was hit while driver was texting and driving.
14:44 Organ donation is discussed in the film in a beautiful way. How Angela's thoughts changed re organ donation during the filming of the movie.
18:05 How it was like working with an all star cast on this movie.
19:43 (technical difficulties) A Question of Faith will be in theaters on September 29th.
20:33 The order in which the scenes were shot on the movie.
21:49 The most difficult scenes to shoot in this film.
22:40 How the actors were able to act out the hospital scenes.
23:36 The top bonding moment that happened on set.
24:02 What Angela hopes will be the takeaways from the audience.
24:39 More info on ticket availability and where it's playing.
26:22 Tina's CHALLENGE OF THE WEEK.
28:01 We view the trailer for the movie A Question of Faith.
30:06 Angela's last words about stepping out on faith.
30:38 How an aspiring actor can submit their information for working on a future project with Angela.
31:22 Angela's email.
Conclusion
Angela stated in a recent press release, "God's power is glorified in this film in a way I've personally not seen before. Audiences will find themselves cheering, singing, crying and praising God when they watch this film." I couldn't have said it better myself.
Join the growing Counter Culture Mom Facebook Fan page here!
HELPFUL LINKS
"A Question of Faith" website/trailer
Bring "A Question of Faith" to your city opening weekend
Angela's experience
Angela White on IMDB
A Silver Lining Entertainment
Free month trial of Pure Flix (clean family friendly entertainment)
CONNECT WITH ANGELA WHITE
email: info@asilverliningentertainment.com
THIS WEEK'S CHALLENGE: Think of you who can invite to watch this movie together. Take a co-worker, friend, family member or do a double-date with your spouse and another couple. Lives will be changed after watching this film and ideas on how each of us can help others in our community will arise as a result.
Question: What have been some other positive, family-friendly films you've seen in the past? Share your answer by clicking here!