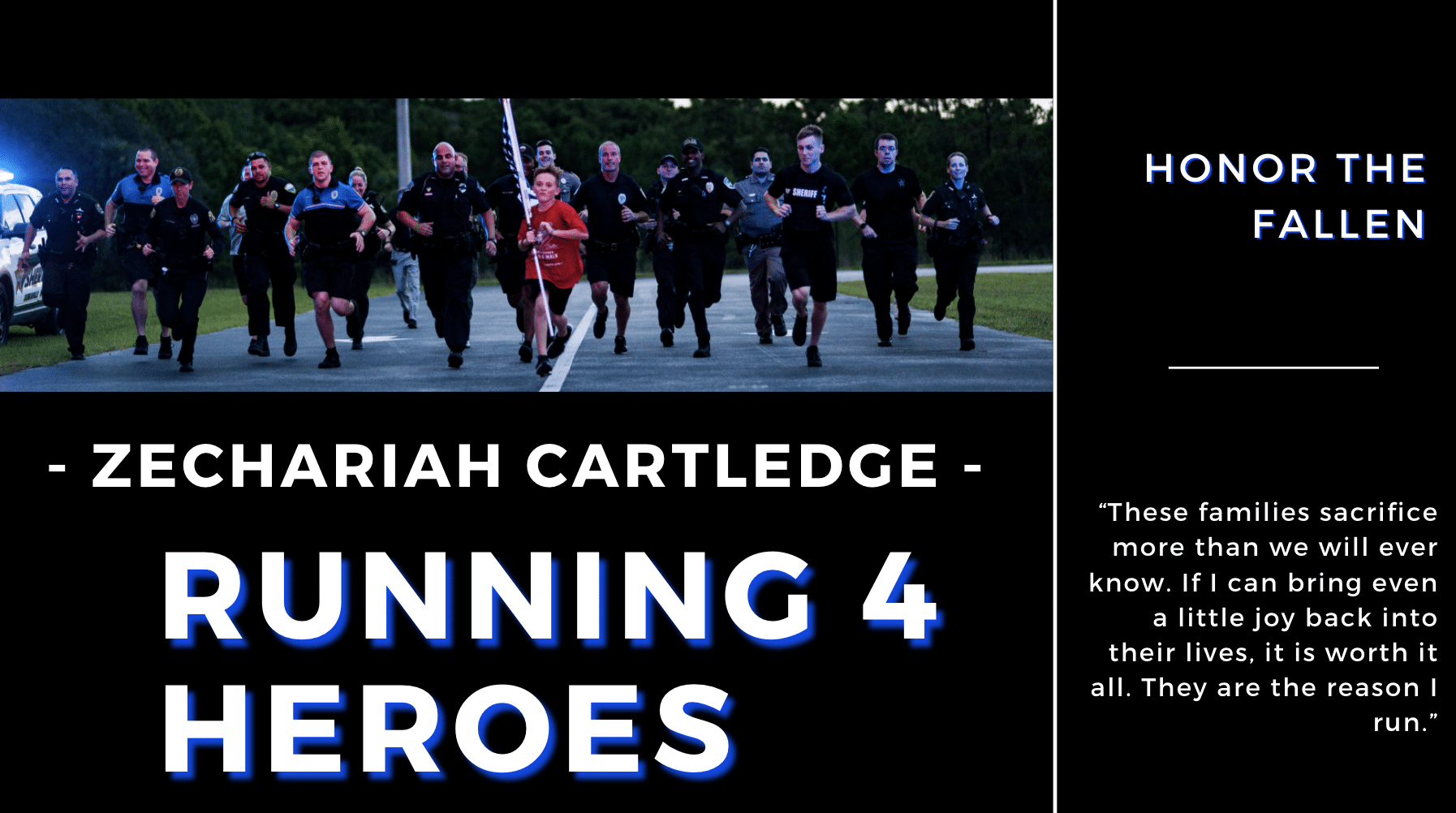 30 Jun, 2021

The Leading Role Award: Zechariah Cartledge is Running 4 Heroes!
The Leading Role Award
Zechariah Cartledge : Running 4 Heroes
12-Year-Old Honors Fallen First Responders
With the current climate of today's culture, we need to see more organizations like this one being birthed and cultivated. It's amazing how at the young age of 10 years old, Zechariah saw the need to honor America's fallen first responders. By combining his love of running with his desire to make a difference and give the recognition to these patriots that they deserve, Running 4 Heroes was brought to life.
When a passion for running joins forces with a heart for people…
Zechariah Cartledge is quite the inspiration! When he first started running, he ran in local 5k's just because he loved to run! But as an 8-year-old, that all changed when he ran to honor the fallen 9/11 heroes in October of 2017. Ever since that run, he set out on a mission to dedicate all of his runnings to honor First Responders. His parents, Chad and Susan Cartledge, as well as his younger sister, Chloe, are his biggest supporters.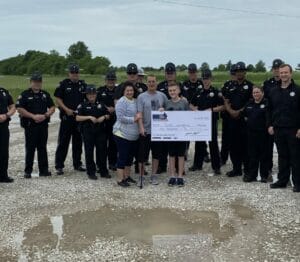 On January 12th, 2019, at the age of 10, Zechariah took his first run as a part of Running 4 Heroes. In his first mile, he chose to honor Natalie Corona, a fallen Davis police officer. Since this date, he has run over 910 miles!
Not long after this run, in July of 2019, Running 4 Heroes officially became a 501(c)3 and in January of 2020 he was able to present his first-ever injured First Responder grant! What an amazing accomplishment for such a young boy.
Zechariah has been able to award this grant funding to a combination of 18 injured first responders to the tune of over $136k.
What Exactly Does Running 4 Heroes Do?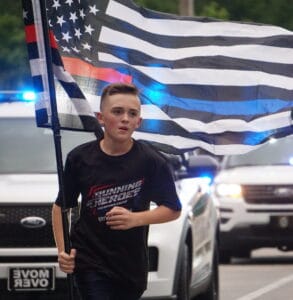 Zechariah's mission with Running 4 Heroes takes on several different ways to honor the fallen.
Every flag that Zechariah carries when he runs is sent to the family of the fallen hero he honored. It comes with a handwritten note from Zechariah and a Running 4 Heroes Challenge Coin and Decal. Further, each month, he will award a $10,000 grant to a First Responder who has been injured in the line of duty. The grants will be awarded in person in the community where the Officer served. Afterward, they take the officer and their family to a meal.  
As part of the Running 4 Heroes K9 and Military programs,
8 year old Theresa Ann, and Chonda, a Navy veteran run a mile for every K9 and/or Soldier killed in the line of duty. Just as with the officers, the flag carried during the run will be sent to the family. Every month they award a different K9 with a ballistic vest.
This has provided so many opportunities for Zechariah. He has had the chance to meet with the families of so many of our fallen heroes and experience a variety of different communities. Spending time with these families is one of his favorite parts of what he gets to do with Running 4 Heroes.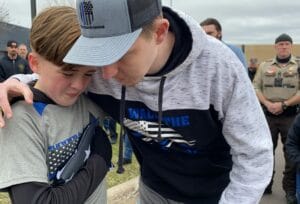 Ultimately, Zechariah's favorite thing about what he is able to do is knowing that he is bringing comfort to these families who are hurting as a result of the sacrifices that are being made by their loved ones. More than money, he prays that his efforts are able to bring them hope and a reason to smile while they are dealing with the pain of losing a loved one. How about that for a 12-year-old boy? Clearly, he does this out of the selfless, loving heart God has given him. I think we could all be a little more like Zechariah.
What's The Game Plan?
As of right now, Zechariah plans on running to honor our fallen heroes until he is around 18-years-old. He wants to have built up Running 4 Heroes so he can pass the torch and still be involved. His love for aviation has him excited to someday be a commercial pilot! Every chance he gets to climb into the cockpit of an airplane, he takes it! Who knows, maybe someday, he will be flying you to a small town in America to participate in a run to honor a fallen hero!
God has done great things –
This family is not one to deny the amazing things they have seen GOD do through Running 4 Heroes as a ministry. There has been a tremendous amount of obvious healing and comfort provided to families as well as witnessing the Holy Spirit empower Zechariah with the strength to complete his runs. Something really cool is that "Zechariah Christian," actually means "God has remembered the follower of Christ."
His parents have no doubt in their minds that Zechariah is doing exactly what he was put on earth to do.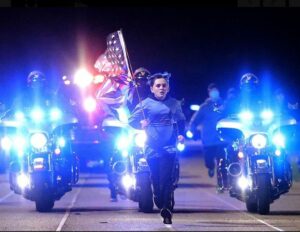 He was born prematurely, following a brother who was also born prematurely and sadly did not survive. The Godly foundation his parents have given him, as well as their acceptance and loving support, has surely made an amazing impact on the character God placed inside of him.
I personally believe Zechariah is making an eternal impact on our hurting world and Running 4 Heroes is creating a legacy that will be carried on for generations.
Get Involved!
Surely, after reading about this inspirational boy, you are inspired to get involved! Prayers and donations are what keeps this organization running full force. They are FULLY funded as a 501(c)3 by personal donations of people who believe in the mission. They do not have many corporations or businesses who sponsor them. Any amount is greatly appreciated and can be given by going to this link.  We also want to encourage you to find ways to honor the heroes who put their lives on the line every day.
---
Blessed are the peacemakers,
    for they will be called children of God.

Matthew 5:9 
Bethany Dumbleton is first and foremost – a devoted follower of Jesus Christ.
Her husband and two children are her main ministry which overflows into her life ministry. Bethany is the show producer for The Counter Culture Mom show and the Chief Operations Officer. Knowing that our children follow our example – she strives to help parents grow in Christ, so they may shepherd their children biblically.
Download Our New Counter Culture Mom App to get our trending news and pop culture alert notifications. Connect with other parents in the Buzz Rooms to get ideas on how to counteract Pop Culture!
Be sure to contact us if there is an issue you would like to have us write about! Our mission is to help parents deal with today's lifestyle trends and how to biblically navigate them.