07 Jul, 2021

It's Finally Summer! Now What?!
Celebrate With Friends!
We are halfway into summer! Which means outdoor fun, including swimming, playgrounds, and BBQs. After being indoors for so long, especially after the winter we've all just been through, it feels amazing to be outdoors and actually see other people's faces. When in the world would we ever have thought we'd be so excited to see people's mouths and noses?
Although the end of this past year started to finally feel a bit more normal, with sports and after school activities starting up again, I'm certain many of us just continued to push down on that gas pedal of life and speed up on adding to our ever-increasing list of things to do. Calendars have been quickly filling up with vacations and activities. Which is such a wonderful thing! 
CAN I GET AN AMEN!?
HOLD YOUR HORSES!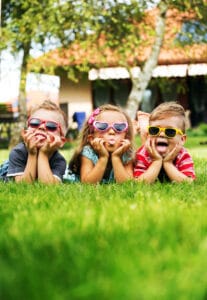 But here's the thing. We can get so caught up with all the things we have planned to do, we may forget about all the things God has planned for us to do. I remember once hearing someone talk about what missed blessings are. It's as if God has a calendar of events for our lives. When we look back, there will be things written into the calendar that never happened. And guess who's choice that was?
The LORD is sovereign and His will is always accomplished. Praise God for that! However, we also have free will. We can choose to participate by obeying or we can let the blessing pass us by. It's up to us.
Blessings!
With all that said, "blessings" may look like having a few friends over for a BBQ. How great is that? It doesn't have to be a lot of people, or it can be your entire street if you want to get ambitious and try to be like Rosaria Butterfield (who is absolutely AMAZING)! If you've never done this, start small. You can always invite more people later. But even if you just have a few of your children's friends over, that's a win. Especially if they don't know the gospel.
What Are We Eating!?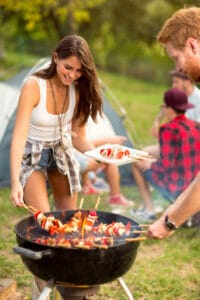 Hot dogs are a great and easy meal. And let's be real – virtually all kids love them. Throw some of those puppies on the grill and voila! Dinner is served! All you need are some buns and maybe chips and you're good to go!
If you want to get "fancy," grill up some hamburgers and/or bone-in chicken! Make sure to go with skin on, though. If you skip the skin, you're bound to get dry chicken. Not appetizing. And if you have some vegetarians in your midst, try putting some portobello mushrooms sprinkled with salt on the barbie! So delish you may convert to vegetarianism! At least, for one meal.
Have Fun With Yard Games!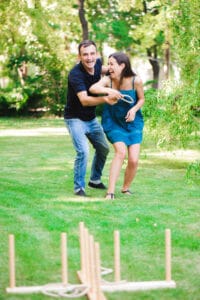 But even if you skip dinner and just go for some yard games, who doesn't love a mean game of corn hole? So fun it's even done professionally (no, I'm not kidding).
Another awesome game is Mölkky. It's the best game you've never heard of. You can play this on grass or in the sand. And lots of people can play at one time. It's a great way to spend time together, chat, and get to know your neighbors and friends better while having fun strategizing your next throw!
 What's The Most Important?
When it comes right down to it, though, it's not about the food or the fun. It's about the relationships being built, one hot dog at a time. Sometimes being God's hands and feet feels like an insane adventure! And other times it seems incredibly mundane and boring. But you can rest assured, in whichever circumstance, as long as you are obediently following your Father's will, there is always a blessing in store for His children. Food for thought: greater patience, more faithfulness, and increased peace are blessings we can all stand to have a little more of in our lives, wouldn't you agree?
Have Fun Going The Extra Mile
You can also invite your friends and family over to watch a Christian movie or show together outdoors. For some great ideas on how to set up an outdoor theater, check out this link! There are about a million more on Pinterest as well!
A great movie to check out is Soul Surfer or maybe watch an episode from the series, The Chosen, which you can get on VidAngel! Watching something heavy like The Passion of Christ may not work with your certain neighbors or friends. But a relatable, God-glorifying movie/show such as one of these may be a great way to start a conversation. Selfie Dad would be a GREAT option or Small Group! There are many to choose from, but be sure to be open and honest about the movie selection.
Never Waste An Opportunity!
You very well may be the only Bible some people will read. And summer is the perfect excuse to walk around your neighborhood and build those relationships. Or reach out to an old friend or family member. Fellowship is important, and sharing the gospel with others ultimately brings glory to God.
And just FYI, I'm preaching to myself as well as to all of you reading this! But I know, as well as most (if not all!) of you do, obedience is always worth it.
CAN I GET ANOTHER AMEN!?
"Above all, love each other deeply, because love covers over a multitude of sins. Offer hospitality to one another without grumbling."

1 Peter 4: 8-9
Michelle Lazor is a wife and mom of 9 blessings! She enjoys spending her time with her big family as well as reading, running, and writing! Her motivation for each of these activities is to draw closer to Christ and glorify Him through it all. She has a personal blog and sells socks on her website, Mud Hen Mama, that affirm biblical convictions. They are fun, bold, and made in the USA!
Download Our New Counter Culture Mom App to become part of the Counter Culture Crusade and find our PREMIUM content to get the most urgent trending news and pop culture alerts!
Be sure to tip us off to any alarming issues or something you would like to have us write about! Our mission is to help parents deal with today's lifestyle trends and how to biblically navigate them, and we appreciate your input!