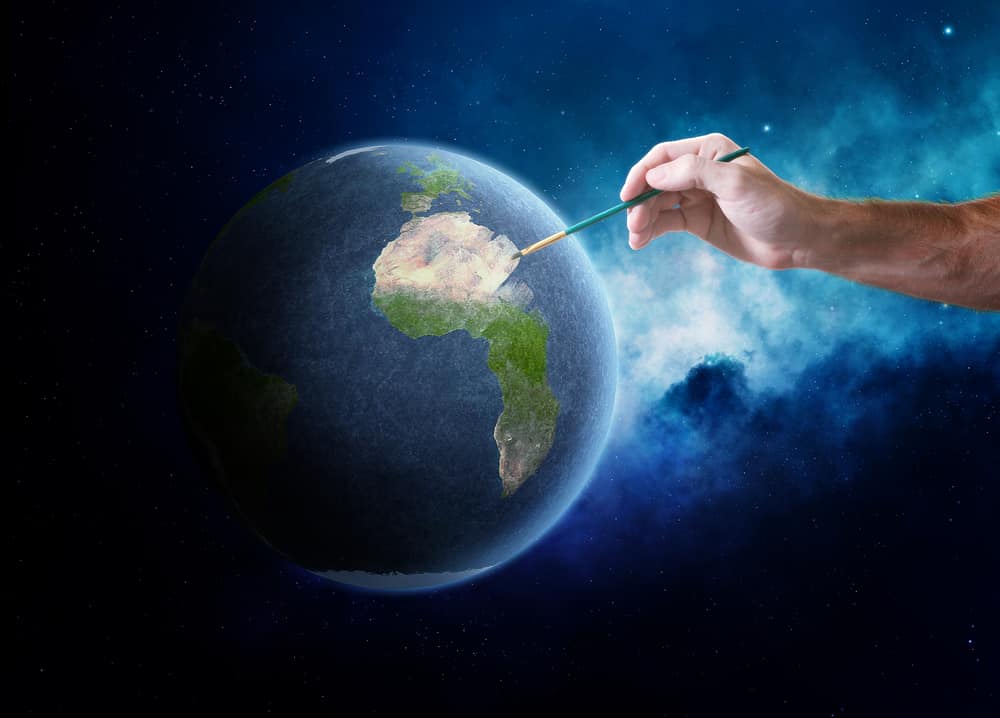 08 Jul, 2022

Appreciating God's creation is IMPORTANT
It's easy to get caught up in the rush and chaos of life. Between work schedules, school schedules, and social calendars, it doesn't take much to knock us off balance during the busiest years of raising a family.
Whether your family is comprised of one kid or eight, there is both a benefit and a beauty to stopping, slowing down, and spending intentional time with your children to appreciate the beauty and wonder of God's creation.
The Fear of God
God's creation is a testament to His very existence. Romans 1:20 tells us that, "For his invisible attributes, namely, his eternal power and divine nature, have been clearly perceived, ever since the creation of the world, in the things that have been made. So they are without excuse."
The world around us is supernatural in that it was supernaturally created. God's power and creativity are clearly on display in the world He has made for us – and to put this in context, the beauty of our world today is the result of a post-Flood worldwide catastrophe. It's hard to believe that, before the Flood, the Earth was likely even more beautiful, if that's possible!
It's important to observe the beauty and power of God's creation because it teaches our children to fear God. "The fear of the LORD is the beginning of knowledge, but fools despise wisdom and instruction," Proverbs tells us (v. 1:7). Children must have a respect and an appreciation for what God has created, and this is the beginning of knowledge, as the Bible says.
How to incorporate an appreciate for creation into everyday life
Some parents may not know how to cultivate a love for God's creation in their children. Today, environmentalists often tout adoration of nature while forgetting that the natural world was created. We should always worship the Creator, not the creation.
There is a reason why many Bible-based summer camps are located in the stunning beauty of mountain forests. God's natural world is a great way to feel even closer to Him, and it's also a great way to discard the distractions of the culture and focus on what's important.
Teaching your children to appreciate the world around them requires only your example! Every day of life is a miracle. Every bird on a tree branch whistling a tune is a joy. Point out the small beauties of life as you see them. "Look at that butterfly! Wow. God is so creative!" There are hundreds of opportunities all around us, every day. When you see a beautiful sunset, tell your kids, "Look at that sunset. Isn't it beautiful? Our God is amazing! Thank you, God, for such a beautiful sunset."
Get outside
This obviously goes without saying, but kids won't appreciate nature if they can't experience it! Go on a walk, visit the park, go camping, go hiking, sit outside and watch the trees – there is so much activity happening in the natural world that many people ignore or never notice. The drama of a mother bird finding food for her young. A mother cat caring for her babies in the alley behind your house. The exquisite art of puffy white clouds on a blue palette sky. The warmth of sunshine on our skin. The sharp taste of freshly-squeezed orange juice in the morning. The comforting jingle of windchimes as a gentle breeze twirls through the neighborhood.
Every second of life is a miracle. Point each one out to your children – life is a gift from God.
"Every good and every perfect gift is from above, coming down from the Father of lights, with whom there is no variation of shadow due to change."
Jeremiah 1:17
Strengthen your kids' observational skills
If your kids see that you have a deep appreciation for God's creation, they will, too. Appreciating God's handiwork is a form of enjoying God. And, of course, the purpose of man is to glorify God and enjoy Him forever (you can read the Westminster Shorter Catechism for more on this). By appreciating creation and talking about it, we are doing both of those things!
Your kids will not appreciate creation, however, if you don't.
They won't appreciate creation if they're so busy playing video games that they don't walk outside to take a breath of fresh air.
They won't appreciate creation if they're watching too much television.
Choose a life of appreciation, observation, and outdoorsy adventure for your kids. They will grow up happier, healthier, and much more grounded!
**
If you're looking for activities to do with your children that don't involve screen time, check out this article here at Counter Culture Mom.
**
The opinions in this article are specific to its author, and do not necessarily reflect the opinions of the entire Counter Culture Mom team.
Summer Lane is the #1 bestselling author of 30 books, including the hit Collapse Series and Resurrection Series. She is an experienced journalist and columnist who reports on news within the U.S. and abroad. Additionally, she analyzes politics and policies in weekly op/Eds on The Write Revolution.
Summer is also a mom and wife who enjoys rural country living, herding cats, and gardening. She is passionate about writing about women's issues, parenting, and politics from a theologically-grounded perspective that points readers to the good news of the gospel.
Download Our New Counter Culture Mom App to get our trending news and pop culture alert notifications. Connect with other parents in the Parent Chat section to gain helpful ideas on how to counteract the Pop Culture Cult!
Be sure to contact us if there is an issue you would like to have us write about! Our mission is to help parents deal with today's lifestyle trends and how to biblically navigate them.