09 Sep, 2016

Why We Should All Take an Annual Vacation!

Taking an annual vacation provides valuable benefits for our mind, body and spirit. It is critical we take time for ourselves so that we can give to others.

I hardly take a vacation. I got that habit from my dad. He was a dairy farmer from Pulaski, WI. I grew up watching him work the farmland and provide for our family. So much so, that he now tells me he wishes he would have taken more time to hang out with our family.

Since I placed my faith in Christ at the age of 16, I wanted to serve Jesus with all I had and live life to the fullest. However, I sometimes forget to just take time for myself. A pastor once said that we should live by the 7-7-7 rule. Every seven months spouses should take a getaway trip. Every seven weeks do a family trip. Every seven days do a date night. This sounds fantastic.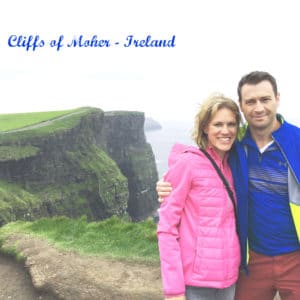 This past spring while on a speaking tour in South Carolina, friends of mine who came to an event, told me to pick the place and dates that Luke and I would like to go and they would book the flights using their miles. We picked Ireland and they were so excited to make it happen for us! Thank you friends so much for your generosity! God made it clear that we needed time for just the two of us to get away and reconnect. Click here to see our Ireland photo album.
Because parents are constantly busy managing jobs, house and children, we can forget to schedule time for ourselves. However, there are amazing benefits that exist for our hearts, minds and bodies when we do!
Advantages of Taking an Annual Vacation
relaxed and rejuvenated mind, body and soul
different perspective on life
God showed me what I can do better as a mom and wife
Luke and I talked about our future plans and what we believe God is leading us to do
ideas about ministry came to mind because there were no distractions
I felt alive and carefree and connected with God at a deeper level
my love for travel was reborn and we are now talking about where we want to go next
we got to see new amazing beauty that God created in another part of the world
appreciation for cultural diversity
teamwork between Luke and I was strengthened just through driving on the roads (they drive opposite side of the road!)
When I take a vacation and take a break from my normal routine, I come back home a changed person.

— Tina Marie Griffin (@TinaMGriffin) November 12, 2016
I have a better perspective on life and become more bold to tackle the issues I feel passionate about.
This trip also had a sweet ending. When we got off the plane at Chicago O'Hare airport from Dublin, we met ABC's The Bachelor Chris Soules and sat down for a quick chat. He too needed a major break from farm chores and thus flew to Ireland to visit family. From one farm kid to another, he's a down home country boy all the way. He is using the fame God has given him through reality TV to create a platform for agricultural awareness. He shared that only 3% of our country produces food for the 100% of us who eat! WOW! Click here to learn more about his mission. This video is our chat we captured at the airport.
[youtube id="bTWa6obUnHk"]
My conversation with Chris was just another reminder to me, that God can do some wild, amazing things if we just keep doing what he wants us to do and go where he is leading us to go! So go book the flight to that place on your bucket list! Life is too short not to!