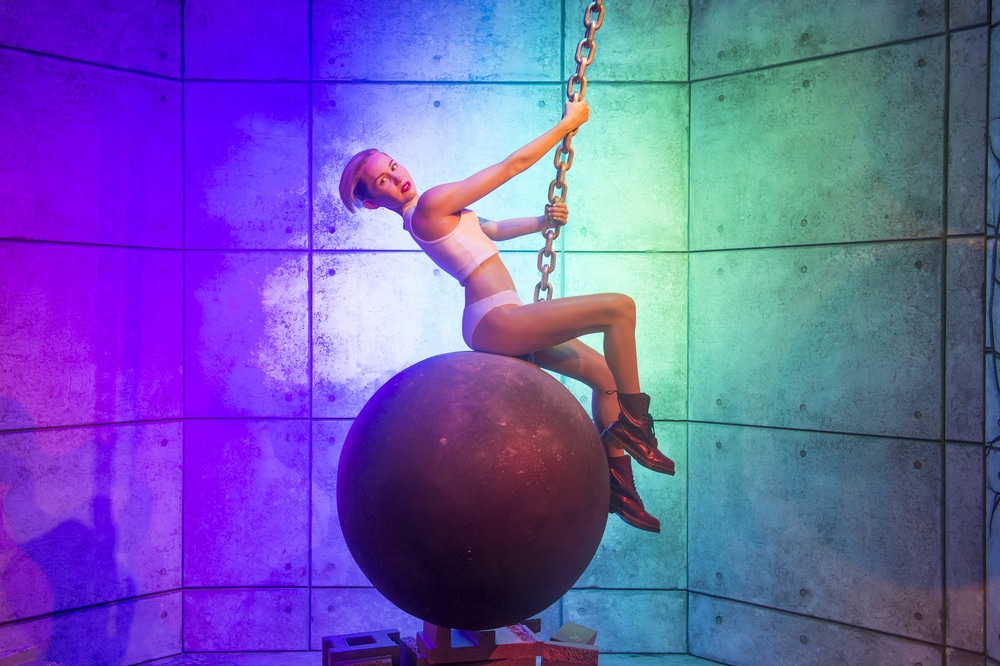 05 Dec, 2014

Topless Miley! Bring Back Fully Dressed Hannah Montana!

Topless Miley Cyrus parades around Miami and gets hot press. If any girl on the street would do this, she'd be arrested and sent to a mental facility.

What kind of world are my daughters growing up in?  I never thought I'd be living in a time where people could go topless in public and it was praised and promoted. Topless Miley was on a Miami stage Tuesday night, for the Jeffrey Deitch, Tommy Hilfiger, and V Magazine's Art Basel Opening Party and wasn't arrested. (I couldn't even include a photo here people – it's that bad)  She donned disco ball nipple pasties for part of her show though – wow! She was also topless celebrating her 22nd birthday two weeks ago at a Hollywood club. How is this not illegal?  I ask this question because if anyone with a non-celebrity status would do the same thing, they would be fined and taken to a psych ward.

This is what kills me.  If you're a celebrity you can promote pornography and get paid millions for it (ex: Miley's "Wrecking Ball" video) but in the real world if a teenage girl would dance naked or even SEXT a photo of herself she would be facing some serious life-altering consequences. Consequences like being arrested for distributing child pornography (both for the sender AND the receiver), becoming a registered sex offender for life and even risk being removed from her home. This, not to mention the obvious humiliation and bullying which leads many young people to commit suicide – all because of the serious ramifications of sexting.  If our young men and women find themselves in this hell for doing the same thing Miley is getting paid to do, then there's something seriously wrong.

What kind of message is this sending to our next generation?  I'm very concerned, because just a decade ago you had to request if you wanted to rent a porn video at a video rental store.  Today people see a topless woman on the street and it's deemed acceptable and welcomed.  (BTW – I've never rented a porn video, but I've asked rental places the steps needed to get your hands on one.  Not long ago it was rather difficult for young people to rent one.) I'm freaking out about what my four children will have to endure just in the next decade of their lives. Will celebrities be parading around on the streets butt naked next year?  I mean how much further do we need to go here – according to Miley's Miami appearance this week, not much further.

It kills me to meet so many young people who are depressed, suicidal, guilty, and embarrassed when they make one bad mistake like sexting, and now have to pay for it for the rest of their lives.  The headlines should have said the police arrested and fined Miley instead of glamorizing her behavior.  To praise her actions sends the opposite message our teens need to hear.

To the young girls in our world today, PLEASE look at the beautiful woman you were created to be.  Know that you are worth more than gold.  The knight you will want to marry someday will be a man who's attracted to someone with class not the woman everyone's seen topless on the street.  There's a beautiful aura with keeping something to the imagination.

To topless Miley, we miss fully dressed Hannah Montana.  America is not asking you to show us every body part.  We don't want to see that!  When you have a daughter of your own someday, you will understand.  You will want to shelter her from this as well, but what about my girls now? What about what's best for my precious, impressionable girls now?

Question: How are you raising your daughter to be a Miss Sadie Robertson and not a Miss Miley Cyrus? You can leave a comment by clicking here.