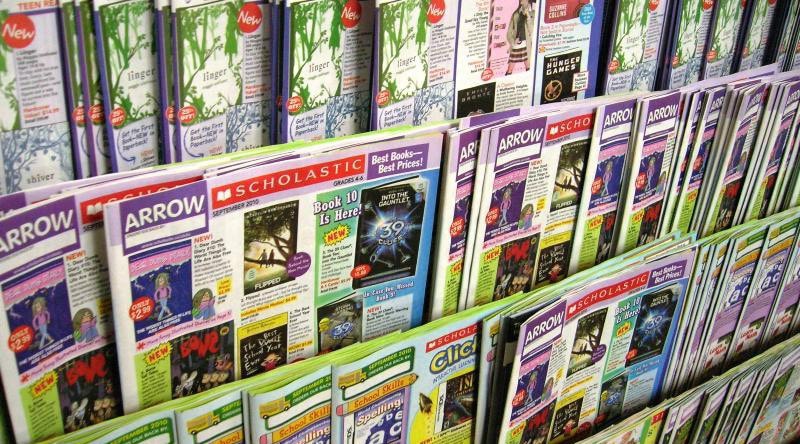 30 Aug, 2016

Scholastic Recommends Witchcraft, Sorcery & Murder for Our Kids

Scholastic, the #1 children's book publisher recommends books on the occult, witchcraft, murder and more for grades K-12. Stay educated! Speak up!

I remember as a kid getting the cool Scholastic's flier from school, filled with exciting books to read for the upcoming school year. Books about pets, best friends and arts & crafts. Oh, the good ol' days! My heart stopped beating last week when my friend Kari texted me shots from her kid's Scholastic recommended reading list and said, "Look at THIS!"

There were roughly 60 books listed in this short 6 page flier. However, the number of books promoting ghosts, murder, witchcraft and sorcery floored me! We're not talking 2-3 books here, but over 30! I listed most of them below so you can be on the look out for what to avoid.

Here's my concern…

Scholastic's motto on their website states,
"Scholastic, the largest children's book publisher, promotes literacy with books for kids of all ages and reading levels."
Scholastic, making over 1.6 billion in annual revenue, also states in their about section, "Scholastic books and educational materials are in tens of thousands of schools and tens of millions of homes worldwide, helping to Open a World of Possible for children across the globe." What is this world of possible? What messages are they promoting?
Scholastic's agenda of the 80's? Cats. Crafts. Not a problem. However, what I am seeing on their reading list today is very disturbing to me.
In Scholastic's "trending now" section of their flier, half of the books recommended to kids contain demonic content.

— Tina Marie Griffin (@TinaMGriffin) November 12, 2016
Since they are the largest children's book publisher, it is pertinent we take a good look at just "what" they are promoting. Here are some of the books in my friend's 6th grader's list of recommended reading (freaky photos on the right).
Ghosts
Doctor Who: The Dangerous Book of Monsters
Sea Spell
Walk on Earth a Stranger
The Magisterium: The Bronze Key
The BFG
Warcraft: Durotan: The Official Movie Prequel
Miss Peregrine's Home for Peculiar Children
Once Upon a Zombie: The Color of Fear
The Stone Child
The Nightmarys
A Curious Tale of the In-Between
The Marvels
Harry Potter and the Cursed Child: Parts One and Two
Shadow House
The Awakening of Sunshine Girl
Frozen Charlotte
Who You Gonna Call? Ghostbusters Movie Novelization
Blood Will Tell
Prophecy
Red Queen
Cruel Crown
Thirteen Chairs
Dead Girls Don't Lie
Gracefully Grayson
Dark Energy
Now I know there's a war on our children. I mean, with After School Satan Clubs coming to elementary schools this year, this shouldn't surprise us. But it still does. Our children are being attacked from every angle. Their innocence and purity being the major target of companies like Scholastic. The titles of these books alone shows us what Satan is trying to do. Warp young impressionable minds at the earliest possible age. What do kids learn from reading these books? Besides having nightmares, kids are learning about witchcraft, the occult, murder and the list goes on.
The result? A mind being filled with what God warns us to steer clear from. In fact, God warns us in many verses throughout scripture. Leviticus 19:31 states, "Do not turn to mediums or seek out spiritists, for you will be defiled by them. I am the LORD your God." Revelation 22:15 states, "Outside are the dogs, those who practice magic arts, the sexually immoral, the murderers, the idolaters and everyone who loves and practices falsehood." I found over 25 verses regarding this topic in scripture and what God tells us to do.
Even if we don't buy these books, the schools get free books for their libraries from this list of books as a "thank you" for their students purchasing the very same books. So our kids still have access to these books at their school. Therefore we can and should get involved for the sake of making our voices heard so other children are spared from reading these dangerous messages. So what can we do moms, to protect our children from these demonic influences coming from even recommended reading lists?
We can call Scholastic and let them know we will NOT be supporting their company by buying any of their books. There are plenty of healthy choices our kids can read from the library. By voicing our concern, hopefully the company will hear our plea and get the harmful content off of their website and out of their fliers.
We can call our school and attend a school board meeting to share our concern regarding the quality of book options for students. Some teachers might not know what they are handing out or if they do, they might not agree but feel under pressure to do as they are told. Regardless, children belong to the parents and hence, what they are exposed to is the choice of the parent. The last thing we want is more harmful media guiding our kids down the wrong path. Make your school aware of what they are endorsing. Just because a company was good a decade ago, doesn't mean we can still trust them today.
Research other healthy choices of books your kids can read at the local library or any of the online homeschool curriculums.
[youtube id="1cb-KidPzMs"]
Looking for books, CDs and DVDs that uplift and educate your kids to be armed and ready for combat this school year, check out the back-to-school special I'm running this week in my store HERE. I have a family pack and kid pack available and the tips and tools will be eye-opening and educational.