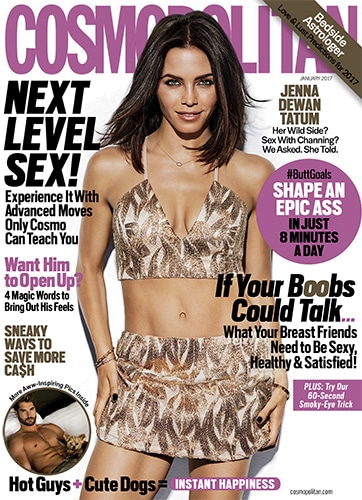 28 Feb, 2017

Pornography in Latest Cosmo Magazine Issue! Moms Beware!

How bad can Cosmo magazine be for our girls? Try X-rated! The current January issue of Cosmo magazine shows porn and lists top sex toys for our kids to buy!

While walking through the exhibit hall this week at the National Religious Broadcasting conference in Orlando, Florida, the Cosmo Hurts Kids booth caught my attention immediately. I am fully aware that Cosmo has pushed the envelope over the past few years. It went from somewhat good advice for teens to currently featuring barely clothed girls on the cover. However, anger quickly arose when I was shown the recent issue of Cosmo magazine at this booth run by three hard-working women advocates who's mission is to put a stop to the madness!

Cosmo magazine has a huge spread throughout it's January issue with a young woman's hand literally DOWN inside a young man's pants with his zipper wide open. You read this correctly! The short article next to the graphic photo tells it's readers (mostly young girls) on how they should kiss their partner for at least 20 minutes which will increase her desire. It goes on to tell girls to nibble on his zipper of his pants and I can't even go on with describing what else it tells it's readers to do. The last line ends with the statement, "By the time the buzzer goes off you'll both be wild with lust!" Sex toys are advertised at the end of the article along with the steps you need to take to get you to orgasm. This is pornography and according to laws being broken in each state, this is illegal and Cosmo should be sued.

I talked with Dianne Rogers today and the interview is below. She discusses how Cosmo magazine has gone downhill fast with it's content and what we as parents can do to stop this illegal porn from getting on store shelves.

[youtube id="c8dqQG6pyHg"]
What can we do as counter culture moms?
Dianne said the way we can get involved is to GOOGLE your STATE and follow it with Material Harmful to Minors Law! Ex: Missouri material harmful to minors law. See what pops up, do a quick read of the laws and then go to local officials and let them know what Cosmo is currently doing. Kids are getting access to this and we must put a stop to it. If not, we will have magazines with completely naked people on the covers where our 2 year olds can easily see it. Enough is enough!
THIS WEEK'S CHALLENGE: Get involved in checking out your state laws and contact local officials. Cosmo Magazine is clearly breaking the law and it's coming down to us moms needing to speak up for our children's sake! If we do nothing – our children will be paying a huge price. If we do something – we will show companies that they will not be able to get away with doing illegal activities! Let's put our faith to ACTION this week!
Question: What steps did you take to help remove this pornographic magazine off store shelves? Share what you did and the results you saw by clicking here!