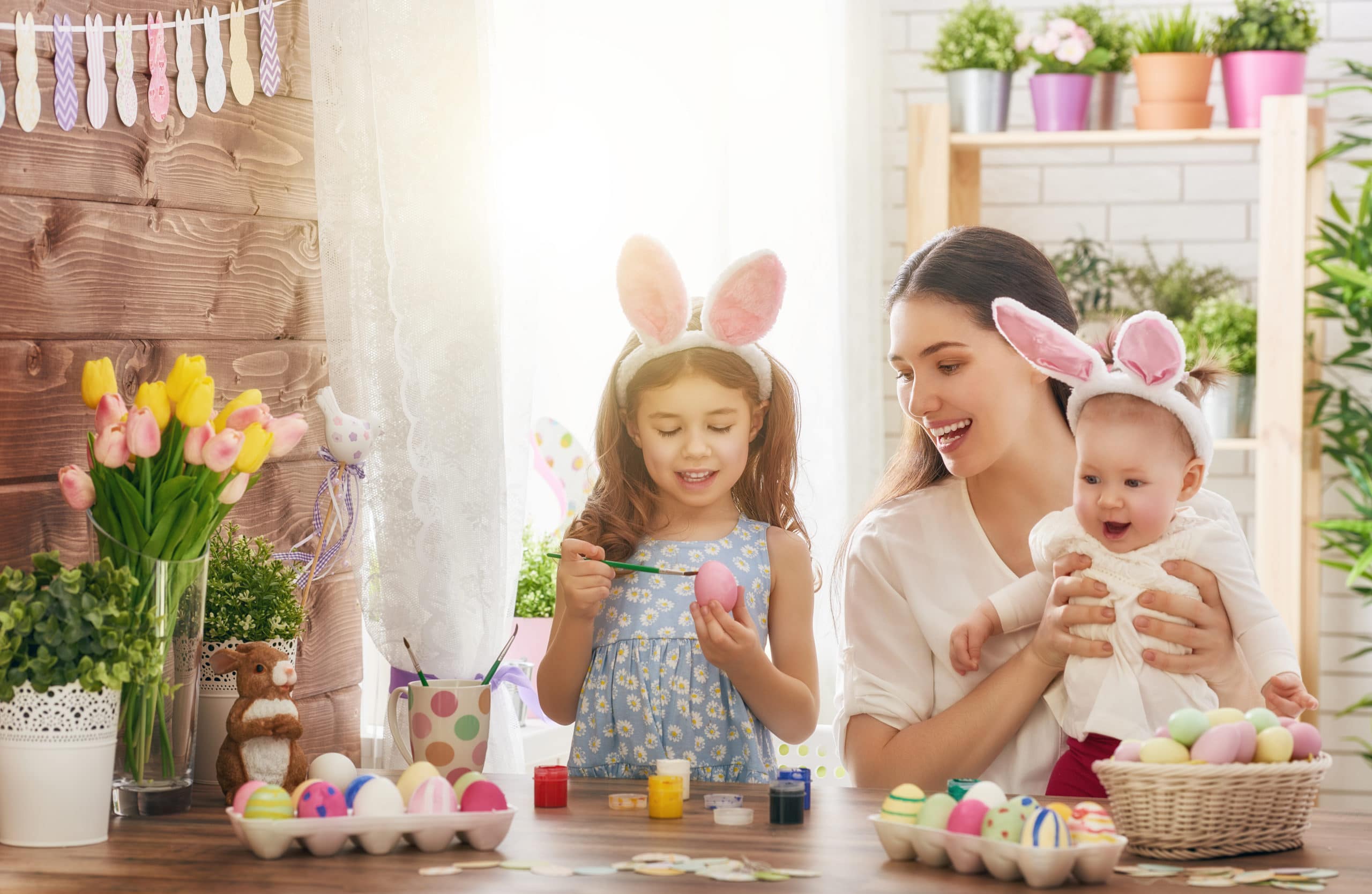 02 Apr, 2021

Let's Celebrate Easter! Or, Is It A Pagan Ritual?
Celebrate Easter With Family!
Christ is RISEN! But, what else do we need to know about Easter?
Easter…a holiday that holds many memories for me. I can still smell the vinegar-based concoction that tinted the boiled eggs to be used in the egg hunt. Oh, how I hated the smell of vinegar and boiled eggs! But it was tradition and that is how it was done. Years later, as a mother, when I prepared to celebrate Easter with my kids, I opted for plastic eggs filled with candy. I totally avoided the smells and mess! My children were never opposed to that. 
Growing up in a Southern Baptist Church in a very southern state, I never questioned the traditions we practiced to celebrate Easter. Then, when in my thirties and a homeschool mom, the thought came to me…What do bunnies and eggs have to do with the resurrected Savior? The answer was simple…it doesn't. And why is this celebration called Easter?
The True Origins of Easter
It turns out, long before the advent of Christianity, Easter actually began in the Northern Hemisphere as a pagan festival. It was celebrated in the spring by giving cards, gifts, and novelty Easter products. The name Easter seems to have been derived from the name of the fertility goddess, "Eostre." According to the writings of Venerable Bede, a British monk, who lived during the late seventeenth and early eighteenth century, Eostre was a goddess in England and was celebrated at the beginning of spring, with the birth of new things. 
Bunnies fit into the festival because the symbol of this fertility goddess is a rabbit or hare. It is also fitting because bunnies have many babies (kittens) in their litters. This, of course, helps make sense of the use of eggs. 
Tweaking Traditions
My findings left me feeling a little distressed, deceived, and resolved to change our family's traditions. I wanted desperately to ensure our focus was celebrating the resurrected Savior. Yet, I found myself struggling with the thought of my children missing out on the "traditional" Easter things. And how would I approach conversations about it that I knew would come when we didn't participate. The last thing I wanted was to sound judgmental. I also questioned myself, " Am I being legalistic?" My heart was sincere but was this over the top? 
I sought to find the balance. We did the Sunday morning Easter bunny goodies, but I used pastel-colored gift bags rather than baskets. Instead of chocolate eggs and marshmallow bunnies, I gave them chocolate crosses. Rather than toys, they received something to help them grow spiritually and Christ-centered, such as a VeggieTales or Bible Man DVD and a Frank Peretti book. We still dressed up and took those Easter Sunday pictures though. (I was a scrapbooker.) Thank goodness! I had found the balance and I had no doubt that the Lord was pleased, Hallelujah! 
The Heart of the Matter
How could believers have ever come to the point of merging pagan rituals with celebrating the resurrected Savior? It's called "culture." There is something within mankind that desires traditions. Perhaps it is the heart-warming memories it creates that bring comfort. Maybe it's the joy they feel in having something to look forward to.
I guess the biggest question for me, personally, was, "Are the traditions of practicing pagan rituals in order to  celebrate Easter and the resurrected Savior sinful?" This caused me grave concerns. Was I teaching my children to have one foot in the church and one foot in the world? Was our celebrating the resurrected Savior overpowered by bunnies and eggs and just another opportunity to get gifts?
Reflecting on the Past
Looking back, I see that our primary activity during the time we celebrate Easter was preparation for our church's passion play.  Our church was known for its pageants at Christmas and Easter. It was certainly no small undertaking. Our family spent many hours in rehearsals and helping with sets in preparation for it.
Then, we spent a full week of dress rehearsals and 6 performances, presenting the person of Jesus and His miracles, death, burial, and resurrection. Many came to know Christ, along with numerous recommitments to their faith. That was it! That was the point of realization. Our Easter was truly Christ-centered. It's what we invested most of our time, energy, and attention to during that season. The Easter Bunny, Peeps, and chocolate eggs failed in comparison. 
Things don't stop there. The pagan rituals of a spring fertility goddess with bunnies and eggs also have spiritual symbolism. Spring is when all things are made new. Christ's death, burial, and resurrection made all things new. It was because of His sacrifice that we can be born again and walk in the newness of life and have a reason to celebrate Easter. The egg also represents new life, for it is from an egg that new life begins. 
God Can Use Anything for Good
As I got older, and a little wiser, I learned some things. Just as with anything, you can make it what you want it to be. The reality is that much spiritual fruit has come out of these pagan rituals. Perhaps, this is another case of what the enemy meant for evil, God's children have used for good. I recall a big Easter egg hunt my children participated in at a local park several years ago.
It was put on every year by a nearby church. Many who wanted to celebrate Easter came to hunt the seemingly countless number of brilliant-colored eggs. Further, there were other fun activities! At some point during the festivities,  the Gospel of Jesus Christ was shared and people were given the opportunity to accept Jesus as their Savior. Many have been saved at that annual event over the years. The Holy Spirit didn't cease to move because a pagan ritual was used to get them there. God can use whatever He chooses to do whatever He wills. 
My challenge to you:
Regardless of your traditions, make sure Jesus is the centerpiece when you celebrate Easter. Use your traditions to point your children and others to Christ. Whether you stuff baskets with bunnies and eggs or gift bags with crosses and VeggieTales, let your primary focus be on celebrating the resurrected Savior, and thank Him for His sacrifice that brought the gift of Salvation to whoever is willing to receive it.
"On the first day of the week, very early in the morning, the women took the spices they had prepared and went to the tomb. They found the stone rolled away from the tomb,  but when they entered, they did not find the body of the Lord Jesus. While they were wondering about this, suddenly two men in clothes that gleamed like lightning stood beside them. In their fright the women bowed down with their faces to the ground, but the men said to them, "Why do you look for the living among the dead?  He is not here; he has risen! Remember how he told you, while he was still with you in Galilee:  'The Son of Man must be delivered over to the hands of sinners, be crucified and on the third day be raised again.' " 
Luke 24:1-7
Angie Camp is an author, speaker, and Christian Counselor. Aside from being a Mother and Grandmother "Peaches," her primary focus is walking with women and girls along their journey from brokenness to healing, reminding them that the goal is not merely to survive, but to soar.
Download Our New Counter Culture Mom App to become part of the Counter Culture Crusade and find our PREMIUM content to get the most urgent trending news and pop culture alerts!
Be sure to tip us off to any alarming issues or something you would like to have us write about! Our mission is to help parents deal with today's lifestyle trends and how to biblically navigate them, and we appreciate your input!