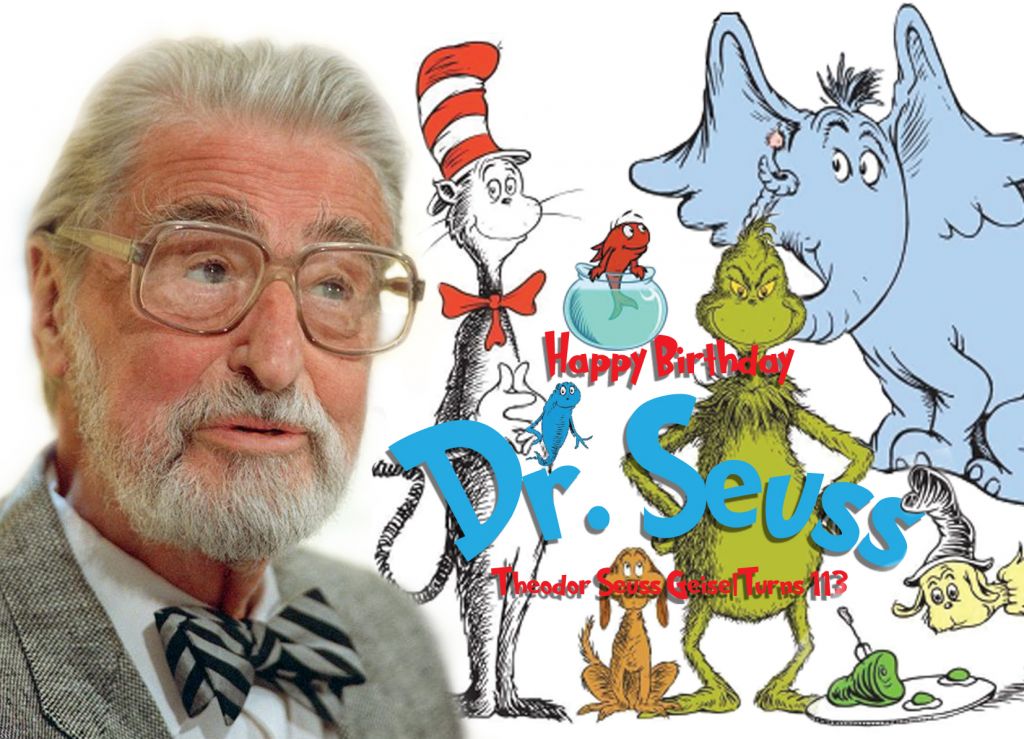 02 Mar, 2021

Happy Birthday, Dr. Seuss! What's The Best Way To Celebrate?
by Katrina Cheshire and Bethany Dumbleton
---
Dr. Seuss: It's his special day!
What is a better way to celebrate Dr. Seuss than by reading?
Beloved children's author Dr. Seuss was born today, March 2, 1904. Everyone has read his endearing books, and his name is known around the world. But did you know just how amazing the story of his fame is?
The man behind the books.
Dr. Seuss was born Theodor Seuss Geisel in Springfield, Massachusetts, into a German-American family. As a boy, he was involved as a Boy Scout in raising money for the war effort. He was supposed to be awarded a Boy Scout medal by President Theodore Roosevelt, but due to a mix up there wasn't a medal for him, and he was escorted off the platform, so embarrassed that he was terrified of public speaking for the rest of his life!

His first book was rejected 27 times by publishers, and he was on his way along Madison Avenue to burn it, when he bumped into a friend who had started an editing job that morning. Seuss later said that if it hadn't been for that meeting, he "would be in the dry-cleaning business today." What an awesome story!
Green Eggs and Ham
Dr. Seuss has written a delightful tale! This action-packed story takes you all over the place, as one character (the consumer) tries to convince Sam-I-Am to eat green eggs and ham. Finally, Sam-I-Am caves into the pressure, and he is delighted!
The Cat in the Hat
Certainly, this may be Dr. Seuss's most well-known book! The Cat in the Hat is known far and wide as a lovable, crazy, and silly character children adore! Encouraging mischievous activities into the household of two young children, Sally and Conrad, there is never a dull moment! Don't forget the goldfish who keeps trying and FAILING to get him to behave! Your kids will be sure to get a laugh out of this one!
One Fish, Two Fish, Red Fish, Blue Fish
WOW, This popular book has sold over 6 million copies as of 2001! And no wonder! It is packed with fun illustrations and is perfect for teaching young children counting and colors! Because of the simple rhyming style of the book, beginning readers are entertained by the many creatures of Jay and Kay, all while unknowingly work on their reading skills.
 Hop on Pop
Part of the series, Random House Beginning Books, this funny group of poems is excellent for little ones who are learning to read for the first time! Because of the constant flow of exciting words and animated ideas, readers are able to enjoy the introduction of phonics without even realizing it! However, It's kind of like sneaking vegetables into a chocolate cake! Learning how to read was made fun, both for the reader and teacher, by Dr. Seuss's fantastic books!
How The Grinch Stole Christmas
This title stands alone in fame – with multiple movies based on it, this book has made a name for itself worldwide, and holds a special place in the hearts of so many  – it is a Christmas tradition in many homes! Surely you know all about the grumpy, pessimistic, stinky, character known as the Grinch! Of course, a character who hates Christmas would do everything he could to ruin it for others! The town of Whoville has no idea what is in store for them when the Grinch comes to town!
Furthermore, This story also sheds light on the consumerism we experience at Christmas and encourages an attitude of gratitude and generosity!
In conclusion,
The great books we mentioned are only a very few of the many written by the author who blessed the world of children's literature, Dr. Seuss! Furthermore,  his countless number of stories will remain in our hearts for years to come!
Lastly, we want to say, Happy birthday, Dr. Seuss! Thank you for all of the laughter and smiles you've brought us over the years!
---
"The more that you read, the more things you will know. The more that you learn, the more places you'll go"

Dr. Seuss
---
Katrina Cheshire is a home school and Bible college graduate and the author of Seller of Dreams. She is passionate about good stories and the power they can have in shaping a life.
With seven siblings her life is full of adventure and excitement! She loves to design and sew clothing. She enjoys writing endless stories and read even more of them. You can find her making music with her brothers and sisters or dancing for the glory of God.
Bethany Dumbleton is the Chief Operations Officer for Counter Culture mom. She is first and foremost a devoted follower of Jesus Christ.
Her husband and two children are her main ministry which overflows into her life ministry. She knows that our children follow our example. She strives to help parents grow in Christ, so they may shepherd their children biblically.
Download Our New Counter Culture Mom App to become part of the Counter Culture Crusade and find our PREMIUM content to get the most urgent trending news and pop culture alerts!
PREMIUM people are loving The Buzz Room! Get support from other people like you who want to rewrite the script Hollywood has written for today's youth!
Be sure to tip us off to any alarming issues or something you would like to have us write about! Our mission is to help parents deal with today's lifestyle trends and how to biblically navigate them, and we appreciate your input!