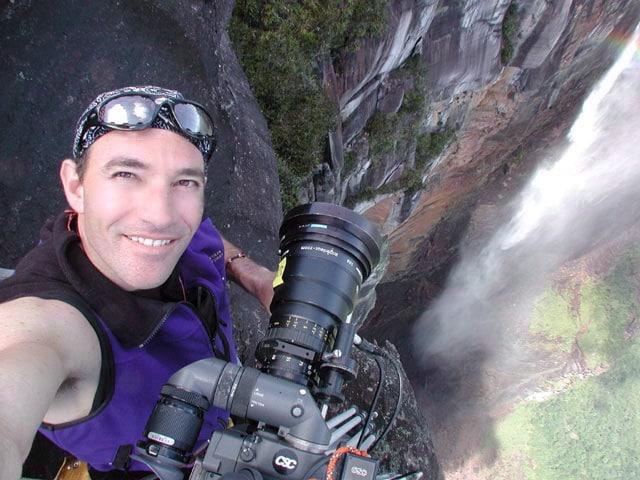 16 Aug, 2017

Former Hollywood Cameraman Exposes His Behind-the-Scenes Lifestyle

Many teens today want to become famous and get rich quick. Former Hollywood Cameraman Joe Sanchez gives an in depth look at the reality of show business.

I met Joe Sanchez while working on one of my first movie sets back in 1999 called "Bowfinger" starring Steve Martin, Eddie Murphy and Heather Graham. We were shooting a stunt scene involving a helicopter which landed countless times at the Griffith Observatory in the Hollywood Hills. It was so neat to be in a movie shoot and I remember soaking up as much knowledge as possible about the film industry every time I stepped foot on set.

On the first night of the shoot, during a short break, Joe and I sparked a conversation that has turned into a great friendship 18 years later. I remember telling him about the Lord and his disinterest, but today, Joe is a whole new man in Christ and this reunion below explains his journey from the facade of the Hollywood glitz and glamour to the excitement of living for the Lord daily.

(above photo: Joe shooting footage at the highest waterfall in the world – Angel Falls, Venezuela)

Episode 18: Former Hollywood hypocrite leaves show business to do God's business. (those were his words – not mine!)

(watch video here)

[youtube id="OGyWctgkt0A"]

SHOW TIME LINE
Introduction
1:32 All the different movies Joe Sanchez was a cameraman for.
2:25 How Joe became a believer and the backstory of his upbringing.
6:25 Why Joe's not afraid of dying, but afraid of where he would go when he died.
9:17 How Joe got involved in the entertainment business as a cameraman.
11:14 Joe never went to film school. He learned from experience.
12:24 Joe mostly worked on feature films and 90210. Always lived on the road.
14:21 What Joe realized through the glitz and glamour lifestyle and why he needed to get out of the business.
18:35 Many marriages break up because people do acting scenes that promote or create adultery.
20:54 Brittany Murphy told me that she felt so much pressure to do roles that went against her morals and standards.
21:52 Joe calls me to announce that he's sold out for Christ after 2 decades of living without the Lord.
24:21 Joe's turning point of how he went from Hollywood hypocrite to on fire for Christ.
25:57 Joe's close call with almost being killed while shooting Disney movie Dumbo Drop.
27:57 Joe finds a Gideon's Bible at a hotel and his whole life changed.
32:49 Joe's advice on living as a solid, bold Christian in Hollywood.
35:45 What I witnessed while working over a decade in the entertainment business.
37:42 Joe's thoughts on what our main mission should be while we're still alive.
39:57 I'm ecstatic that Joe and I had a chance to visit again after we first met 18 years ago.
42:06 If you're not a believer, dig in deep in God's word and place your faith in Christ!
42:57 Joe is traveling the country in his RV to serve people wherever God leads.
43:22 There are solid Christians living in Hollywood and clean entertainment available.
45:15 CHALLENGE OF THE WEEK. Live out the calling God has placed on your life.
46:24 If you want to get our weekly Pop Culture Alert text, text the word ALERT to the number 444999.
Conclusion
Click here to join the growing Counter Culture Crusade community on Facebook!
Helpful Links:
Interview with actor Dakota Jones (he gives great insight on working in the entertainment industry as a Christian)
Connect with Joe Sanchez:
Facebook
Email: joeysanchez@mac.com
THIS WEEK'S CHALLENGE: Ask yourself if you're doing what God is asking you to do. It doesn't matter where you are currently working or the obstacles you have against you – age, income, time, etc. God has a plan for your life and wants to use you mightily. Are you living out that plan? If not, take a step of faith and follow where God is leading you to go – no matter how big of a life change it will be.
Question: What is stopping you from pursuing the calling God has placed on your life? What would help you overcome your fears? Share your thoughts by clicking here!