11 Jan, 2021

5 Easy Healthy Meals Your Family Will Love
by Michelle Lazor
---
It can be so hard to get your family to eat healthy meals!
The beginning of every year is a time of trying or starting new things. For some of us, it's starting a new workout routine. For others of us, it's making a commitment to read through the bible in a year. And for still others, it's deciding to feed ourselves and our family more healthy meals. And it would be a bonus if we could throw in more meatless meals (even if there may be a small amount of meat thrown in here and there!).
So here are some of our favorite meals that are not only healthy, but they are delicious! They have worked for our large family from our oldest at 18 years old down to our 2-year-old twins. What better way to start off the New Year than with some awesome food coming out of your kitchen?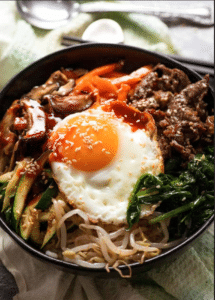 Bi Bim Bap
I'm sure many of you may be asking, what in the world is Bi Bim Bap? Well if you know Chinese fried rice, this is the kicked up Korean version. Since our family spent several years in Korea, we grew to love the food and now find it not only nostalgic to eat and reminisce over our time there, but it's turned into our comfort food. If you fry up a few mandu (the Korean version of potstickers), you will have a meal that will leave your family asking for seconds. And possibly thirds.
And FYI, there's a great children's book about Bi Bim Bap that is really fun to read to your kids!
Baked Ziti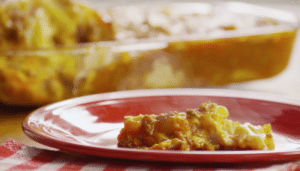 If your kids enjoy having the simple pleasure of eating pasta, sauce, and cheese, this recipe takes it to the next level. It will not only satisfy your youngers, but it will also leave your older children's belly satisfied and content. The original recipe calls for adding ground beef to the sauce, but you can easily leave it out (or in!) depending on your family's preference.
We personally don't love jarred pasta sauce either, so we make our own (Heat 1 Tbs olive oil in a pan, then add 1 chopped onion and stir fry 2 – 4 minutes; then add 1-2 cloves of crushed/minced garlic and 1/2 tsp crushed red pepper until fragrant; then add 24 oz can of crushed tomatoes. Cook on low for about 10 minutes or until the sauce thickens. Add salt and pepper to taste). If you add some rolls or warm bread, you will have created an outstanding meal!
Fettuccini Alfredo
This recipe is for the lovers of all things rich and creamy. Many people love to have this recipe with some chicken, but our family never has felt the need to add it. We stick some nutritious spinach into the sauce to kick it up a notch or two and find it to be superb without anything else. Bread is welcome for this recipe as well, for sopping up some of that incredible sauce.
Mexican Alphabet Soup
Alphabet Soup seems like a standard go-to meal, but this particular recipe adds unexpected flavor to what can be a ho-hum soup. Obviously, frying most anything makes it taste good, so it makes sense that pan-frying the pasta before adding any sauce or broth will give the pasta a deeper and richer taste that enriches the entire soup. It will keep even the adults asking for more!
Homemade Pizza
Who doesn't love pizza? It's a staple on our family menu. However, it's one of those things that we rarely order out for. We have found it's not much work to make it ourselves, and our kids even prefer it! As long as you are prepared in advance, it's extremely easy. We use the same sauce as the Baked Ziti recipe above, except we don't add the onions (and any extra sauce can be frozen). Sprinkle some shredded cheese on that pizza dough with some veggies and you will make your family's mouths very happy! And yes, you can make this as one of your healthy meals!
Pizza dough (originally from America's Test Kitchen – Family Baking Book)
4 cups of flour

1 ½ tsp salt

2 ¼ tsp yeast

2 Tbs olive oil

1 ½ cups warm water
Mix all of the dry ingredients either using the dough hook on a KitchenAid or whisk by hand.  Next, add in the olive oil and water.  Knead the dough using either KitchenAid or by hand until the dough is elastic and comes together (between 5-10 minutes). Adding more flour as necessary (i.e. until the dough doesn't stick to your hands). After kneading, lightly oil the dough. Cover with a kitchen towel or plastic wrap and let it rise for 45 minutes to an hour.

After the dough has risen, split the dough in half, and using one piece of dough at a time, stretch out the dough to the shape of your pan.  Next spread your pizza sauce, then add cheese as desired.  Finally, add veggies (if using) to your pizza.  Bake at 500ºF for 8-10 minutes
---
Michelle Lazor is a wife and mom of 9 blessings! She enjoys spending her time with her big family as well as reading, running, and writing! Her motivation for each of these activities is to draw closer to Christ and glorify Him through it all. She has a personal blog and sells socks on her website, Mud Hen Mama, that affirm biblical convictions. They are fun, bold, and made in the USA!
---
Download Our New Counter Culture Mom App to get our trending news and pop culture alert notifications. You can connect with other parents in the Parent Chat section to gain helpful ideas on how to counteract the Pop Culture Cult!
Be sure to contact us if there is an issue you would like to have us write about! Our mission is to help parents deal with today's lifestyle trends and how to biblically navigate them.