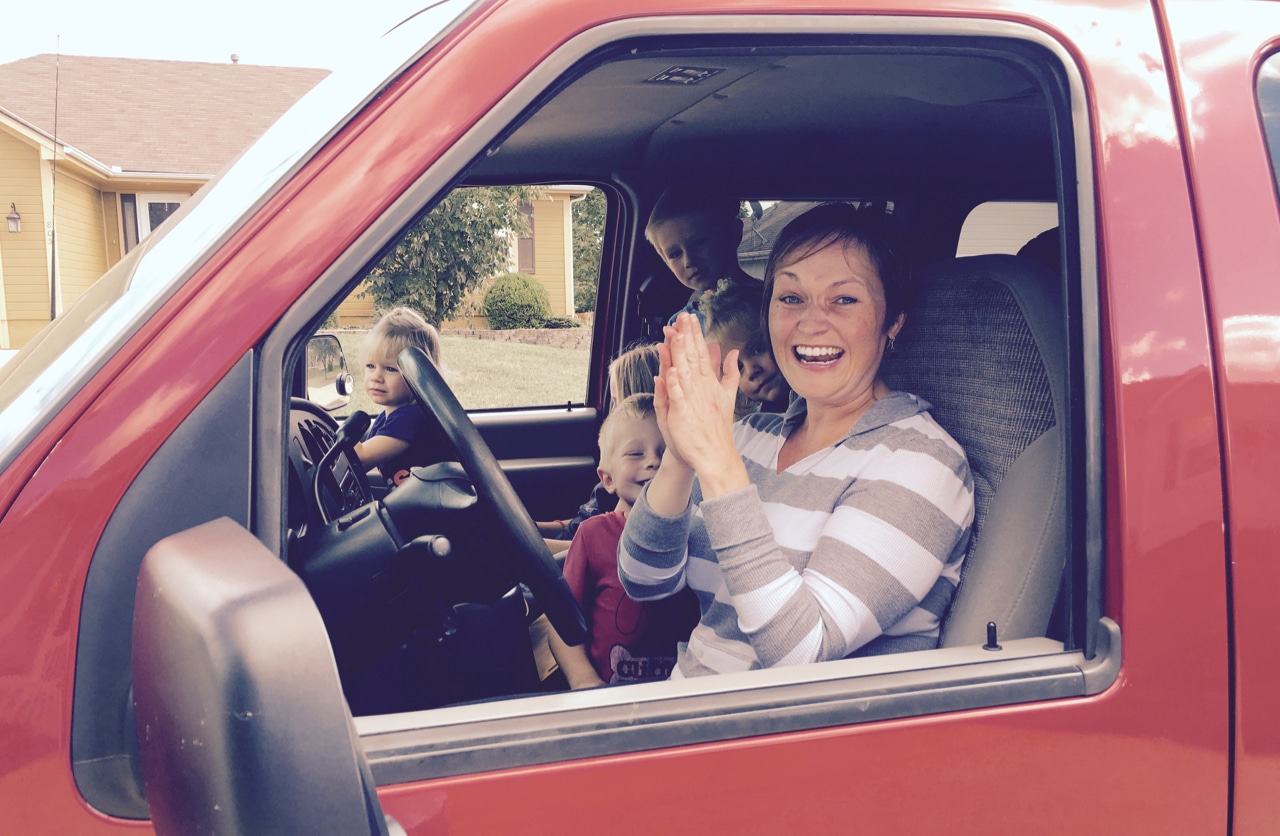 03 Oct, 2015

Mom of 10 Gets Her Van!

Mom of 10 (7 adopted babies 3 & under & 3 biological kids) gets a van! When Luke & I heard her story we did a fundraiser on FB & raised $6,000 in 48 hours!

Have you ever wanted to be a Christian version of Oprah? I have. I have always wished I had billions of dollars like Oprah, so I could just go out and buy whatever people needed or write a check to someone for a million bucks. Seeing that isn't the case currently, like many of you moms, I know we still all have a burning desire to do more, give more, help more. Regardless, I want to challenge you that if you think you don't have the time or don't have the resources, hopefully this story will encourage you to experience the joy and shock on a person's face, like we have. You and your kids CAN do it! Check out Kari's reaction to seeing her van for the first time.

[youtube id="JdxC55116Mg"]

This wild story unfolded in June, when I met a woman named Kari after speaking at the Resound Music Festival. She came up to my booth afterwards and her huge smile and midwest accent quickly resonated with me. I felt like I knew her my entire life. Kari shared with me that in the past two-and-a-half years she had adopted 7 babies 3 years and younger. She has 2 two-year-olds, 2 one-year-olds, identical 7 month old girls and a ten week old baby girl. She also had 3 biological children, 12, 9 and 5. My jaw hit the floor! I can no longer use the phrase, "I'm running a day care." I have 4 kids six and under and homeschool my two older boys, but now suddenly I felt like a wimp! Kari used to work at the pediatric intensive care unit at Children's Mercy Hospital in Kansas City. Long story short, when the first baby she adopted, Isaiah, was born in a toilet by a drug addicted woman, Kari knew God was telling her to wrap her arms around this baby and give him a home. Shortly thereafter, she left the hospital to become a stay-at-home mom x10!

What made this story extra special, is that when I called her to see if our family could drive over for a visit out of the blue, she told me I called just when she needed someone the most. We packed the van, made the 3 hour trip and within 30 minutes of our visit, we found out that we were in the exact same Kindergarten class over 30 years ago! Screaming and shedding some tears, I felt like I found my long lost sister. During her kindergarten year, her family moved to the next district over, but regardless, we had a sweet connection I never expected. We quickly rattled off people we both had crushes on, local radio stations, pet stores and anything else that Pulaski, Wisconsin memories had surfaced.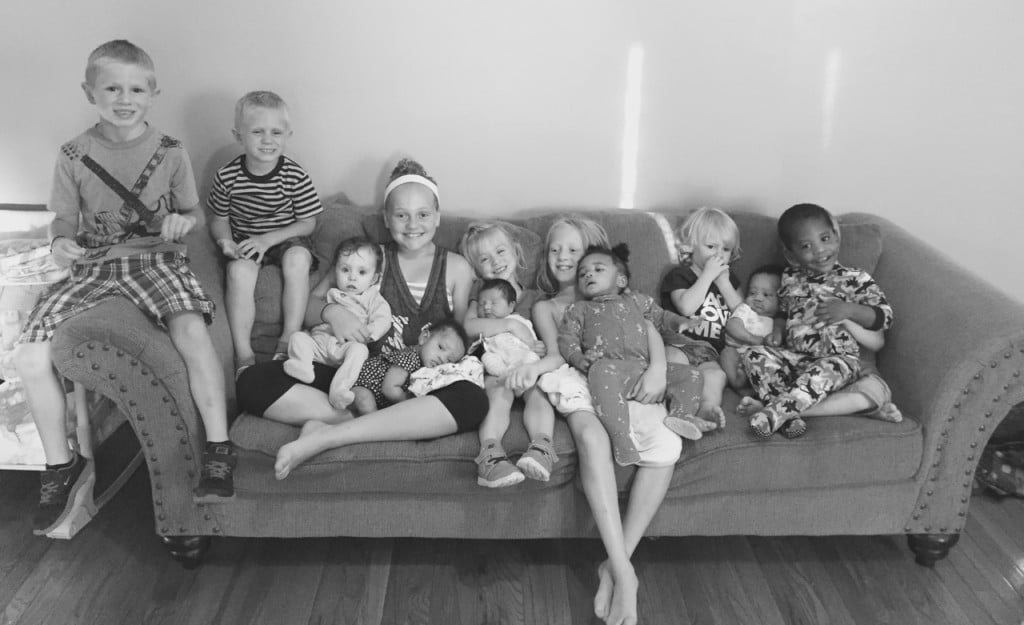 Here's where it got interesting. During our visit, I asked Kari what she needed the most. Expecting to hear diapers, formula, cases full of food or two live in nannies, I was shocked and intrigued when she said a van (half laughing). She told me she had never left the house being able to take all of her kids with her at once – EVER! They didn't have a vehicle large enough. By the way, Kari isn't married and up until recently, she had a woman assistant living with her to help with the children. I knew if I asked what she needed, I wanted God to use our family to get what she asked for. I love challenges and I was up for this one immediately.
Finally, after weeks of searching, last Saturday morning when I first woke up, God said in His almost audible voice, "Check craigslist!" So I did and THERE IT WAS! When I first laid eyes on this sweet red van, I knew she had Kari's name on it. I wanted to get her a red van so bad, to signify the huge heart she had for adopting all these babies. I called the owner, explained the reason why we needed the van and in the next breath he said he would drop it another $1,100! So we had our van for $5,500 plus another $500 was raised to cover her insurance, taxes and plates. Throughout this entire process, my kids got to learn and see how God provides and how we can be used to help others in need.
My favorite part was seeing the joy on Kari's face when this huge dream came true. Kari said she loved seeing my kids inside the van screaming with excitement when they saw her shocked and surprised. That moment was priceless! Kari got to see a dream come true and her kids got to see how God makes the impossible – possible. Over 10-15 families came together to donate for this cause and great friends from California told me that they would match dollar for dollar on what was raised to make it happen. How amazing! In 48 hours my simple Facebook post provided the $6,000 we needed to provide for this family in need. Thank you God!
Now I'm ready for the next challenge. I know I can get the ball rolling and raise money for a van, but dang, to adopt and raise 7 babies in 3 years (one special needs) along with 3 older children by my lonesome? Don't know if I am cut out for that one. However, when collaboration happens, and people use their talents God gave them to reach out and help others? WATCH OUT!
Moms, you and your kids can dream big and do something that another family would think was impossible to do! If you've already had that experience, PLEASE share it below! I would love to get some great ideas for the next project! If you need some ideas on where to start, grab Amy Newmark's newly released book, "Chicken Soup for the Soul: Volunteering & Giving Back: 101 Inspiring Stories of Purpose & Passion."
As for this adorable family of 11, my next challenge is to get 17 tickets to Disneyland! Any connections to make this dream a reality? Let me know!
Question: What has your family done that was life-changing for another person's life? Share your answer by clicking here or email me your story!
This post has affiliate links included. Meaning if you buy the suggested resources above, I get a commission at no extra cost to you. This will help support our mission.