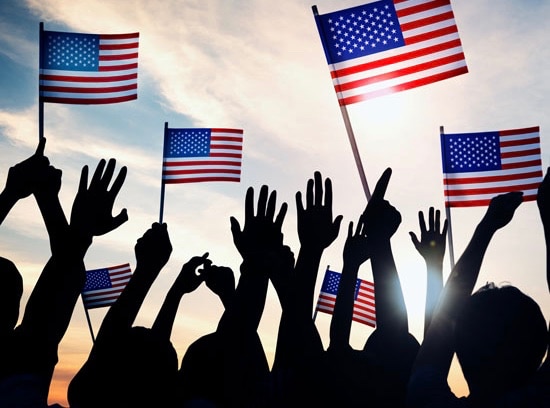 09 Nov, 2016

It's Not About Trump, It's About US!

How can we make a difference in our families and our communities? It's not all about Trump! Here are 5 things we can do to become UNITED once and for all.

What an election year. Everyone having different views, but all of us playing a part. After leaving the polls with my four kids, I just sat in my truck and prayed. I prayed God would unite us as a nation regardless of the results. I prayed God would protect his people and protect our country during and after the election. I prayed that all Americans would unite and be the best people we could be so we can lead our children by example. Regardless of who we voted for, we ALL want the best for our kids. Now that the election has ended, what can we do to help unify this country and heal our land?
Here are the top FIVE things you can do to unify our country!
God has us here for this specific time in history for His purpose! If you we are a Trump supporter, show those whose candidate lost that you are NOT hateful, racist, envious, and that we will succeed together! Show them who God is and what He looks like!
Humbly ask God how He wants us to get more involved in our communities and our country. Does He want you running for a political office? Is He asking you to join the school board or start an after school Christian club for kids? Be on the move to get involved at a deeper level with those around you.

What can we do differently in our homes? How can we better our communication with our kids? How can we filter out what we allow in our homes including "entertainment?" I believe this is God's wake-up call for us to change whatever we are doing in our lives that isn't pleasing to Him. I want to hold each other accountable here 🙂

Let's purge whatever is not glorifying to God so we can be the best witness as possible for Jesus.

— Tina Marie Griffin (@TinaMGriffin) November 12, 2016

God is telling me to carefully watch what I say and how I say it. I'm in a bible study right now at my church entitled, "Watch Your Mouth." It's been an eye-opener. I don't want to be a bad witness for Christ by saying or doing anything that would cause others to run from Jesus. However, Satan wants us to remain silent. Therefore, ask God what he wants you to say and how He wants you to say it. Be bold for Him in sharing truth and expect that some people will not like what you have to say. Remember, though, there are people who need and want to hear your message. Lives will be changed and challenged if you speak up. Use social media to share to the masses about Jesus and expose the deception and lies!

Know who is running for office and what they stand for. Knowledge is power. Find out how you can get involved in sharing this information in your community so people know who is running who shares their values. And as we clearly saw in this last election, every single vote mattered.
God gave each of us gifts and talents to help share truth. Regardless of how we voted, NOW is the time to get busy and lovingly share truth and do what God has called us to do!
[youtube id="-tpkhRPcPDA"]
THE CHALLENGE THIS WEEK: Ask God to give you clarity on what He wants you to do to share Christ to others and how He wants you to do it. Take that first step.
Question: What do you think God is now leading you to do post election? Share your answer by clicking here.