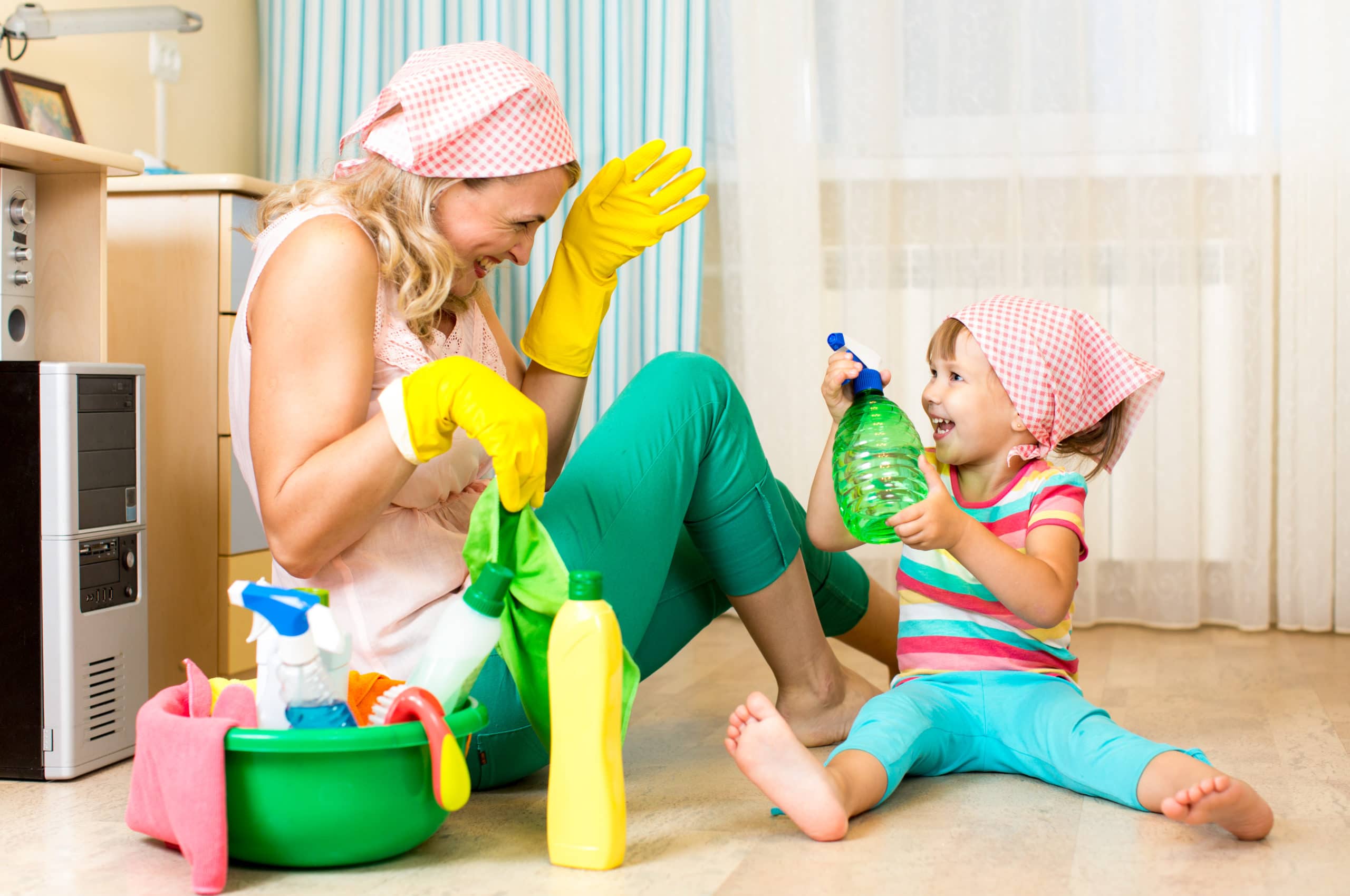 30 Mar, 2021

How To Make Your Spring Cleaning Fun!
Spring Cleaning.
 It doesn't have to be a chore!
It's amazing how spring can come upon you. One minute, you're shoveling snow and sending your kids out sledding! The next minute, the air smells different in the most excellent way ever. Furthermore, you can start to see the trees, plants, and flowers slowly wake up from their winter slumber. It's all incredible until you realize something. If you're anything like me, it's a recurring annual nightmare –
Time for spring cleaning.
It's one of those things that you can possibly ignore for a year or two, but eventually, it all comes back to bite you if you're not on top of it. Believe me, I know. The problem is that things don't just get clean on their own. Especially with little people around who wage war with cleanliness daily. If there is organization in a room, they are there to stop that nonsense. Increasing entropy is their M.O.
Make a plan!
So what's the best way to mobilize and attack the spring cleaning monster? Plan. As they say, if you fail to plan, you're planning to fail. It really doesn't take long to plan, but it's a necessary step to be sure to get it all done. If not, everything you need to do may seem extremely daunting. The likelihood of getting it all done at that point is really low. But once it's planned out and you know what you're doing and when! You're much more likely to do everything you're setting out to do.
Tidying up and getting organized
Start by tidying up. This really should be done daily. However, life happens and it doesn't always get done. For motivation, I pretend as if someone is coming to visit. Things I've looked past get frantically put away where they belong when I know someone will be coming over. You simply can't clean until things are picked up.
While you're picking up, rotate all the toys. This can and should be part of your spring cleaning! Keep the toys that you know your kids play with, throw out anything that is broken. Donate toys that are still in good shape. The toys you keep should be organized and boxed so that you can later rotate through them. This helps with keeping toys "fresh" as well as keeping daily clean-up minimal.
Have you ever cleaned your walls?
Cleaning the walls is thankfully a job that younger kids can help with and they usually love it! Throw in a few rags in a bucket of hot, soapy water, and voila! Fun times and clean walls, here we come! Ask Alexa to set a timer for 15 minutes and see who can clean the most quickly and thoroughly. Maybe even make a fun spring cleaning music playlist for while you work! The winner gets an extra treat. Who wouldn't love that?
Washing windows
Another bear of a job. I know, so not fun. It can be a character-building experience for your older kids! Windows are one of those things that you never think about until you run your finger down them one day and realize, "Eww! Gross!"
Large Family Logistics is a great resource if you happen to have a large family. Regardless, Kim Brenneman has a great window washing system. She has one child "wash the outside window with a bucket of soapy water and then sprays cleaner on and wipes with newspaper." In case you don't know, the newspaper doesn't leave streaks as paper towels do! Next another child or on a different day, screens are spray cleaned. And finally, another child can "clean the grime in the window frame first with a vacuum and then with a rag and bucket of soapy water," (page 191).
Last but not least
Don't forget those fans and light fixtures! It's amazing how something that spins or just sits there can build up dust, but they do. Wiping those bad boys with a duster or dry paper towels should do the trick. Afterward, you'll need to either wipe up or vacuum the dust off the floor.
If you'd like a more specific home cleaning guide, check out this post at Mother Distracted. She has a great, well-organized outline on how to clean your home year-round.
---
Regardless,
Hopefully, with a plan in hand, spring cleaning won't be as much of a nightmare. I do know having a clean house feels awesome! Everyone is able to function better in a home that is tidy and clean. It's worth the time and effort, to be sure.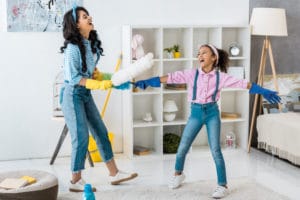 "Therefore, since we have these promises, dear friends, let us purify ourselves from everything that contaminates body and spirit, perfecting holiness out of reverence for God."
2 Corinthians 7:1
If you have kids, then you NEED these books! The "Tuttle Twins" series teaches children about the importance of freedom and the proper role of government. Grab this exclusive deal now!
Michelle Lazor is a wife and mom of 9 blessings! She enjoys spending her time with her big family as well as reading, running, and writing! Her motivation for each of these activities is to draw closer to Christ and glorify Him through it all. She has a personal blog and sells socks on her website, Mud Hen Mama, that affirm biblical convictions. They are fun, bold, and made in the USA!
Download Our New Counter Culture Mom App to become part of the Counter Culture Crusade and find our PREMIUM content to get the most urgent trending news and pop culture alerts!
PREMIUM people are loving The Buzz Room! Get support from other people like you who want to rewrite the script Hollywood has written for today's youth!
Be sure to tip us off to any alarming issues or something you would like to have us write about! Our mission is to help parents deal with today's lifestyle trends and how to biblically navigate them, and we appreciate your input!