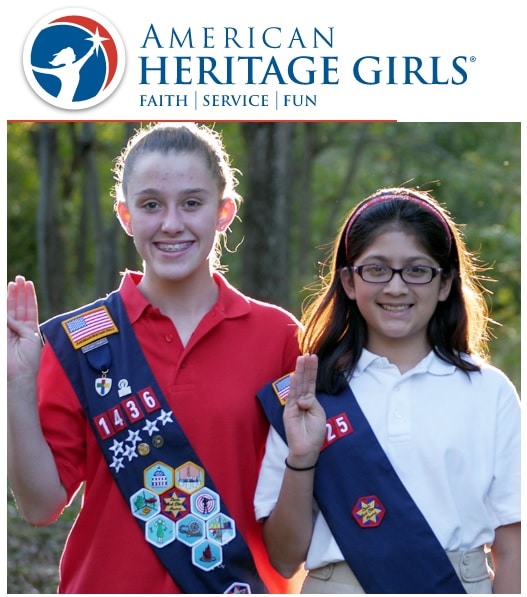 11 Jun, 2020

Girls of Faith and Integrity Troop to American Heritage Girls for Excellent Scouting Program
by Dr. Kathryn Knight
American Heritage Girls provides a service-oriented, character-building group experience for girls of all ages. Childhood used to be innocent. Girls joined clubs like Girl Scouts and had fun with other girls. They learned how to be leaders, earned badges for fun activities, and looked forward to camp where they could go on memory-making overnight trips.
Sadly, this oldest scouting program for girls has changed, and not for the better. Girl Scouts USA (GSUSA) has become a bastion of left-leaning ideas and the leadership is now indoctrinating troop members into women's rights and sexualization of culture agendas. One of the most recent examples is that GSUSA is allowing transgender "girls" into troops.
Liberal Agenda of Girl Scouts
Many women in America grew up in Girl Scouts and count those years as some of the most memorable and important in their lives. But if GSUSA embraces transgender "girls" and holds up women like Margaret Sanger as a role model, how can we as Christian parents let our daughters stay in a troop? The answer is simply, we can't. So where do we turn?
American Heritage Girls
American Heritage Girls (AHG) is a group that is the Christian alternative to Girl Scouts. The bedrock of AHG is the Bible. Their official mission statement is that they are "a Christ-centered character and leadership development program for girls 5 to 18 years of age. AHG is dedicated to the mission of building women of integrity through service to God, family, community, and country." That is what we as Christian parents are looking for in a club for our girls. With a motto that states, "I promise to love God, cherish my family, honor my country, and serve in my community," you can be pretty comfortable that the same values we teach at home are being taught in each troop.
American Heritage Girls was started in 1995 by Patty Garibray and other concerned parents as a Christian scouting alternative for their girls when they became disillusioned by the Girls Scouts' increasingly anti-Christian stances.
AHG is a Christian club and troops are not ashamed of God and the Bible. The parents' frustration with the way their beloved scouting organization was handling matters of faith and culture led to a vision of a fun-filled, Christ-centered, service-oriented, outdoor emphasized educational opportunity for girls. This new Christian organization would contribute to the betterment of each girl's community while strengthening her walk with Christ.
Twenty-five years later, there are troops in all 50 states and international groups in 15 countries. American Heritage Girls is "an outreach for the church to use," Garibay said. Each chapter has a charter with a local church or private school. Many troops meet at the same time as the local Trail Life USA troop so families are together (Trail Life USA is the Christian alternative to Boy Scouts). One of the favorite events for both groups is the annual family camping trip.
Service Amidst Social Distancing
Covid-19 has obviously caused temporary change to how the AHG troops are meeting, but they are still using their talents to serve God and others. Garibray said, "Most importantly, we are serving others by praying for our world each day as we all get through this time together."
According to the AHG website, troops are still finding ways to serve others during quarantine:
AHG Troop in Louisiana creating care packages for local nurses and doctors
AHG family in Texas sewing hundreds of masks for frontline workers
AHG family in South Carolina is grocery shopping for others who can't get to stores
AHG Illinois Troop making cards for nursing home residents
AHG Troop SC8611 sewing buttons on headbands for healthcare professionals for four local hospitals
Some AHG Troops have decided to wait until the new school year to meet in person again while some AHG Troops are continuing to meet virtually, working on badges at home. Many are sharing ideas like those above, so other troops can join them as they continue to serve their communities.
This spring the Covid-19 quarantine has given each family some time away from much of the busyness of typical school-year activities. Use this time away to pray, plan, and choose God-honoring programs for your kids when we are all (finally!) able to meet again!
---
Dr. Kathryn Knight is a 20+ year homeschool veteran who has graduated three of her five children.
Kathryn loves to find creative ways to make learning hands-on so brain synapses connect and her kids enjoy school and remember what they've learned.