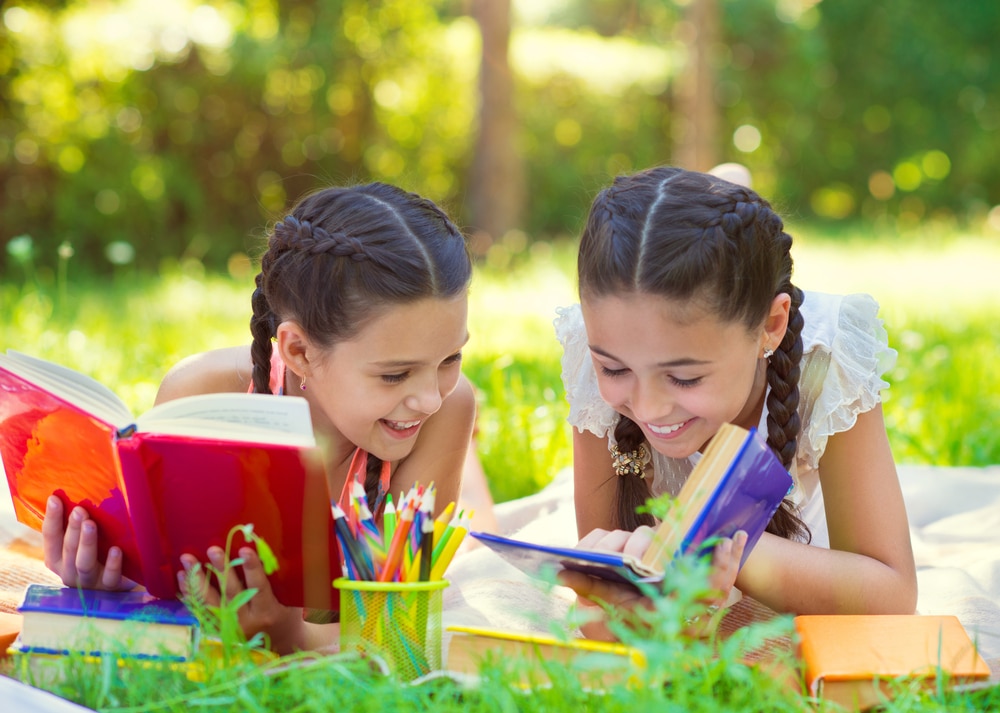 09 Jun, 2021

Do Your Kids See Summer Reading As A Gift?
by Katrina Cheshire
---
Summer Reading Is A Must!
Summer is just around the corner, and it's about time for some fun! Long hot days, sunshine spilling through the windows, outdoor activities, evening supper on the front porch with family, and, perhaps the most exciting of all, summer reading! 
Since the age of 4, when I learned to read, I have consumed books at a sometimes alarming rate. Books are new worlds, a way to go on adventures and do daring deeds of might through the life of someone else. I thought I was reading just for fun, but little did I know that books were shaping the entire foundation of my life!
Good literature helps form thought processes and understanding in your child's brain. When you read a well-crafted story, you learn about life in a way that you otherwise never could. Stories can convey truth in such an amazing way! And the younger you are, the more receptive you can be to a good story. To start off your summer strong with summer reading, here are a few tips to get started! 
First, get yourself some great books!
Age 2-4:
Does God Know How To Tie Shoes? by Nancy White Carlstrom
This beautiful book is filled with watercolor paintings and a very sweet story. Set in the summertime, a little girl asks her mom and dad questions about God – and receives some wonderful answers that little ones will love! This story is extremely popular and most definitely one of the most sensational books for a younger audience. Your little ones will love this book, and you can get it right here!
Age 3-7:
Mooki the Berry Bandit by Kari Smalley Gibson or Twice Yours by Nan Gurley
These two very different stories for kids are both beautifully illustrated and carry powerful messages! Their pages are filled with lessons of friendship, honesty, and the redemptive love that God has for us! Mooki and the Berry Bandit can be purchased on Amazon, and so can Twice Yours.
Age 8-12:
The Wingfeather Saga by Andrew Peterson
This 4-book series will keep your tween reading all summer long, and they won't want to put the books down! It's rare to find such an imaginative, thrilling series for kids. The story of three siblings who are heirs to a lost kingdom, the books will have your kids rolling with laughter and maybe even crying a bit. You can grab book 1 and 2 as a bundle!
Teens:
Mark of The Lion series by Francine Rivers
A compelling trilogy about Christians in early Rome, this amazing series will both teach your teens history and engage them at the same time! Warning: these books delve into a wide range of topics, including the filth and sin of Rome. Definitely look through them before giving them to your teen! The whole set is available in a boxed collection!
Moms:
The Awakening of Miss Prim by Francine Rivers
A delightfully unpredictable novel about love, a rare community, the beauty of Italy, and finding love in the midst of self-searching, this is a book unlike any other! Besides, it makes super cute table decor as well! Always a plus!
This Beautiful Truth by Sarah Clarkson
Released on June 6, 2021, we LOVE it! The story of God's truth breaking into our darkness with blazing beauty, this book is a must-read for anyone struggling with mental health, and it's a great choice for a busy mom!
Dads:
Operation Joktan by Amir Tsarfati
As an Israeli Christian, Amir has written a thriller! Number 1 in its category on Amazon, you can preorder today! If you are interested in prophecy, the end times, and the way our world is headed, this book is for you!
Best Read-Aloud family books: 
The Tales of the Kingdom series by David and Karen Mains  
This beautiful series is hard to find, but it is SO worth it! The gorgeous illustrations leap off of the pages, and the whimsical stories are unlike any other. A creative allegory with a twist, these books will have all your kids begging for more! Surely this will help them see summer reading is a gift! Check it out and order it ASAP!
The Chronicles of Narnia by C.S. Lewis
Can you even get through childhood with reading these books? An amazing choice as a read aloud series, you can get both the full series to read aloud with your older kids, and picture books for your little ones!
Once you've gathered some great books, it's time to get reading!
If you have kids, then you NEED these books! The "Tuttle Twins" series teaches children about the importance of freedom and the proper role of government. Grab this exclusive deal now!
Summer Reading Is A Gift, Not A Chore!?
Kids always want to be on electronics! Books can create just as much entertainment and excitement, if not more! There are plenty of ways to bring the fun in reading, after all, summer reading is a gift! It seems like a huge challenge, I know, so I've come up with some great ideas for you to try!
First, Join a local library reading club!
These clubs often offer rewards, prizes, and free books as part of summer reading, and it's all free!
Next, make a personalized "booklist!"
Once you've gotten recommendations and added in ideas from your kids, get to the library and check out a few of them to get started! Be sure to find out about your library's overdue fees. A lot of libraries waive these fees for children's books.
Then create reading nooks!
Create unique little areas around your house for each individual. You could create both indoor and outdoor places to read! Place baskets of books beside them for each age group
Lastly,
When your kids reach a certain amount of books, give them a prize! The more books completed, the bigger the prize! Some prize ideas could be going for ice cream, going out for a dinner date with mom and dad, a picnic, a playdate with friends, baking their favorite cookies with mom, etc. 
You can also play charades!
Base the game on your favorite books! Act out the scenes or dress up as the characters, and have everyone take turns guessing which character you are! 
And reading books together is always fun!
Sit down each afternoon or evening as a family and read! Reading books aloud together is one of the best ways to enjoy summer reading! Your children will forever associate that book with the wonderful memories of all being together. 
And there you have it! Hopefully, you've been inspired to get reading this summer! Don't forget to enjoy God's beautiful world as a family, too! Get outside on beautiful days, and when it's too hot, you'll be prepared to curl up indoors with amazing books. I also wrote another summer book list that is longer and has even more great ideas! Check it out, and help your kids see summer reading is a gift!
Happy reading!
Katrina Cheshire is a home school and Bible college graduate and the author of Seller of Dreams. She is passionate about good stories and the power they can have in shaping a life.
With seven siblings her life is full of adventure and excitement! She loves to design and sew clothing. She enjoys to write endless stories and read even more of them. You can find her making music with her brothers and sisters or dancing for the glory of God.
Download Our New Counter Culture Mom App to get our trending news and pop culture alert notifications. You can connect with other parents in the Parent Chat section to gain helpful ideas on how to counteract the Pop Culture Cult!
Be sure to contact us if there is an issue you would like to have us write about! Our mission is to help parents deal with today's lifestyle trends and how to biblically navigate them.